Baby Address Labels
What customers have to say about our Baby Address Labels
January 21, 2019
My family looks forward to this every year!
"Each year I make a calendar for my very large family and include the 75+ birthdays and anniversaries with pictures to enjoy. It's always a holiday favorite!"
January 19, 2019
I would order more labels if needed
"To mail out letters or cards to family & friends. Like the color & font"
January 16, 2019
Address Labels
"I love these address labels, they are so pretty. Everything was correct on the order and it came really quickly!"
January 15, 2019
Outstanding Holiday Cards
"Announcing our new address, retirment to Family & Friends - Wishing All a Happy New Year! Loved the full page text box for announcing big changes in our life and summary of year 2018."
January 13, 2019
So Cute!
"Yesterday, I just used this address label to send a letter to a friend. I love how cute the fox is on the label, and it's so me since I love animals and pretty fonts. In addition, so far, I haven't had any problems with any of the address labels I bought from Shutterfly, which is a very good thing. :)"
Add a Custom Touch with Baby Shower Address Labels
There is nothing more exciting than the anticipation of a new bundle of joy. Shutterfly has everything you need to plan the most adorable baby shower. If you are the one who is throwing a baby shower, a custom mailing address label is the perfect addition to help personalize the invitations.
Designing the Label
Shutterfly makes it easier than ever to design personalized stationery sets, complete with matching cards, envelopes and custom return address labels for a truly stylish baby shower. Choose from one of the dozens of lovely themes, including boy, girl and gender-neutral designs. Upload any pictures or artwork and use the templates to create one-of-a-kind cards. You can pick your favorite fonts, colors and other design elements. Be sure to order your stationery with plenty of time to mail out before the party.
Planning the Shower
Having a baby is a joyous occasion and a shower should simply be a fun preview of all the precious moments that are to come. On the invitations, be sure to include the time, date and location of the party. If the mom-to-be is registered somewhere, you can include this information on the baby shower invitation. It is also important to have an RSVP-by date so you can plan accordingly. Once you know how many people are coming to the baby shower, you can plan refreshments for the party and games for the attendees to participate in during the festivities. Set up a baby-themed photo booth and encourage your guests to pose with cute props.
Other Uses for Custom Address Labels
Custom labels have many uses. You can use them in the games at the shower (or give them as a gift for the soon-to-be parents) and pair them with custom thank you cards. You can also use the labels for baby's first birthday party… did you know that there are custom boy and girl options to match the personality of your favorite soon-to-be one-year-old?
Planning a baby shower is a fun and exciting project. Shutterfly has you covered, from the invitation to decorations to other custom products. Your darling invitations will be perfect with personalized mailing address labels shipped directly to your door.
Related Products
Linen Introduction Boy Baby Address Labels. Address your envelopes with stylish address labels. Corresponding invitations, gift tags and thank you cards are also available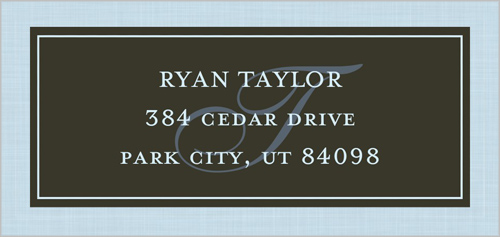 Modern Script Boy Baby Address Labels. Address your envelopes with stylish address labels. Corresponding invitations, gift tags and thank you cards are also available
Precious Vine Baby Boy Address Labels. Address your envelopes with stylish address labels. Corresponding invitations, gift tags and thank you cards are also available