Mommy Cards
What customers have to say about our Mommy Cards
August 19, 2017
just as I ordered!
"will reorder"
August 18, 2017
Great cards!
"Perfect for my use. Great weight."
July 26, 2017
Happy Customer
"These were perfect for what I needed them for! Quick delivery!"
April 27, 2017
GREAT CARDS
"I LOVE THE IDEA OF THESE CARDS! SUPER IDEA!! GREAT FOR MY CHILD STARTING HER FRIENDSHIPS AND WANTING SLEEPOVERS AND PLAY DATES."
November 15, 2016
Business cards
"Super cute and great quality. Came in a nice case. Super fast shipping. Thank you"
Create Custom Mommy Cards to Keep in Contact
Whether you are staying in touch with a teacher, making connections on the playground with other parents, being proactive about your child's allergies or just looking for a better way to keep in contact, mommy cards are a fun and effective way to share important information. Shutterfly has just what you need to create the perfect personalized mommy cards.
Designing the Cards
Thanks to Shutterfly, it is easier than ever to create a mommy card. Choose your favorite design template and input your information. You can choose your favorite fonts, colors and other design elements. Mommy cards are a great way to encourage interaction with other parents. Be sure to include your name, address, phone number, child's name, allergies and/or special needs, emergency contact and any other important or vital information.
Uses for Mom Business Cards
In no time at all, you will wonder what you ever did before you had your own set of mommy cards. You can make sure that your child's teachers all have your contact information at their fingertips. Send it with your little one when they go on field trips, sleepovers and other adventures away from home. You can leave one in their backpack (this is especially helpful if they are prone to forgetting it on buses, playgrounds or in classrooms). Hand them out to other moms and dads at the playground, school meetings, sports events and the bus stop. Give them to babysitters, nannies, daycare workers and day camp counselors. Mommy cards can help give you peace of mind knowing that if your child gets hurt or lost, you can easily be contacted. Mommy cards also make great gifts!
Speaking of Gifts
Shutterfly has hundreds of unique gifts for the moms in your life. Whether you are looking for the perfect Mother's Day, birthday or holiday present, you can create a personalized photo gift for one (or more) of the moms in your life. To encourage hydration, custom photo water bottles make great presents. An extra phone charger is a gift those you love will use all the time. For the environmentally conscious person in your life, there are custom reusable grocery bags, too. Custom bags are also great for hauling around the kids' stuff between school, the beach, the playground and the soccer field. Shutterfly makes it easier than ever to create one-of-a-kind, personalized gifts.
Related Products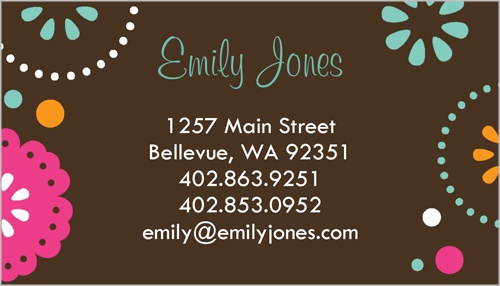 Cocoa Fiesta Custom Business Cards by Petite Lemon. Bold iconic flowers make a bright statement. This trendy calling card will perfectly suit your style. Corresponding invitations, address labels, and gift tags are also available.
Cowboy Hero Calling Card by Yours Truly. if you've ever searched for paper to jot down your name, you'll enjoy these calling cards. Great for park visits, play dates, school functions or when you're on the go. Corresponding invitations, thank ...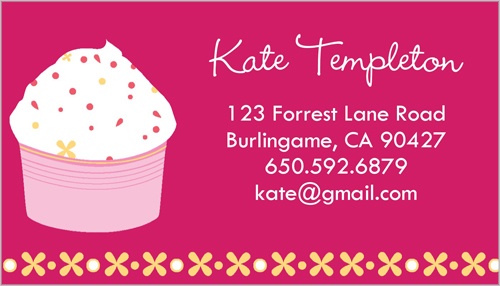 Cupcake Sprinkles Calling Card by Yours Truly. Give everyone a taste of how fun your girl's party will be. These sweet calling cards, in a range of pink hues, will be gobbled up in no time. Corresponding invitations, thank you ...