Pink Address Labels for Her
What customers have to say about our Address Labels for Her
"Can't wait to use these cute adress lables!"
January 26, 2019
Delightful!
"I love the delicate design and lavender color."
"Pretty lables"
January 23, 2019
Love these labels!
"Cute labels, easy to read, fun to make. I have bought several different types now and love them all! Great gifts for grads, new babies, newlyweds, housewarming presents...you name it!!"
January 21, 2019
Very classy looking!
"I love these! They are subtle, classy, and look great for any season."
Pink Address Labels for Her
If you're preparing to send out invitations for an upcoming event that has a lot of pink in the décor, or you're sending thank you cards for a pink-themed event that has already taken place, our pink address label designs will be a lovely complement for your envelopes. Whether it's a birthday celebration, baby shower or other occasion, our personalized pink address labels will help give your invitations a coordinating, professional look. They will also add a stunning pop of color to your envelopes.
Designing Your Personalized Address Labels
Shutterfly offers an assortment of stylish address labels in various shades of pink, making it easy for you to find a design that matches your event, style and personality. Whether you're looking for address labels to specifically match an event or to use every day, you'll love our range of bright, pretty label designs. Our mailing label designs include options for wedding stationery, the winter holidays, Valentine's Day, and more. After choosing your design, it's easy to personalize your address labels. Add your name and address, and then customize your labels with different fonts and other design options to make a one-of-a-kind stationery accessory that's sure to impress.
Custom Mailing Labels for Any Occasion
Our pink address label designs are suitable for a wide variety of occasions and different types of mail. With custom return labels, you can design a set to use for every day mail as well as different sets for the holidays and special occasions. Consider some of the following ideas:
Holiday Greetings: If your holiday cards have pink in their design, these address labels will be a great match and are a lovely way to enhance your envelopes.
Birthday Parties: Pair your feminine birthday party invitations with pink address labels that suit your personality and sense of style.
Baby Showers and Announcements: If you're expecting a precious little girl or already delivered this little bundle of joy, add a sweet quality to your baby shower invitations or birth announcements. Choose a design that coordinates with your theme or displays your personal taste.
Every Day: Adding a pop of pink will bring a welcome touch of personality to the envelopes of any stationery items you send when you use our custom pink address labels.
More Custom Stationery Accessories
Add even more personality and style to any stationery item you send by designing custom stickers. Our personalized address labels and stickers will turn a plain envelope into an eye-catching one that recipients will be excited to open. And if you haven't done so yet, browse our collection of gorgeous birthday invitations, pink baby shower invitations or pink personalized stationery to find the perfect design for your event.
Related Products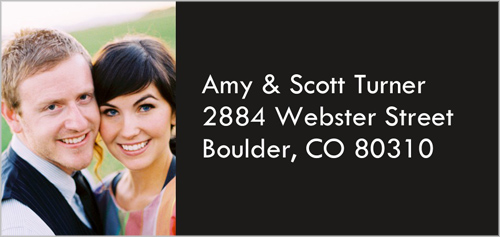 Classic Black Wedding Address Label. Address your envelopes with stylish holiday address labels. Corresponding invitations, gift tags and thank you cards are also available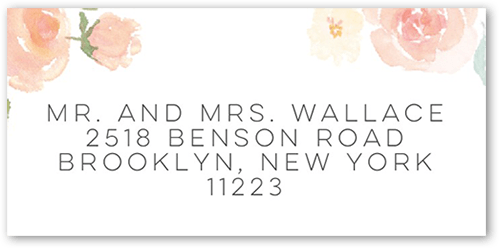 Floral Accessory Wedding Address Label. Address your envelopes with stylish address labels. Corresponding invitations, gift tags and thank you cards are also available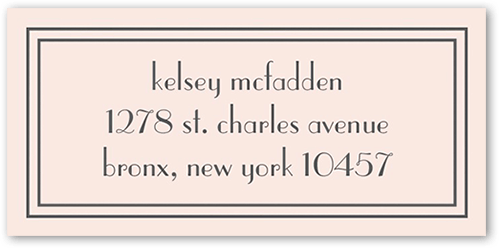 Framed Elegant Wishes Wedding Address Label. Address your envelopes with stylish address labels. Corresponding invitations, gift tags and thank you cards are also available