Featured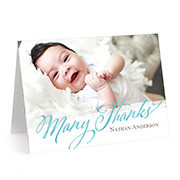 Deliver a big thanks on the little guy's behalf with our baby boy thank you cards.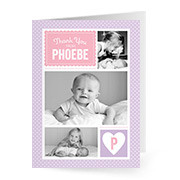 When your little girl wants to show her appreciation, these thank you cards are perfect.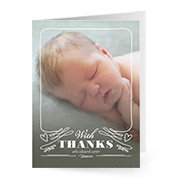 These adorable baby themed thank you cards express your gratitude.

Personalized Baby Thank You Cards
Make your own custom baby thank you cards with Shutterfly. You have just brought home your brand new little one and chances are that plenty of people have been there for you along this fun journey. Whether you want to send out thanks for the good wishes, baby shower gifts, thoughtful gestures, babysitting offers and casseroles, or simply show off your new darling baby, custom thank you cards are a great way to do it. Shutterfly makes it easier than ever to turn your first picture memories into adorable, custom baby thank you cards. Send a baby thank you card after a baby shower, after they're born, or after their first birthday party to send big thanks to friends and family. You'll love designing one-of-a-kind photo cards that will live on as special keepsakes you cherish for years to come.
Baby Shower Thank You Cards
Express your gratitude for the love and gifts from your friends and family with baby shower thank you cards. Whether you just welcomed a baby girl or baby boy, you can create the perfect baby thank you card that shows off your favorite picture of them. Share a heartfelt message to each person who attended the event and loved ones who sent a gift. Your guests will appreciate the baby thank you cards, especially when they're personalized with a special photo and custom message. For inspiration on your thank you note, follow our guide on baby shower thank you card wording. We make it easy to give your baby shower thank you cards a unique, personal touch. Start by choosing from a range of card template designs in our collection of chic, stylish thank you cards that serve as a great follow-up to baby occasions. Choose from folded and flat cards in a variety of styles. With themes including animals, floral, and more, it's easy to find a thank you card that matches your baby shower invitations, birth announcements, or baby's 1st birthday invitations.
Designing Baby Thank You Cards
Whether you just brought home your new baby, or you have just celebrated a whole year, chances are your bundle of joy has a distinctive personality. With Shutterfly, you can upload the pictures that best capture your darling and pair them with a stylish template for a thank you card that is as unique as they are. Simply upload some memorable images, choose one of the easy-to-use templates and select your favorite design elements to make a greeting card perfect for you. Custom cards are a great way to share your joy with friends, family and the people you love. Your message can be short and sweet with room to handwrite a personalized message, or you can design cards one at a time for the people who have gone the extra mile for you.
If you have a new baby (especially if it is your first), most likely your phone and camera are both overflowing with digital pictures of your little boy or girl. Shutterfly is here to help you pick your favorites and have them sent to you as beautiful photo prints. These can be handy to show off your little nugget and can be included in your baby thank you card, too. Another unique idea would be to turn your baby's sweet face into a custom sticker set. Finish your baby thank you cards with another personal touch—personalized baby address labels. The perfect way to add coordinating flair and fun to your thank you card envelopes, return address labels also make addressing a breeze.