Baby Boy Thank You Cards
What customers have to say about our Baby Boy Thank You Cards
January 27, 2019
Love these cards.
"Shutterfly always does a great job."
January 26, 2019
These turned out so CUTE!!!
"The card stock is very heavy and makes it a nice writing experience. Quality, thick, great bright colors on the card. This is a great product and a wonderful purchase."
January 26, 2019
Love these to send to friends.
"These are so personal. It really makes for a nice way to say hello and thank you in a personal way."
January 21, 2019
The best!
"I was worried about how the pictures for my daughters 1st birthday party thank you cards would turn out, but they were absolutely perfect. Making the card was easy too. No picture was grainy or miscolored and neither qas the font. So happy!"
January 20, 2019
Nice Quality
"."
Design Custom Baby Boy Thank You Cards
Whether you are thanking friends, family and loved ones for gifts for your new bundle of joy or gently nudging your rapidly growing baby boy, custom thank you cards are the perfect way to show gratitude. No matter what age he is, Shutterfly has everything you need to create one-of-a-kind thank you cards for your baby boy.
Designing Your Personalized Thank You Cards
Because Shutterfly has dozens and dozens of templates to choose from, it's easy to pick the perfect card to match the personality of your little boy. The straightforward and easy-to-use design assistant will make the process even more enjoyable. Custom thank you cards for your baby boy are the perfect way to share some of your favorite photos. Shutterfly has templates with room for one, two or more of your best pictures. Or, if you prefer, you can design an elegant card sans photo that still captures your baby boy's unique personality.
Shutterfly makes the design process simple. Once you pick a template, all you need to do is upload your images and customize your card. Pick your favorite fonts and colors for messaging that really speaks from the heart. You can further customize your cards with high-quality cardstock options and additional trim styles. If you want to go all out, there are even foil-stamped cards available.
It's never too early to teach the value of a thank you card. While some parents might be sending them out on behalf of their tiny new baby, Shutterfly makes it easy to teach your kids to show gratitude at any age. For a fun activity, include your "baby" boy in the design process. Let him chose his favorite photographs and Shutterfly designs for a set of thank you cards he won't be able to wait to send out.
Don't forget to send out your cards in style. Shutterfly has hundreds of customizable mailing address labels that are even easier to personalize than the thank you cards for your baby. It's a simple way to deliver joy to the mailboxes of the ones you love with these customizable stationery options.
Why should boys have all the fun? Shutterfly has custom thank you card options for the baby girl in your life as well. No matter what unique style or personality your little one possesses, there is a custom Shutterfly thank you card for your baby boy or girl.
Related Products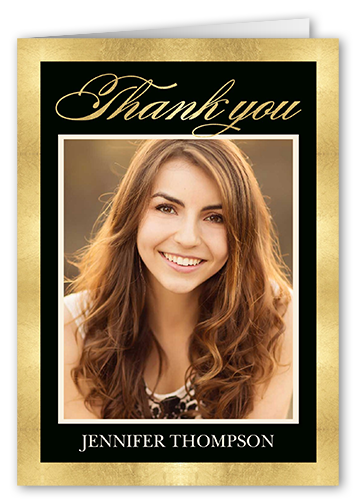 Brilliant Grad Border 3x5 Personalized Thank You Card. Show just how much you appreciate them with this stylish thank you card. Add your favorite photos and a message of thanks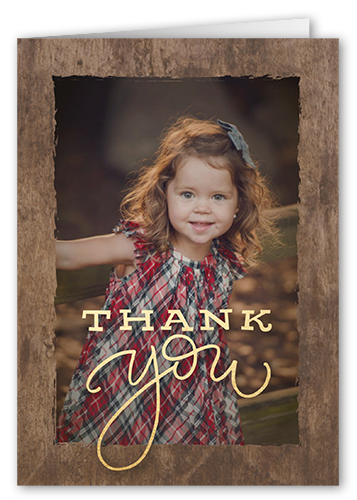 Country Frame 3x5 Personalized Thank You Cards. Show just how much you appreciate them with this stylish thank you card. Add your favorite photos and a message of thanks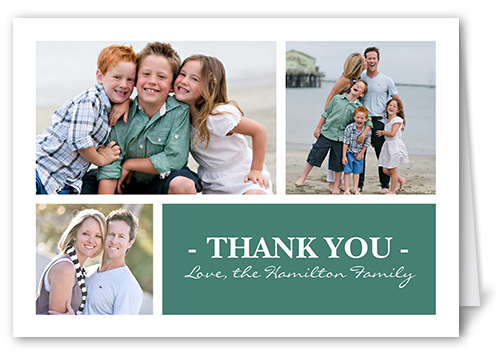 Perfectly Thankful 3x5 Personalized Thank You Cards. Show just how much you appreciate them with this stylish thank you card. Add your favorite photos and a message of thanks