Religious Baby Boy Thank You Cards
What customers have to say about our Baby Boy Thank You Cards
January 27, 2019
Love these cards.
"Shutterfly always does a great job."
January 26, 2019
These turned out so CUTE!!!
"The card stock is very heavy and makes it a nice writing experience. Quality, thick, great bright colors on the card. This is a great product and a wonderful purchase."
January 26, 2019
Love these to send to friends.
"These are so personal. It really makes for a nice way to say hello and thank you in a personal way."
January 21, 2019
The best!
"I was worried about how the pictures for my daughters 1st birthday party thank you cards would turn out, but they were absolutely perfect. Making the card was easy too. No picture was grainy or miscolored and neither qas the font. So happy!"
January 20, 2019
Nice Quality
"."
Religious Baby Boy Thank You Cards
Need to send thank you cards to loved ones after your baby boy's baptism, naming ceremony or other special religious event? Shutterfly's religious baby boy thank you cards offer a great way to send personalized messages of gratitude to friends and family members who were there to celebrate this special day with you.
A Variety of Baby Boy Thank You Cards
Shutterfly makes it easy to give your religious thank you notes a unique, personal touch. Start by choosing your favorite design from our collection of thank you cards and then make your design unique with our array of customization options. You'll be able to design a single-photo card or add a photo collage to your thank you cards if you have more to choose from. Also choose from different colored cards. For a more classic baby boy thank you card, stick with a blue background and pattern. You can also choose a simple grey or white card that pairs well with a wider variety of font colors and designs.
How to Personalize a Religious Thank You Card
Once you've chosen the perfect baby thank you card design for your event, it's time to make it your own by personalizing your design. With Shutterfly, complete personalization is quick, simple and fun. Depending on the design, you can add your little one's name and photo(s), custom messages and more. As part of your religious greeting card, you can drop in one of your favorite bible verses or a bible verse about babies to match the sentiment. Whether you're thanking someone for a gift, their love and support, their presence at your baby's special occasion or a combination, a customized thank you card is a thoughtful way to express your sincere appreciation.
Thank You Card Stationery Accessories
Finish your baby thank you cards with another personal touch – custom baby address labels. The perfect way to add coordinating flair and fun to your thank you card envelopes, address labels also make addressing a breeze. We also offer custom stickers, which will add even more style to your envelopes! Just like your personalized thank you cards, you'll be able to customize other stationery accessories to match a theme or include your favorite styles, photos, fonts, and colors.
Personalized Baby Gifts
Whether you're celebrating a religious event for your own little one or another baby in your life, make the day even more meaningful by personalizing one of our many custom baby gifts. For milestone events, there's nothing more thoughtful than a personalized gift made with love. Choose from soft baby blankets, personalized storybooks and more. Create a baby photo book easily from your phone or desktop as well, and add your own captions and messages. On each page, you'll be able to choose the photo layouts you like best and even add religious messages and bible verses.
Related Products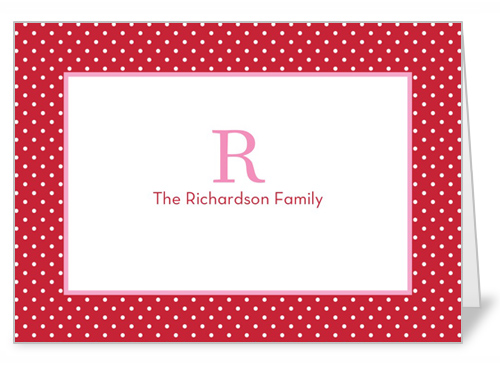 Peppermint Pink 3x5 Print Notecards. Thank everyone this holiday with a peppermint-pink monogram of your family's initial on this charming thank you card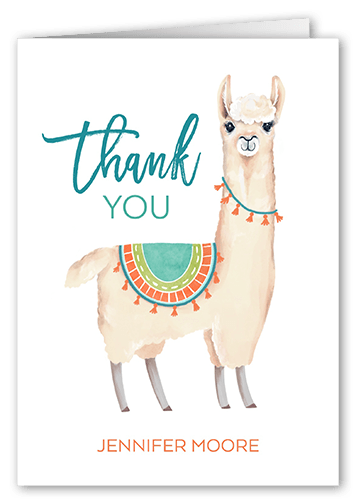 Mama Llama 3x5 Folded Card by Stacy Claire Boyd. Show just how much you appreciate them with this stylish thank you card. Add your favorite photos and a message of thanks.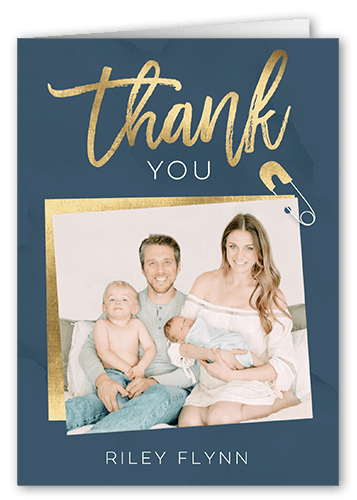 Pinned Safely 3x5 Folded Card by Stacy Claire Boyd. Show just how much you appreciate them with this stylish thank you card. Add your favorite photos and a message of thanks.