What customers have to say about our Birth Announcements
January 25, 2019
A Hit With All the Family!
"We used this card as a birth announcement and thank you card for our baby shower attendees. It's on a nice heavy cardstock, and the print was super clear. With my first order there was a smear on the return address on the back of the envelope, but no big deal. With the first order I also didn't receive the blank envelopes I ordered. The second order everything was perfect. I would highly recommend!"
January 24, 2019
Very nice cards
"Super classy cards"
January 24, 2019
Great buy
"Looks and feels great. Came so quickly and is such great quality!"
January 22, 2019
So sweet
"Easy to create!sweet design"
January 22, 2019
Love this product!!
"I love the simplicity of this birth announcement, it was easy to make and arrived on time!"
Birth Announcements
Share your new arrival with your family and friends with our custom baby birth announcements. Your beautiful bundle of joy is a miracle that deserves to be shared in a manner that is stylish and convenient for you. Whether your new sweet bundle of joy is several hours weeks or months old, you can choose which pictures you want to include in your personalized announcements. If you've been keeping your baby's gender a secret, you can even come up with some creative baby gender reveal ideas to share the exciting news. Even though nothing can surpass the beauty and masterpiece of your child's photos, you do have the option to add enhancements to make your announcements stunning so that even your friends, loved ones and colleagues are bound to be mesmerized by your hard work.
Personalize Your Birth Announcements
You choose how much information you want to include in your personalized birth announcements. Add your new baby's name, weight, length and other important information or simply add the date and time they were born. Use one or a few photos to create a stunning announcement that shows your new bundle of joy from different angles to give your boy and girl announcements some additional class and personality. With Shutterfly's special enhancement options, you can transform any portion of your blue and pink announcements so they look like no other. No matter which option you choose, your announcements will have a professional look, quality, and finish that surpasses them all.
Make it Special
Babies are new little people that no one can resist. It doesn't matter how big or small they are, their birth deserves to be honored in a special way. One affordable and truly stylish way to do that is to create Christmas birth announcements with a unique photo to share with your friends and family. You don't have to let distance stop you from getting in touch with your distant loved ones from afar. No matter day or night, you can announce your precious new addition's arrival whenever and wherever it's convenient for you.
If you're announcing that you're expecting, consider sending loved ones personalized pregnancy announcement cards.
You might also be interested in:
Related Products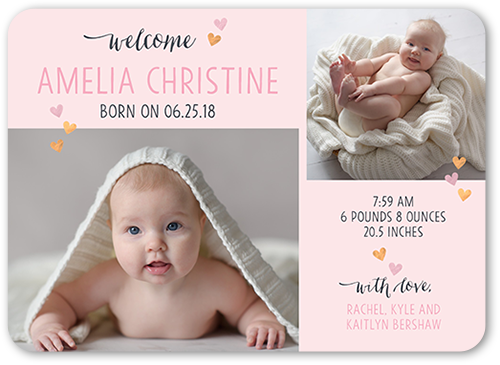 Heartwarming Debut 5x7 Girl Birth Announcement Card. Announce your newest arrival with this stylish birth announcement. Add your baby name, a photo with the news everyone waiting for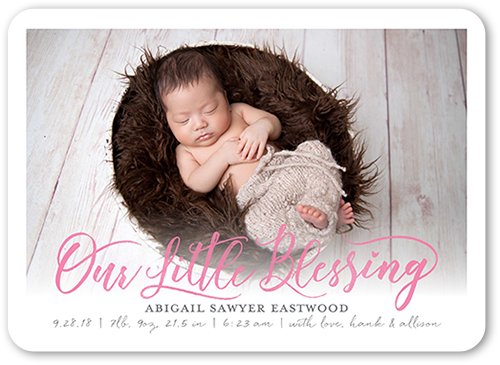 Little Blessing Girl 5x7 Birth Announcement Card. Announce your newest arrival with this stylish birth announcement. Add your baby's name with a photo and the news everyone's been waiting for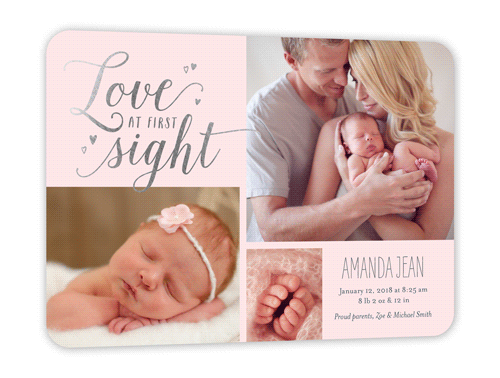 Love At First Sight Girl 5x7 Birth Announcement Card. Announce your newest arrival with this stylish birth announcement. Add your baby name, a photo with the news everyone waiting for