Folded Birthday Cards

What customers have to say about our Birthday Greetings
"Once again, Iove my end result from Shutterfly. The people love their personalized cards too."
January 25, 2019
Plan on making cards for all my family
"Used old pictures to make a fun unique birthday card for my dad"
January 24, 2019
These cards are amazing!
"I'm blown away by the quality of these hand designed Birthday cards! It's a great deal too in terms of cost. Thank you for making these personalized cards possible! I would give this product a 10 on a scale of 5"
January 23, 2019
I would buy this again!
"The card turned out great!"
January 23, 2019
Great eye catching card
"I love all of the color, it made this card pop!"
Folded Birthday Cards
Say "Happy Birthday" to someone you love this year with folded birthday cards from Shutterfly. We have various styles and unique themes to commemorate the special occasion for the birthday boy or birthday girl. With our folded birthday cards, you can create something one-of-a-kind using our unique templates and design tool options. Help brighten their day by writing a heartfelt note to make them feel extra special. And, don't forget their gifts while making the card, too.
Design Folded Birthday Cards That Make A Statement
The best kind of folded birthday cards are those that make a statement. Start creating a card by selecting one you think the recipient will love. Then, upload your favorite photos and be sure to customize the card with your best birthday wishes to bring a smile to their face. We also feature cards from the hit TV show Ted Lasso and digital media company The Onion if you are looking to make the recipient laugh. Browse our huge selection of address labels to accentuate your envelope. Then, to save yourself time, use our envelope addressing service where we mail out all your birthday cards, greeting cards, or thank you cards just for you.
Send Your Folded Birthday Cards in Style
Like our folded birthday cards, you can personalize your address labels, as well, to design something truly unique. Create an address label with various themes from tropical to something that has more sparkle+shine. Regardless of what you choose, the recipient will know that the card is just for them right away. You can rest assured they'll never want to throw out their card (or the envelope) with all the thought and effort that went into making their card. Remember that it doesn't have to be someone's birthday to send them a note of appreciation or support. Our personalized thinking of you cards are great for reaching out to friends and family, especially far away ones, any time of year.
Create Personalized Gifts the Recipient Will Love
Since birthdays are all about giving and shining a spotlight on the recipient, pair your folded birthday card with personalized gifts they'll be jumping for joy over. Nobody knows the recipient better than you, especially if they are one of your parents or a close friend. If you have a workaholic parent, consider gifting them a notepad to help them jot down important reminders. Or you can give them a monthly planner to take notes in all while keeping track of meetings and appointments. They will be sure to appreciate your kind sentiment and feel grateful knowing they can get through their work day with their practical and unique birthday gifts.
Related Products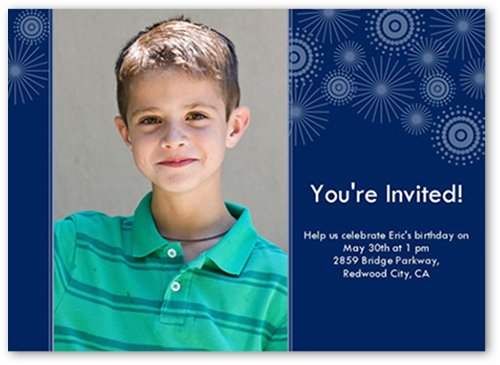 Sprinkle Midnight Swimming Party Invitations. Dazzling swirls pop against a midnight-blue background. Highlight your favorite photo beside important event details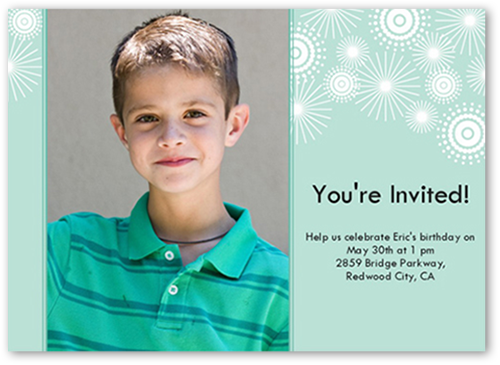 Sprinkle Sea Foam Swimming Party Invitations. Dazzling swirls pop against a seafoam background. Highlight your favorite photo beside important event details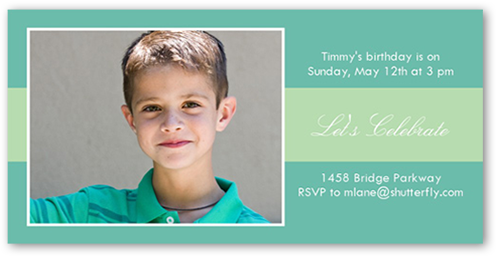 Cookie Sea Foam 4x8 Photo Card by Shutterfly. Capture elegance for any occasion with ornate lettering and a two-tone green background. Room for one special photograph.