1st Birthday Invitations
Celebrate with Personalized 1st Birthday Invitations
Your baby only has one 1st birthday party. Make sure his or her birthday celebration is extra special with custom first birthday invites from Shutterfly. When friends and family get a personalized first birthday invitation in the mail, they'll be even more excited to celebrate a fun day with the kids. Through Shutterfly, it's easy to make first birthday party invitations online with our custom birthday party invitation template. Make your little one's first birthday party a fun one by choosing your birthday invite style and personalize the cards with your photos, stickers, messages, and more.
Customize Your 1st Birthday Party Invitations
To create a custom first birthday invitation card, first choose a preferred style and layout. Birthday invitation templates make this part easy. Shutterfly has birthday invitation themes and invitation designs for kids parties and milestone birthdays like a first birthday party. From there, it's minutes to create a kids invitation for a birthday party. Upload the photos you want to use inside the Shutterfly birthday invite template and create winning rainbow party photo cards. Depending on the layout you choose for your invitations, you can add a primary photo or create a beautiful photo collage. Your first birthday party greeting cards will be your own with your favorite photos.
Custom Invitations for Every Birthday
While each and every birthday bash is certainly a cause for celebration, there are a few milestones where a proper birthday party is essential. Your baby's first birthday party is one of them. Milestone birthdays are filled with expectations for a big day. Whether it's time to celebrate a kids birthday, a 16th birthday, a 30th birthday or a 50th birthday, allow these extraordinary celebrations to live up to their expectations with a beautiful birthday party photo invitation or rsvp cards that set the tone for the big day. Shutterfly also has a wide selection of birthday cards that are easily customized.
How to Send Your 1st Birthday Invitations
When you're planning baby's first birthday for your little one, invitation etiquette is important. Make sure you know what to put on your first birthday invites for everyone on your guest list. Your kids birthday invitations should include the date, location, time, directions, photos, and any special requests, such as if you're having a potluck. Before the big day, plan ahead and order your personalized thank you cards for after the party, which could include a birthday photo. Shutterfly has a huge variety of many whimsical options, like confetti or cupcakes, and include design templates that perfectly complement your birthday party invites. Keep track of all the gifts your new one year old gets during the birthday celebration so you can include specific messages in each thank you note. If you're unable to attend the 1st birthday party, but want to send happy birthday wishes, Shutterfly birthday greeting cards are a great way to do it.
Related Products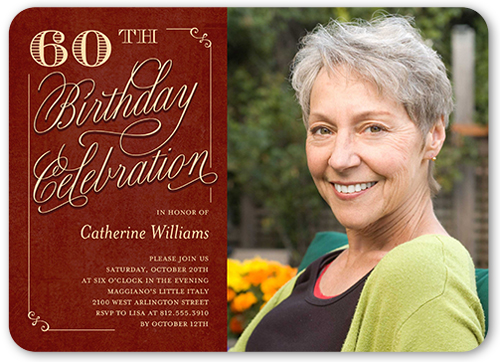 Rustic Elegance Surprise Birthday Invitation. Invite all the guests with this stylish birthday invitation. Just add your favorite photos and all the event details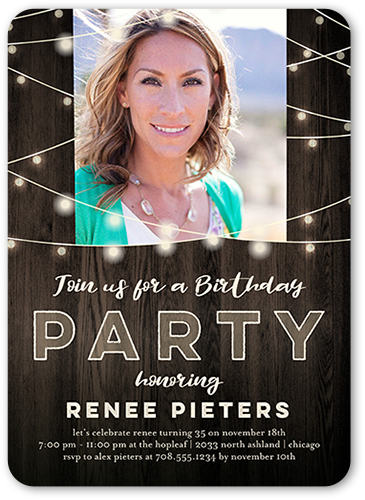 Woodgrain Lights Surprise Birthday Invitation. Invite all the guests with this stylish birthday invitation. Just add your favorite photos and all the event details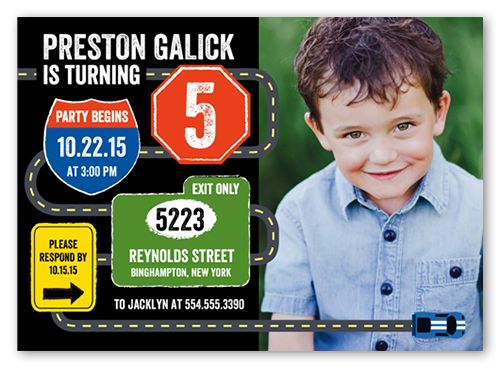 Traffic Signs 5x7 Boy Birthday Invitation. Invite all the guests with this stylish birthday invitation. Just add your favorite photos and all the event details