Adult Birthday Invitations
What customers have to say about our Adult Birthday Invitations
January 22, 2019
Personalized Card Bliss
"Great quality card made from personal photo and personalized captions. Sometimes a store bought card doesn't capture the sentiment you're trying to portray. This is a fantastic option to create your own!"
January 22, 2019
Birthday party
"These invites are by far the best quality I could find. They are durable, clear, and made to perfection. If you are looking to represent your event with the best there is, this is it! !"
January 21, 2019
I will definitely use shutterfly again.
"The Invitations turned out perfectly. I'm very pleased with my purchase."
January 19, 2019
Perfect birthday invitations
"I was delighted with the invitations for my husband's surprise birthday party. They are delightful and I have received several compliments on them from the recipients."
January 17, 2019
I would buy this again. Beautiful!
"Easy to fill in templates. Photos uploaded looked great. Received in the mail quickly by rush order."
Create Custom Adult Birthday Party Invitations
Celebrate your birthday with beautiful custom birthday invitations that match any age and any theme. If you're throwing a surprise birthday party for someone, your friends and family will love receiving a unique surprise birthday invitation in the mail. With Shutterfly, it's easy to personalize birthday invites with fun designs and personal photos of the birthday guy or girl. Your adult birthday invitations will feel elegant, fun, cute, funny, and everything in between!
Designing Personalized Birthday Invitations
Shutterfly is your one-stop-shop for creating birthday invitations you'll love. Choose from more than 70 invitation templates for the perfect party invites that will match the honoree's personality. Whether you are looking to feature one photo or a collage of images, Shutterfly has you covered. The birthday invite design assistant will help you custom select everything from the font colors and sizes to the paper style. You can easily play around with your messaging, background styles, and other design elements. When designing an invitation for a birthday party, there are always a few key details to make sure you hit. Include the day of the week, the date, the time, and the place of the party on your invite. Include a request to RSVP by a certain date as well as your contact info to help you plan your party with ease. Let your guests know if the party will be kid friendly, and don't forget to warn them of your wrath if they spoil a surprise party!
Creating Surprise Party Invitations
If you're creating a birthday invitation card that the birthday guy or girl doesn't know about, you'll need to be careful about what you include. Be sure your birthday party invitations include the party time and place. You may need to include special instructions for where to park or how to enter the party so you can arrive secretly. In addition to the time, let your guests know when the guest of honor is arriving. That way, if any guests are running late they can plan to wait until after the special guest is there so they don't ruin the surprise. With Shutterfly, you can choose unique surprise party designs that clearly tell everyone to keep it a secret with a fun and cute card design.
Shop Birthday Gifts and Birthday Cards
If you've received a birthday invitation recently, it's time to plan for the birthday gift you'll bring. Milestone birthdays are a great opportunity for a personalized photo gift. Commemorate your time together, whether you've known them their whole life or just a few years. Gift a framed print with the two of you together or just a single photo of the birthday guy or girl. Shutterfly also has the perfect photo gifts for every hobby. For your fitness-loving friend, a custom photo water bottle will help them stay hydrated at the gym while they reminisce with favorite photos of the two of you. For the tech savvy, a custom iPhone case is a perfect way to protect their device. Shutterfly has everything you need to deliver personal, unique gifts. No matter which gift you choose, pair it with a photo birthday card as well. Just like Shutterfly's birthday invitations, the birthday greeting cards are fully customizable with flat and folded styles as well as unique textured patterns. Your loved ones will feel so special on their big day with gifts and cards that are designed with them in mind.
Related Products
Chalkboard Celebration Baby Boy First Birthday Invitation. Invite all the guests with this stylish birthday invitation. Add your favorite photos and all the event details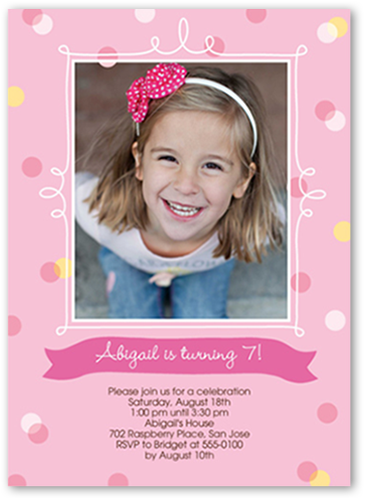 Confetti Splash Girl First Birthday Invitation. Invite all the guests with this stylish invitation. Simply add your favorite photos and all the event details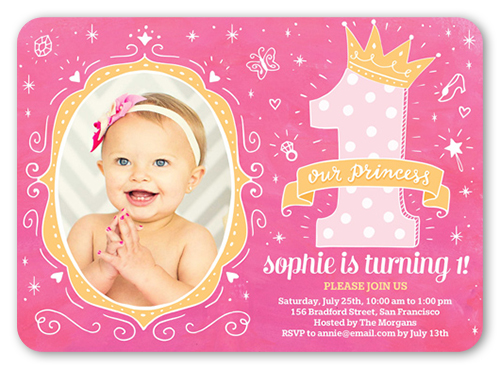 Princess Doodles Baby Girl 1st Birthday Invitation. Invite all the guests with this stylish birthday invitation. Add your favorite photos and all the event details