What customers have to say about our Baby Boy's 1st Birthday Invitations
"These invitations came out so adorable! I actually had them made for my fur baby's first birthday party!"
"Used the silver glitter template for my daughter's 16th birthday invites. They turned out amazing."
January 5, 2019
Beautiful quality cards
"I love these cards and have ordered many over the years. The paper is very nice and heavy for both the cards and envelopes."
December 27, 2018
Yippee Skippee!
"Just PERFECT as to what I wanted... Brilliantly depicted. Graciously received..."
December 23, 2018
This website for placing a simple card order is the worst.
"Impossible. All the other reviews that express frustration with using the Shutterfly website are correct. It is worse than frustrating."
Celebrate a Milestone with Baby Boy's 1st Birthday Invitations
Your baby boy's first birthday might feel like it came too fast, but it's time to celebrate with custom baby birthday invitations and a big celebration! Your friends and family will love a custom first birthday invitation complete with some of the best photos of him - both silly and cute. Though he might not remember the big day, you can always keep your first birthday invite to commemorate the day and show it to him as he grows up. Celebrate your growing boy by sending out personalized first birthday invitations to your friends and family and hosting a fun party!
Making a Baby Birthday Invite
With Shutterfly, it's easy to create a high-quality set of baby boy first birthday invitations to send out before the party. Choose from invitations in a variety of themes and designs to find something you like. You can select classic boy-themed designs or gender neutral themes. Then, you can personalize your cards down to every little detail. Upload your favorite photos of the birthday boy, choose the best fonts and colors, and customize your invitations with the event details. Your 1st birthday boy invitations can serve as a fun update for friends and family by showing pictures of his first year in the world. Aim to mail the invitations about 3-5 weeks in advance of the party.
Preparing for Your Son's First Birthday Party
Hosting the party at home? If so, there is more to do than send out your baby boy's first birthday invitations. Get your house ready for this special celebration with beautiful photo décor. Set the fun, precious mood with decorative wall decals that complement the party theme. Create customized dinner plates—perfect for serving birthday cake, and they also make great keepsakes for years to come. Personalize a set of stylish throw pillows commemorating your little (yet soon-to-be not so little) one. No matter how you decorate for the party, it's sure to be a fun yet bittersweet celebration of your baby boy's growth. Prepare to shed some joyful tears when you see your little guy enjoying his very first birthday cake. We probably don't need to tell you this, but don't forget to take plenty of pictures of the occasion. They'll make a great addition to a future photo book.
Fun Baby Gifts for a First Birthday
If you've received a baby boy's first birthday invite in the mail, make sure to bring some great gifts! You can always shop for useful gifts that the parents will love, but there are also plenty of toys and products that the birthday boy can enjoy as well. If you're a close family member, you can create a sweet baby blanket that includes photos of the baby boy and you together. The blanket will become a touching keepsake over the years. Also consider creating a personalized nightlight with their initials that they'll get plenty of use out of even as they grow. When in doubt, you can always gift photo prints of the parents with the baby boy - there's no such thing as too many baby photos! They'll especially love if you print photos they've never seen before. For an even more personalized touch, create custom photo tiles that they can hang on the nursery wall without causing damage. Don't forget to bring a birthday card too!
Related Products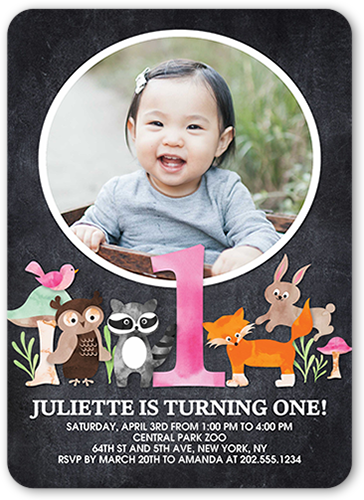 Animal Festivities Girl First Birthday Invitation. Invite all the guests with this stylish birthday invitation. Add your favorite photos and all the event details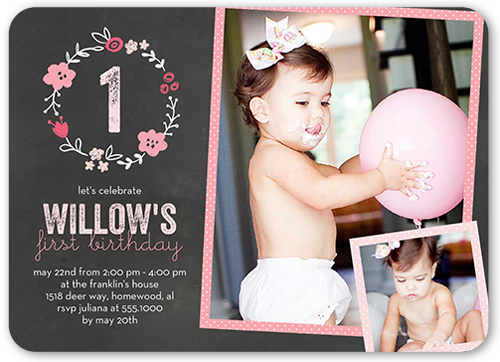 Floral Birthday Girl First Birthday Invitation. Invite all the guests with this stylish birthday invitation. Just add your favorite photos and all the event details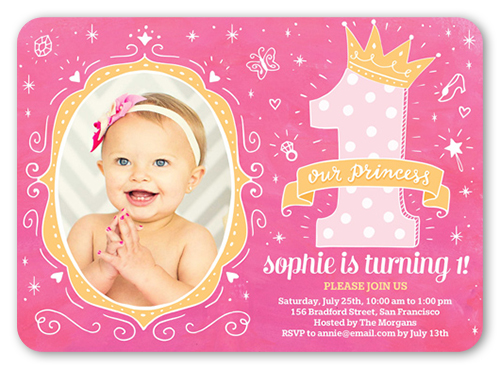 Princess Doodles Baby Girl 1st Birthday Invitation. Invite all the guests with this stylish birthday invitation. Add your favorite photos and all the event details