Teen Birthday Invitations
What customers have to say about our Teen Birthday Invitations
January 22, 2019
Personalized Card Bliss
"Great quality card made from personal photo and personalized captions. Sometimes a store bought card doesn't capture the sentiment you're trying to portray. This is a fantastic option to create your own!"
January 12, 2019
Shutterfly products always look great!
"If you love one of your photos, turn it into a card! Whether it's a Thank you card, a sympathy card, a birthday card or any other kind of card, it'll turn out great!"
January 10, 2019
It exceeded my expectations
"Great, professional results"
"Used the silver glitter template for my daughter's 16th birthday invites. They turned out amazing."
"quick and easy. Great pricing."
Create the Perfect Teen Birthday Invitations
Sending out teenager birthday invitations is all about choosing the best designs and letting them customize how they like. When it comes to the teen years, birthday invites need to be more mature yet still as fun as they might have looked when they were kids. With Shutterfly, you can make your own birthday invitations for teens that are cute, fun, and even elegant. It's easy to customize the birthday invitations online to choose colors, styles, photos, trim, and more. The party invites you choose can match your party theme as well as the personality of the birthday guy or girl.
Designing Your Teenager's Birthday Invitations
Shutterfly makes it easier than ever to capture the personality of your teen and turn their individuality into a beautiful birthday invitation card. The best part is you can turn it into a memory-making experience with your teen and let them customize the invitation exactly as they want it. Together, upload your favorite pictures to one of Shutterfly's many template options. Use the templates to arrange your favorite pictures to perfection. You can personalize down to every detail—choose your favorite fonts, colors and a custom message. Be sure to include the day, time and location of the birthday party in the invitation. Your life will also be much easier if you include your personal contact information for the RSVP so that you can plan the party accordingly. Aim to send out the birthday party invitations at least three weeks before the birthday party to allow other parents time to make arrangements.
Hosting a Birthday Party for a Teen Boy or Girl
If you're putting together a teen girl birthday party or teen boy birthday party, the best thing you can do is include them in the process. They might have their own perspective on birthday party decor and party favors for their friends. A fun activity you can do with your teen (or as a surprise gift) is to make a canvas photo collage of them, their friends and all of their favorite photographs. Then, you can display all those special memories at the party. Your son or daughter and their friends will love seeing themselves displayed through the party decor. Don't forget to put up a fun birthday banner as well to celebrate their milestone. Though the teens at the party won't be drinking alcohol, you can still design fun mason jars just for the occasion so the guests can enjoy punch or soda with beautiful custom cups.
Fun Birthday Gifts for Teenagers
If you've received teen birthday invites this year, it's time to get planning on what gifts you'll bring. With Shutterfly, you can't go wrong with a personalized photo gift. If you've been friends with the birthday guy or girl forever, you probably have a ton of personal photos you can use. Browse through your camera roll and choose funny options for a custom mug, or create a sentimental moment with a photo in a custom frame. For more practical gifts, they'll love a custom wireless phone charger - we know their battery is always drained! Consider gifting a custom iPhone case as well for all the times they've dropped their phones. Along with the birthday gift, don't forget to include a birthday card with a sweet message as well.
Related Products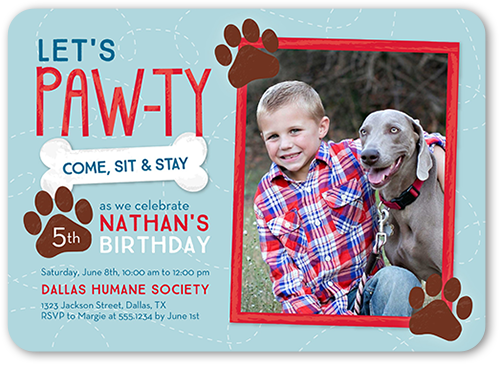 Paw-ty Time Surprise Girls Birthday Party Invitation. Invite all the guests with this stylish birthday invitation. Just add your favorite photos and all the event details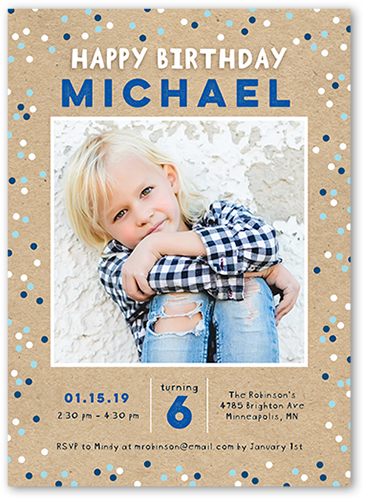 Cheerful Dots Boy 5x7 Birthday Party Invitations. Invite all the guests with this stylish birthday invitation. Just add your favorite photos and all the event details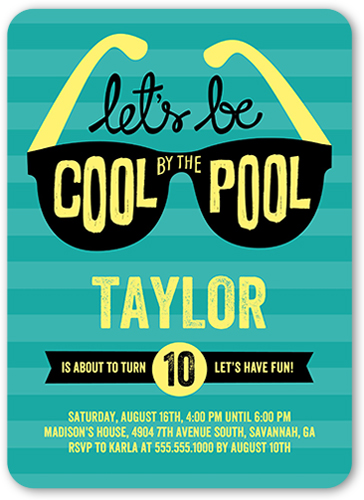 Cool By The Pool 5x7 Boys Birthday Party Invitations. Invite all the guests with this stylish birthday invitation. Just add your favorite photos and all the event details