What customers have to say about our Address Labels
"VERY CUTE"
January 26, 2019
Delightful!
"I love the delicate design and lavender color."
"Pretty lables"
"Can't wait to use these cute adress lables!"
January 23, 2019
Love these labels!
"Cute labels, easy to read, fun to make. I have bought several different types now and love them all! Great gifts for grads, new babies, newlyweds, housewarming presents...you name it!!"
Celebrate with These Birthday Address Label Ideas
Whether it's your birthday or you're celebrating someone else's, add an extra dose of fun to the occasion with customized birthday address labels. Perfect for enhancing party invitations and thank you card envelopes, a set of address labels is an easy way to bring style and a pop of color to your birthday stationery.
Birthday Address Label Themes
Personalized address labels are a great way to show a glimpse of the party's theme before your recipient even opens the invitation envelope. With chic and high-quality designs that are customized to match your style, your address labels will be instantly recognized and adored.
Kids and adults alike will be wowed by our colorful collection of birthday labels. Choose your favorite from a variety of themes, including boy birthday, girl birthday, baby, animals, floral, elegant and more.
No matter the theme you've chosen for your party, discover address labels that coordinate perfectly with your birthday party invitations for a custom-tailored look.
Birthday Address Label Ideas
If your party doesn't have a defined theme, or you simply haven't decided on one yet, have no fear. We have some additional, versatile ideas that will work with any kind of birthday party:
Photo Address Labels: Many of our address label designs can be personalized with a photo of the honoree for an eye-catching, special addition to your envelopes no matter the party theme.
Classic Birthday Labels: You can't go wrong with a simple party-themed set of address labels that will complement everything from baby's 1st birthday to a friend's 40th. From balloons to banners to confetti and candles, we've got quite a few birthday label designs that will be perfect for you.
Monogram Address Labels: Customized, classic and chic—address labels personalized with the honoree's monogram are a stylish choice.
Make Your Birthday Invitations Stand Out
In addition to customizing a unique set of happy birthday address labels for your invitations, here are a few other ideas to help your stationery stand out:
Choose colorful envelopes. When personalizing your party invitations, choose from several stunning envelope colors that will ensure they're the brightest, most cheerful piece of correspondence in your recipients' mailboxes.
Add personalized stamps. Complete your customized stationery set with coordinating postage stamps that highlight a photo of the birthday girl or boy.
Let us address your invitations. Choose to let us print the addresses on each of your envelopes to give your invitations a professional quality—and make party planning easier on you!
By incorporating each of these tips and ideas, your birthday party address labels and invitations are sure to be a hit with everyone who sees them.
Related Products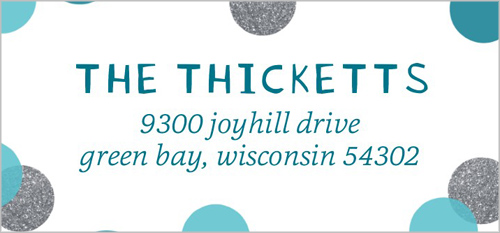 Be Jolly Dots Address Label. Address your envelopes with stylish address labels. Corresponding invitations, gift tags thank you and Christmas cards are also available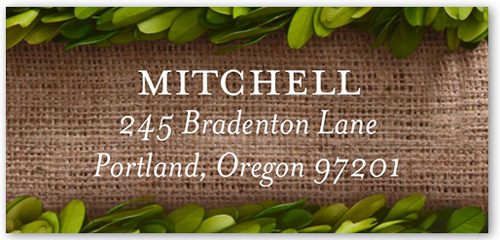 Boxwood Frame Address Label. Address your envelopes with stylish return address labels. Corresponding invitations, gift tags and Christmas cards are also available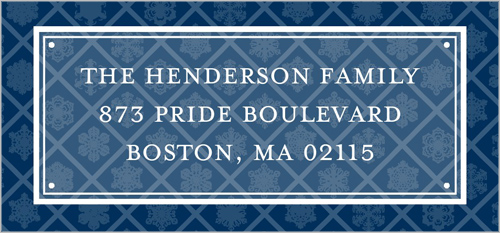 Captured Snapshots Address Label. Address your envelopes with stylish address labels. Corresponding invitations, gift tags and thank you cards also available