Black Note Cards
What customers have to say about our Folded Note Cards
January 26, 2019
These turned out so CUTE!!!
"The card stock is very heavy and makes it a nice writing experience. Quality, thick, great bright colors on the card. This is a great product and a wonderful purchase."
January 21, 2019
Great Quality
"Thank you notes are a nice idea and shutterfly makes it easy. The ability to personalize each side of the card is nice as well. Now its not just some cheesy card but a photo update on how life is going."
January 14, 2019
I love the cards.
"Shutterfly products are excellent! I love them very much."
"I had made and ordered the note cards once before and everyone liked them."
January 12, 2019
Amazing quality!
"Easy to make, edit & personalize these high quality cards! This was actually a reorder - changed a bit this time around after the 1st set were all sent! I Love Shutterfly!"
Make Your Statement with Black Note Cards
No matter what you have to say, a note card is a beautiful way to say it. Share your thoughts and feelings or let your loved ones know you're thinking of them with customized black note cards that feature your selected photos on the front and a special handwritten note on the inside. The art of sending note cards is highly underrated, but once you see the response you get - from the thank-yous for your thank-you cards to a flurry of other personalized birthday invitations or announcements in the mail for you-you'll be hooked on what a fun and easy way it is to keep in touch.
Bridge the Distance with Folded Note Cards
We all have those friends and family we love from afar. Maybe you moved away from home for a big career opportunity - or your kids did and they took the grandkids with them. Some of your friends over the years have probably relocated or retired to relaxing, tropical spots, too. Note cards are an inexpensive way to bridge the gap and keep friendships and family relationships strong.
Note Cards Aren't Just For Holidays
Of course, you know to send thank-you cards when someone does you a solid favor, but you can send just-because cards, too. Let your feelings flow with a handwritten note, joke, or drawing a folded card. Surprise your friends with interior photos, too! No one is ever mad at getting a card that says thanks for being a friend, especially when the outside includes awesome photos of you and your loved ones.
Picking Photos for Folded Note Cards
You can keep your photo selections evergreen - that means they're relevant year-round - so that you can send black note cards for any occasion, or you can customize a photo shoot that lets you send note cards for a specific purpose. Maybe you want to highlight your growing family, so all your images are the kids shooting up like bean poles over a year or two. Another cute idea is to focus on all your travel shots so that when you send a card across town or across the world, the feel fits right in with your other global moves. One thing is certain. No matter where your recipient lives, they'll be glad to get your mail.
Related Products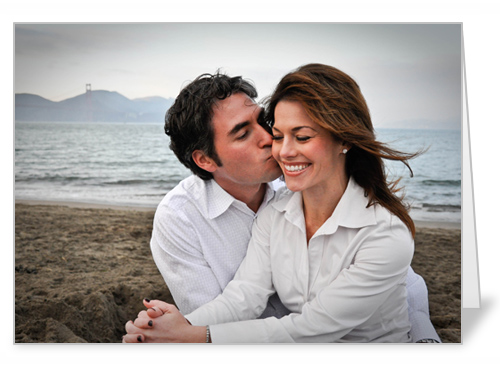 Classic Collage 3x5 Thank You Card for Him. This classic thank you card features a single shot or up to six of your favorite pictures. Perfect for expressing your thanks to friends and family