Black Sympathy Cards
What customers have to say about our Sympathy Cards
January 20, 2019
Impressive!
"Fantastic collage. Great editing tools and fantastic final product. Sadly, the shipping costs were exhorbitant. Even priority mail is 2/3 less. Too bad. The quality of these cards and envelopes were extraordinary."
January 17, 2019
Meaningful template and easy to modify
"The template was solemn and appropriate."
December 27, 2018
Love creating custom cards
"I really appreciate the opportunity to create a custom pet sympathy card, gave it addresses stamped and mailed all in one fell swoop. I have sent this card twice this year already and recommend it to others."
November 23, 2018
Definitely a must
"I hope I don't have to buy this any time soon, but when I do, this is a must! Beautifully organized, perfect picture quality, and the cardstock material makes these cards well worth the purchase. Unfortunate circumstances, but this made everything just a little easier to deal with."
November 19, 2018
Great product
"They were easy to make and turned out great!"
Creating Thoughtful Sympathy Cards
Sympathy cards are thoughtful pieces of correspondence that you can use to express condolences to someone suffering a loss. This simple gesture can say so much and has the ability to reach across the miles even when you cannot physically be present for someone. Sharing your thoughts at this difficult time is easy with the help of Shutterfly's collection of tasteful black sympathy cards. These are simple to personalize so you can express a heartfelt message.
The Perfect Card for Important Occasions
Skillful designers crafted each of our black sympathy cards. You can feel confident that your card will look and feel exquisite thanks to our high-tech printing capabilities. We handle each order with care to ensure that everything is exactly to your specifications. We understand how important your gifts, cards, photo books, and other items are, so we take special care of every order. If you have questions or concerns about your order or about any of our products, our customer service center can assist you.
Sharing Special Moments
We have designed sympathy cards able to feature your favorite family portraits and special snapshots. These personal images communicate volumes and are sure to warm the hearts of everyone who receives one. We offer sympathy cards in many different colors and styles to help you find the perfect one for your taste and budget. Shutterfly's online design studio also lets you add custom messages to these cards to better express your feelings at this time.
If you have multiple photos you wish to share, consider choosing our Treasured Moments Sympathy Card, featuring a tri-fold design. This can accommodate three portraits as well as a personal message. This will make a lovely memento for family members and friends of the deceased. The Shutterfly team understands just how important it is to have sympathy cards made correctly. We take this work seriously and strive to deliver top-notch customer service. Place your order today for a personalized gift such as a cutting board, garden stone, or growler with confidence.
Related Products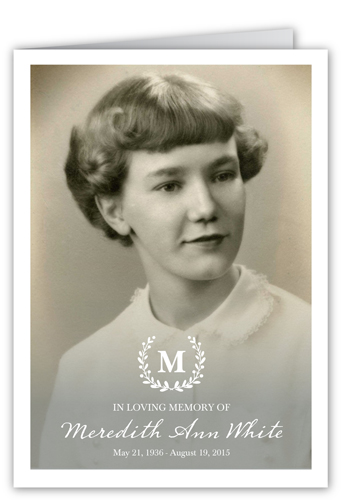 Comforting Wreath Funeral Sympathy Cards. Send your condolences with a solemn sympathy card. Personalize with a photo and your own message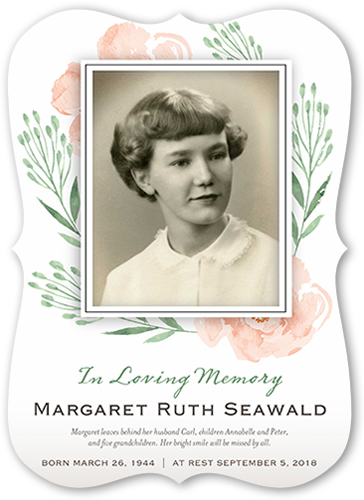 Floral Framed Memory Funeral Sympathy Cards. Send your condolences with a solemn sympathy card. Personalize with a photo and your own message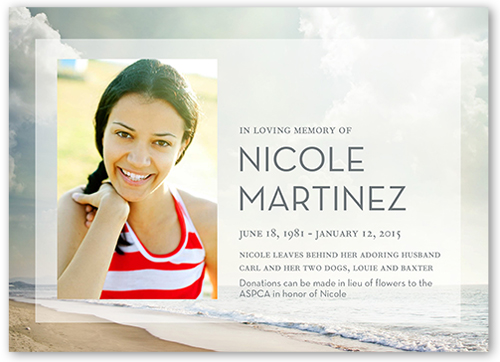 Simply Remembered Funeral Sympathy Cards. Send your condolences with a solemn sympathy card. Personalize with a photo and your own message