Blue Baby Shower Invitations
What customers have to say about our Baby Shower Invitations
January 26, 2019
I would buy this again definitely!
"This invitation is beautiful I just wish the liners that came with it stuck better"
January 25, 2019
Perfect invite
"These are so cute and came exactly as I expected. Love them!"
January 24, 2019
In love with the shower invites
"These invites are so cute. They came just as ordered. I love shutterfly. They never disappoint."
January 22, 2019
I would buy this product again.
"Bought this for my baby shower invitations and it exceed my expectations."
January 21, 2019
I really liked my purchase experience
"I needed to order baby shower invites. I was pleasantly surprised to find out I could have Shutterfly take care of the invitees addresses, return addresses, and stamps! What a time savor! And the invitations are adorable!!"
Make an Impact with Personalized Blue Invitations
A precious baby boy is on his way, and you want to welcome him in a special way. Traditional boy baby showers feature pastel blue decor and invitations with diapers, safety pins, and teddy bears. Whether you want an updated version of the classic look or something unique that will wow your guests, you'll find an incredible variety of blue baby shower invitations at Shutterfly.
Blue Baby Shower Invitations to Match Your Style
Shutterfly offers dozens of darling blue baby shower invitations that are fully customizable. Browse them all or filter them by size, party type, or theme. Keep it simple and easy to match with our texture and pattern cards. Featuring everything from watercolor designs to gorgeous blue and white stripes, our invitations will stand out from the rest. You could even host an adorable animal themed party with our whale or elephant themed invitations.
No matter which design you choose, you can add your own text to include as much or as little information as you want. You're free to use our suggested font or get creative with the style, color, and size of your choice. Create a unique look with a custom trim, or make your blue invitations shine with our Pearl Shimmer Cardstock. It's up to you!
Custom Blue Baby Shower Invitations in Moments
All of our blue baby shower invitations are custom-made for your special event. Many even feature your own photo of the mom-to-be or a sonogram image. When creating your invitation, we walk you through each step. With personalization options along the way, you can ensure your card matches your style. Not sure what to say on your personalized blue invitation? Check out our baby shower invitation wording tips for inspiration. You can even include additional information on the back of the card. Add driving directions, registry information, or social media hashtags to give your guests all the information they need.
Shutterfly makes it easy to create a custom blue baby shower invitation your guests will love. Make an impression even sooner with our coordinating address labels, or seal the envelope with a personalized sticker that you can also use for party favors.
Related Products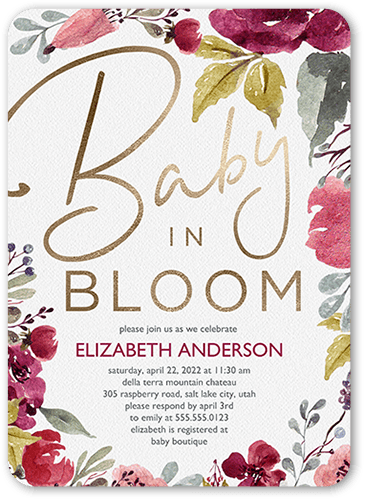 Baby in Bloom 5x7 Stationery Card by Éclair Paper Company. Shower her with love and a stylish baby shower invitation. Personalize it with the party details.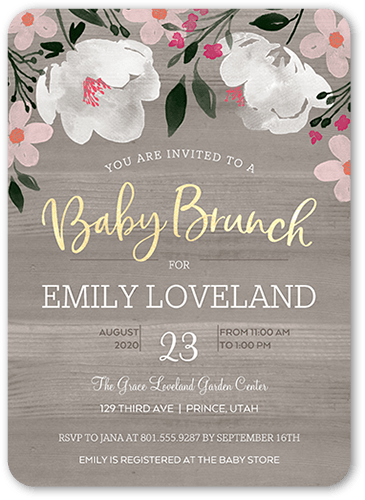 Brunch Blooms 5x7 Stationery Card by Petite Lemon. Shower her with love and a stylish baby shower invitation. Personalize it with the party details.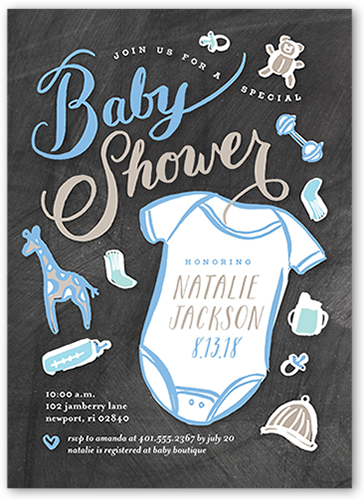 Chalkboard Arrival Boy 5x7 Baby Shower Invitation Cards. Shower her with love and a stylish baby shower invitation. Personalize it with the party details.