What customers have to say about our Baby Shower Invitations
January 26, 2019
I would buy this again definitely!
"This invitation is beautiful I just wish the liners that came with it stuck better"
January 25, 2019
Perfect invite
"These are so cute and came exactly as I expected. Love them!"
January 24, 2019
In love with the shower invites
"These invites are so cute. They came just as ordered. I love shutterfly. They never disappoint."
January 22, 2019
I would buy this product again.
"Bought this for my baby shower invitations and it exceed my expectations."
January 21, 2019
I really liked my purchase experience
"I needed to order baby shower invites. I was pleasantly surprised to find out I could have Shutterfly take care of the invitees addresses, return addresses, and stamps! What a time savor! And the invitations are adorable!!"
Baby Shower Invitations for Boys
Baby showers for boys are joyous occasions for celebrating an upcoming birth. Sometimes the mother will plan the shower herself, and sometimes she and the father will plan it together. More often than not, a trusted friend or family member will be in charge of the event, including sending out invitations.
Who to Invite to the Baby Shower
Especially if you're planning the shower for someone else, you may be unsure exactly who to invite. Unless the baby shower is a surprise, it's perfectly fine to ask the mother's advice. Celebrate a baby shower with close friends and family. You will probably want to avoid inviting acquaintances or the mother's business associates who don't know her outside of work. Baby showers are intimate affairs, and they often include fun activities that may make guests uncomfortable if they don't already know the mother well.
Of course, not everyone invited to the shower will be able to attend. Some may have conflicts in their schedule or previous engagements. If you send out 20 invitations, there is a good chance you will get at least ten guests, which makes for a significant number. Any more than 20 guests could become too impersonal.
Either before or after deciding whom to invite comes the fun part—choosing the invitations! Shutterfly has great choices for baby shower invitations for boys. Some of the options include cards with personal photos, nautical, and cards for a couple's shower. You can also choose stationery for a gender reveal or for a "baby sprinkle," which is an event for parents-to-be and moms-to-be who prefer limited gifts. Browse our baby shower theme ideas for boys if you are having trouble deciding on a theme.
Other Must-Have Items
If you're the pregnant one, don't forget thank you cards for all the beautiful gifts you're sure to receive. Shutterfly has thank you cards for babies. While you're at it, you might also want to pick up baby address labels. You can use these labels both for the baby shower invites and for general use. Address labels take the pain out of writing your return address over and over again. View these helpful tips on how to address a baby shower card.
Getting the right stationery for your baby shower is an enjoyable and essential step in the planning process.
Related Products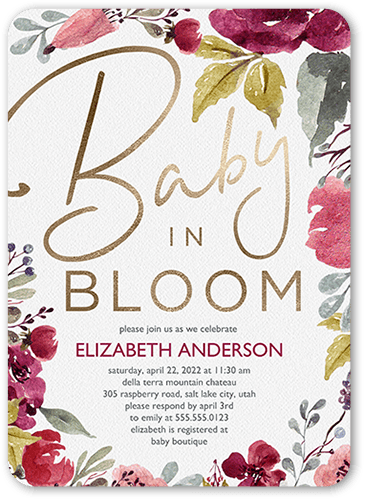 Baby in Bloom 5x7 Stationery Card by Éclair Paper Company. Shower her with love and a stylish baby shower invitation. Personalize it with the party details.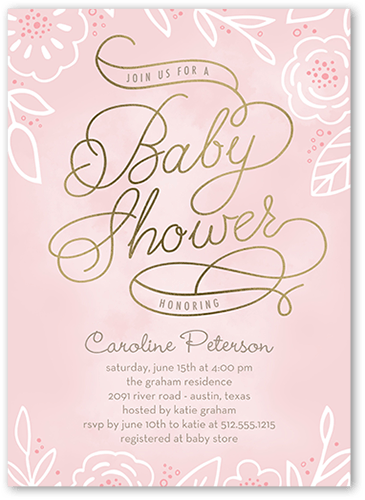 Delicate Florescence 5x7 Stationery Card by Berry Berry Sweet. Shower her with love and a stylish baby shower invitation. Personalize it with the party details.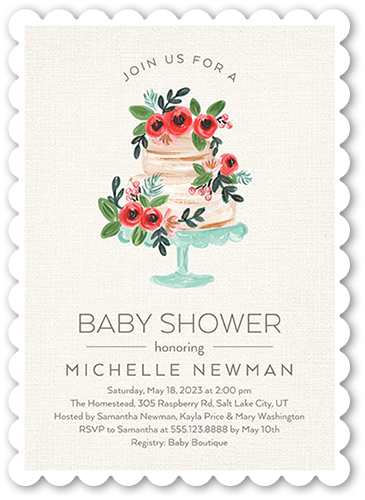 Floral Sweets 5x7 Stationery Card by Stacy Claire Boyd. Shower her with love and a stylish baby shower invitation. Personalize it with the party details.