Baby Shower Invitations for Boys
What customers have to say about our Baby Shower Invitations
January 26, 2019
I would buy this again definitely!
"This invitation is beautiful I just wish the liners that came with it stuck better"
January 25, 2019
Perfect invite
"These are so cute and came exactly as I expected. Love them!"
January 24, 2019
In love with the shower invites
"These invites are so cute. They came just as ordered. I love shutterfly. They never disappoint."
January 22, 2019
I would buy this product again.
"Bought this for my baby shower invitations and it exceed my expectations."
January 21, 2019
I really liked my purchase experience
"I needed to order baby shower invites. I was pleasantly surprised to find out I could have Shutterfly take care of the invitees addresses, return addresses, and stamps! What a time savor! And the invitations are adorable!!"
Baby Shower Invitations for Boys
If you're expecting a baby boy, get ready for your upcoming baby shower with custom baby shower invitations from Shutterfly. A baby shower is a lovely way to bring family and friends together to celebrate a pregnancy and welcome your new addition into the world. Shutterfly offers a vast collection of stunning baby boy shower invitation designs. Our stylish and adorable baby shower invitations for boys will give your guests a sneak peak into what they can expect when celebrating your little boy and the mother-to-be at your shower.
Creating Your Baby Boy Shower Invitations
Shutterfly's adorable collection of baby boy shower invitations lets you fully personalize your invites to fit your style and personality. If your baby shower has a theme, select a card design that matches it so you can establish a cohesive look and feel from the beginning. You'll find personalized baby shower invitation designs with woodland animals, starry nights, greenery, elephants, and more. If your party doesn't have a specific theme, choose one of our high-quality non-theme invitation designs that are equally as stunning and fun. You can even choose to customize a photo card featuring a photo of the mom-to-be. From blue baby shower invitations and trendy designs, you'll have no trouble creating a baby shower invite that is perfect for you. Once you've chosen your baby boy shower invitation template, have fun personalizing it with the event details and a special message to your guests. Choose from multiple baby shower invitation size options, adjust font sizes and styles, and add a unique trim and select a color palette perfect for your little man. Our high-quality cardstock adds an elegant touch and will get your loved ones excited to celebrate the mother-to-be and the new baby. Once your little boy makes his debut into the world, introduce him to family and friends with Shutterfly's collection of boy birth announcements.
Boy Baby Shower Invitation Themes and Styles
With Shutterfly's personalization tools and collection of unique baby shower invitations for boys, creating the perfect card is simple. Whatever theme you're going for — from elephant baby shower invitations to watercolor and nautical designs — you can find what you're looking for with Shutterfly. Whether you're throwing a baby sprinkle, brunch, BBQ, or a couples shower, you can customize your boy baby shower invitation cards to fit the occasion. Celebrate the mom-to-be in style with cute themes she'll love, from rainbows, floral, and fruits to more modern and sleek baby boy shower invitations. After your little boy arrives, thank your guests for their presence and gifts with custom thank you cards. Having a girl? Design custom girl baby shower invitations, or choose gender neutral card designs if you're having a surprise or hosting a gender reveal party.
Related Products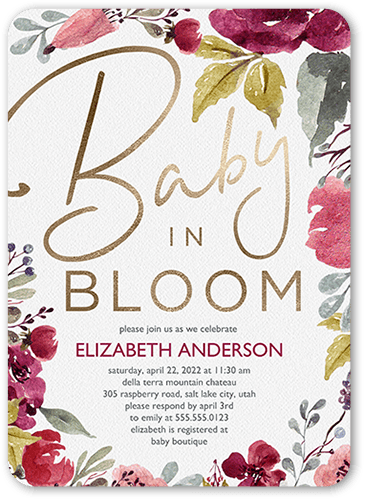 Baby in Bloom 5x7 Stationery Card by Éclair Paper Company. Shower her with love and a stylish baby shower invitation. Personalize it with the party details.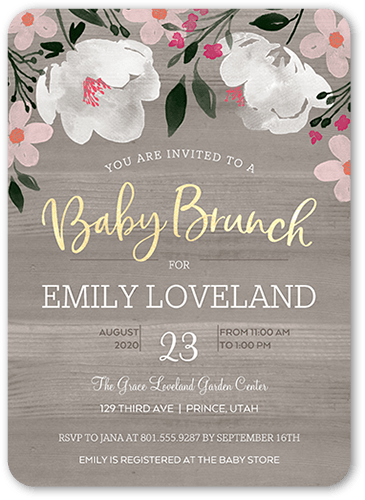 Brunch Blooms 5x7 Stationery Card by Petite Lemon. Shower her with love and a stylish baby shower invitation. Personalize it with the party details.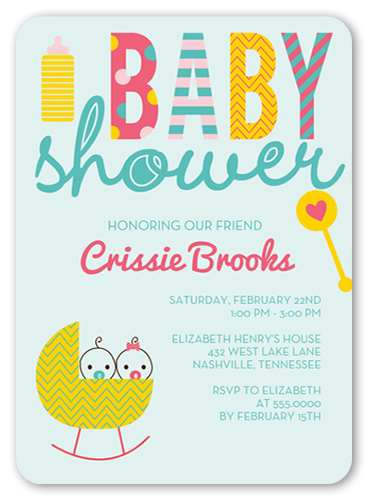 Cute Cradle Twins 5x7 Neutral Baby Shower Invitations by Hello, Kelle. Shower her with love and a stylish baby shower invitation. Personalize it with the party details.