What customers have to say about our Thank You Cards
January 27, 2019
Grateful for my thank you cards
"I ordered these cards to give out with my closing gifts to my buyers and I am so glad that I did. The quality is amazing and the print was perfect. Can't wait to use them!"
"Love the size, love the card stock, love how our photo fit so nicely."
January 27, 2019
Love these cards.
"Shutterfly always does a great job."
"Once again, Iove my end result from Shutterfly. The people love their personalized cards too."
January 26, 2019
These turned out so CUTE!!!
"The card stock is very heavy and makes it a nice writing experience. Quality, thick, great bright colors on the card. This is a great product and a wonderful purchase."
Business Thank You Cards
Create custom business thank you cards to send to colleagues, clients, or after a job interview with Shutterfly. Relationship maintenance is and always has been a key part of building a successful career in the business world. Whether you are an executive looking to move up, an entrepreneur looking to cement bonds with vendors and customers, or just a worker looking to make sure your regular contacts realize how much you appreciate their custom, business thank you cards provide you with the opportunity to send the right message whenever your contacts provide you with gifts, or just when it is time to show them your appreciation. Business thank you cards provide that extra layer of communication that can often be the difference in successful business relationships. Custom business cards are also a proven way to remind people of who you are and what you do.
When to Send Business Thank You Cards
Because there are a variety of opportunities to say thanks in the business world, sending business thank you cards are always timely. The most obvious occasions would be when customers or vendors invite you out recreationally, to golf outings, retreats, or social gatherings. It is also a good idea to have business thank you cards on hand to show gratitude to those within your organization, including both those you depend on to help you do your job well and the mentors who invite you to develop your professional skills more by providing access to opportunities. This is where you can use business thank you cards to reciprocate and show gratitude. Depending on your position, it may be a good idea to keep various styles of business thank you cards, to present a slightly different message and design depending on the circumstances. Business thank you cards can take many forms and, with a personal touch, reflect your business and personal style. Personalized thank you cards are an extension of your business and we offer a variety of templates.
Gifts to Send With Your Business Thank You Cards
Of course, the best way to say thank you for a gift in the business world is to go beyond sending business thank you cards and reciprocate in kind by sending a gift. This includes remembering your business contacts during the holidays with a Christmas card, for example. That's why it's always tempting to respond with something you can customize, like a new coffee mug, mason jars, or pilsner glass. That way, whether the message is lighthearted and fun, or memorable and motivating, you have the opportunity to personalize your thanks when you send a gift in return, instead of sending business thank you cards. Whether you are rewarding a mentor or courting a client, the personal attention and the addition of a custom message or engraving shows your attention to the relationship in ways that a generic gift just does not.
Related Products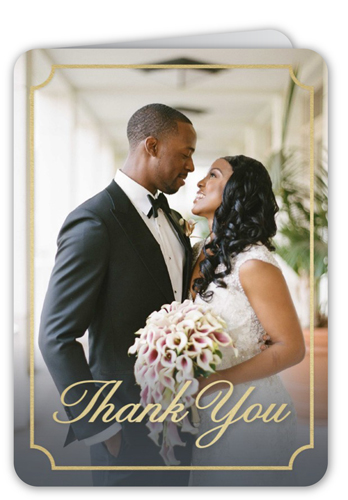 Classic Framed Love 5x7 Thank You Card. Because they deserve it. Give them a personalized thank you card to express your gratitude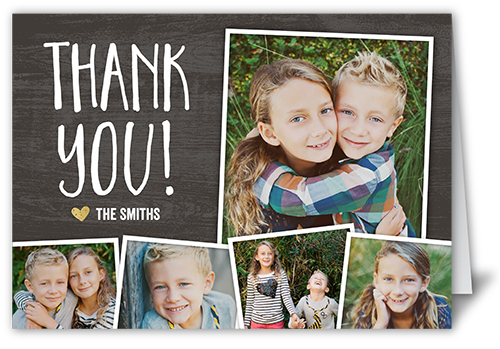 Grateful Collage 5x7 Thank You Card. Because they deserve it. Give them a personalized thank you card to express your gratitude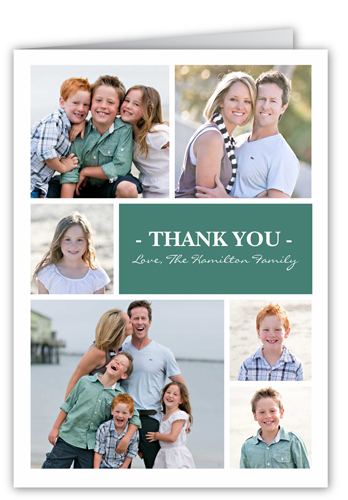 Perfectly Thankful 5x7 Thank You Cards. Because they deserve it. Give them a personalized thank you card to express your gratitude