Christmas Thank You Cards
What customers have to say about our Christmas Thank You Cards
January 27, 2019
Love these cards.
"Shutterfly always does a great job."
January 26, 2019
Love these to send to friends.
"These are so personal. It really makes for a nice way to say hello and thank you in a personal way."
January 23, 2019
good purchase
"Paper is excellent quality as is the envelope. Shipping can be high unless you are ordering a larger number of cards but I only bought one."
January 19, 2019
Such gorgeous Thank You cards!
"This is the first year I purchased Thank You cards for Christmas, but I did and have a ot regretted it at all! It's a perfect way to ring in the New Year, showing gratitude for a holiday that is so highly anticipated and sharing the love!"
"Just what I was looking for. Nice weight and pictures look great on it."
Create Your Own Personalized Christmas Thank You Cards
If your little ones want to remain on Santa's nice list, a great tip to teach them is the art of sending thank you cards. Custom Christmas thank you cards are a fun way to encourage them to develop good habits early on. Shutterfly makes it so easy to create thank you cards that you may want to design a set for yourself. This holiday season, it will be easier than ever to share your gratitude with Shutterfly.
Designing the Cards
Whether you want a blank card, photo card or simple and colorful design, Shutterfly has the perfect thank you card for you. Simply choose your favorite and begin. If you are uploading one of your favorite photos, Shutterfly will guide your through the process. You can select your preferred fonts, colors and design accents for a perfectly festive Christmas thank you card. Many cards have different card stock options so you are sure to end up with a thank you card you really love.
Designing your sets of personalized thank you cards can be a fun activity to do with the little ones. You can sit back and let them design their favorite cards (and relax knowing that you have the final editor decision). By incorporating the kiddos into the creation process, they will surely be excited to mail out their thank you cards after the presents have been opened on Christmas Day. Teaching your children to say thanks is one of the most valuable lessons you can teach them, and they will thank you one day for it (perhaps with a custom thank you card).
Worried about finding the perfect gift for everyone on your list? Personalized thank you cards make excellent gifts for all holidays, birthdays and other gift giving occasions (like weddings). Shutterfly makes it easier than ever to give custom stationery gift sets for every occasion and every personality. Simply find your favorite template and play with the design options to create unique cards that are truly one-of-a-kind. Your thoughtful gift will show how much you care, and may even end up back in your mailbox.
This Christmas, reserve your spot on the nice list with custom thank you cards. Shutterfly has everything you need to create elegant cards that will help express your gratitude. Whether you are designing a set for your own personal use or teaching the kids a valuable lesson, thank you cards will never go out of style.
Related Products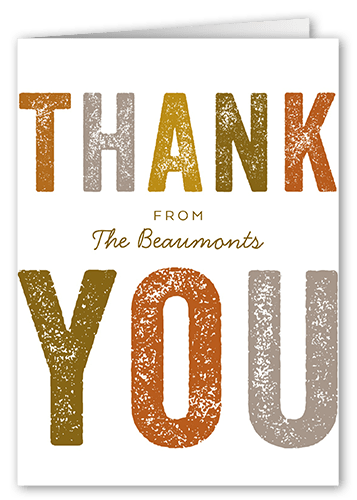 Thanks Gobble 5x7 Stationery Card by Blonde Designs. Because they deserve it. Give them a personalized thank you card to express your gratitude.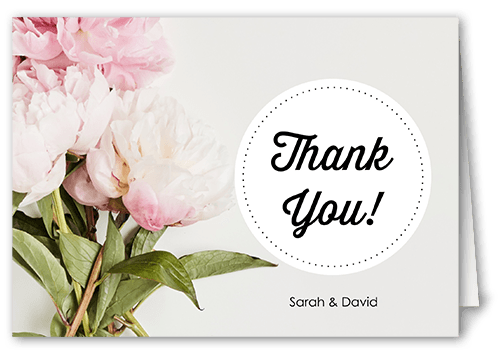 Delightful Bouquet 3x5 Folded Card by David's Bridal. Because they deserve it. Give them a personalized thank you card to express your gratitude.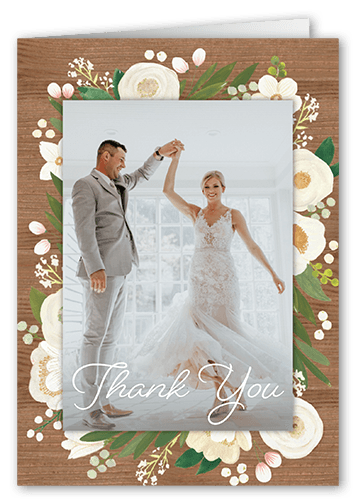 Elegant Bouquet 3x5 Folded Card by Petite Lemon. Because they deserve it. Give them a personalized thank you card to express your gratitude.