What customers have to say about our Baby Shower Invitations
January 26, 2019
I would buy this again definitely!
"This invitation is beautiful I just wish the liners that came with it stuck better"
January 25, 2019
Perfect invite
"These are so cute and came exactly as I expected. Love them!"
January 24, 2019
In love with the shower invites
"These invites are so cute. They came just as ordered. I love shutterfly. They never disappoint."
January 22, 2019
I would buy this product again.
"Bought this for my baby shower invitations and it exceed my expectations."
January 21, 2019
I really liked my purchase experience
"I needed to order baby shower invites. I was pleasantly surprised to find out I could have Shutterfly take care of the invitees addresses, return addresses, and stamps! What a time savor! And the invitations are adorable!!"
Celebrating Mom and Baby
Classic baby shower invitations are the piece of stationery you need to get your party planning started. These invitations allow you to provide relevant information to guests and collect RSVPs for the event. Available in an array of unique designs, this collection offers a baby shower invitation for every theme.
You can find boy, girl, and gender-neutral invitations, as well as baby shower invitations for couples' showers and mothers expecting multiples. Some invitations feature favorite photos, while others showcase one of Shutterfly's unique designs. Multiple card sizes, paper types, and trim options allow you to customize the card to suit your needs.
Preparing Guests for the Baby Shower
When you're planning a baby shower, a chic invitation is a must. In addition to adding a stylish touch to the event, these invitations inform your guests of the event. As a result, you'll want to include all relevant information about the shower. This content includes the guest of honor's name; the date, time, and location; and RSVP contact information. Also, consider adding registry information so that guests know where to find an adorable pink, blue, or yellow gift for the new arrival.
Designing a Baby Shower Invitation
Creating baby shower invitations is simple. With many styles to choose from and a variety of customization options, you can create a baby shower invitation that speaks to the event's theme and style. Check out different types of invitations -- you can find floral designs, adorable animal-themed styles, rustic invitations, and ones that feature a bit of sparkle.
Once you've selected a design, choose the paper type -- signature cardstock or pearl shimmer cardstock -- and trim -- square, rounded, scallop, bracket, or ticket. Then, add your text to the invitation so that your guests have all of the information they need to attend the baby shower.
Shutterfly makes event planning simple. Get your baby shower planning started off right with a stylish invitation designed especially for your event. While you're shopping, check out personalized gifts such as personalized glass gifts, outdoor gifts and decor, and more than the mother-to-be will love.
Related Products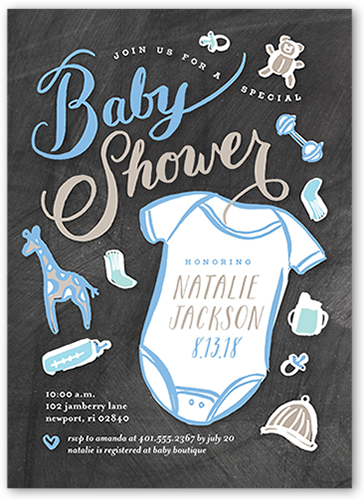 Chalkboard Arrival Boy 5x7 Baby Shower Invitation Cards. Shower her with love and a stylish baby shower invitation. Personalize it with the party details.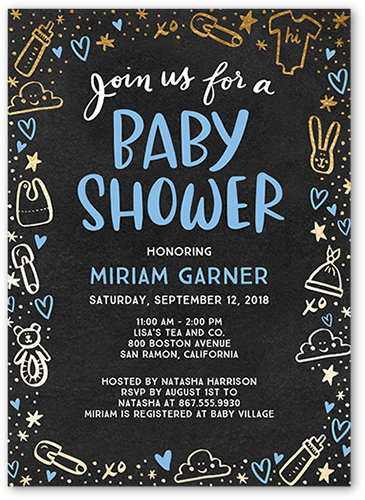 Doodle Border Boy 5x7 Baby Shower Invitation Cards. Shower her with love and a stylish baby shower invitation. Personalize it with the party details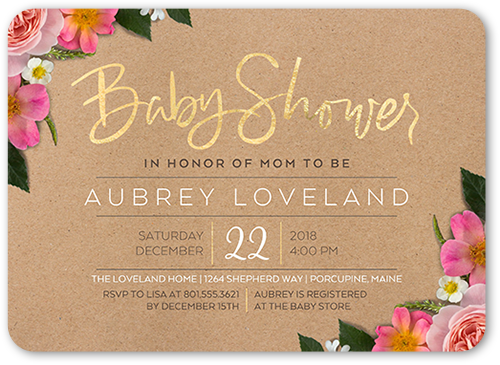 Fabulous Floral Arrival 5x7 Baby Shower Invitation Cards. Shower her with love and a stylish baby shower invitation. Personalize it with the party details