What customers have to say about our Christmas Cards
January 27, 2019
I highly recommend this card!!
"Absolutely love this card they came out perfect!"
January 23, 2019
good purchase
"Paper is excellent quality as is the envelope. Shipping can be high unless you are ordering a larger number of cards but I only bought one."
January 23, 2019
I will absolutely use this product again.
"The first time I have used Shutterfly for our annual greeting card. Very pleased and will use again."
January 22, 2019
Chinese New Year
"Christmas came too soon. No cards went out. New Year's came and went! Still no cards were sent out. But thanx to Shutterfly, made it for a Chinese Greeting! Beautiful cards front and back with pictures of family sent! Halleluah!!!!!"
January 22, 2019
I looved these cards and they arrived so quickly!
"Shutterfly makes last minute projects easy .. I love these holiday cards and continue to make photo books each month with their app as well as edits on desktop site. I love Shutterfly!"
Designing Vintage Christmas Cards
For many people, Christmas is all about traditions. Favorite foods, heirloom decorations, Christmas party games, gathering the relatives together to share stories, and welcoming new family members into the fold – these are just a few of the traditions that families everyone hold dear, especially at this special time of year. You can keep these traditions alive by sending elegant and thoughtful classic Christmas cards to everyone on your list. These beautiful items will certainly find a special place in the holiday displays of all the people you care about.
Revisiting Holiday Classics
What makes something a classic? Often, it is that special feeling of familiarity and cozy joy. Christmas is the perfect time to recapture that special feeling, and it can be done with something as simple as a card. These are just a few of the classic scenes you can look for in card illustrations:

• Cozy fireplaces
• Family togetherness
• Carolers
• Victorian-themed Christmas trees
• Ornaments, greenery, and other attractive decorations
• Snow-covered landscapes
Cards with traditional artwork, inspirational messages, religious sentiments, or historical characters are also excellent choices for anyone wanting to send a classic message to friends, relatives, or customers. Thanks to Shutterfly's enormous selection of holiday cards, finding a variety that perfectly suits your tastes is easy. You can then personalize your cards and arrange for them to be shipped directly to your door.
Preparing This Year's Cards
Personalizing vintage Christmas cards is easy. Just select the design you want, follow the on-screen prompts, and finally add your finished creation to the shopping cart. Our online design studio gives you lots of options to customize your holiday cards in a truly distinctive way.
Your friends and family members will love receiving cards with uplifting, inspirational imagery. Trying to decide on what to write in your Christmas card? Show them you care with a personalized Christmas message. This is the perfect time of year to remind people of the most important things in life. Share these vintage Christmas cards with everyone on your list.
Related Products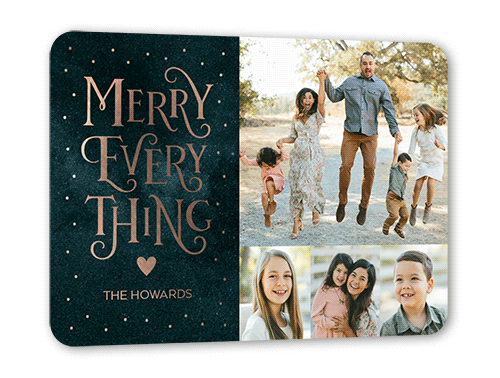 Every Merriment 5x7 Personalized Foil Card by Stacy Claire Boyd. Send a Christmas card friends and family will love. Add your own greeting and everyone's names. There's room for more photos and wishes on the back, too.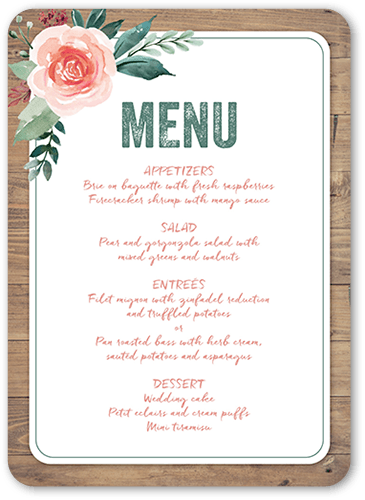 Vintage Wedding 5x7 Wedding Menu by Stacy Claire Boyd. Give your wedding guests a taste of what's to come with an unforgettable menu. Coordinate the design with your wedding stationery suite for the perfect match.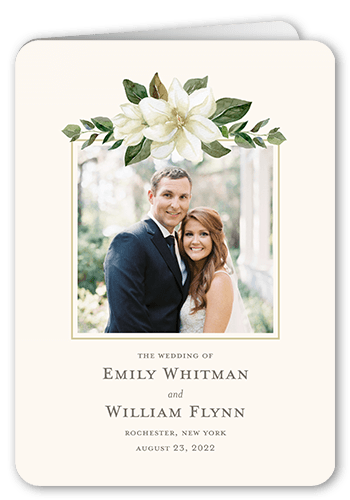 Magnolia Marriage 5x7 Folded Wedding Program by Stacy Claire Boyd. Share all the details of your big day with a personalized program that's sure to impress your guests. It's the perfect way to make them feel more a part of ...