Classic Christmas Photo Cards
What customers have to say about our Christmas Photo Cards
January 23, 2019
good purchase
"Paper is excellent quality as is the envelope. Shipping can be high unless you are ordering a larger number of cards but I only bought one."
January 22, 2019
I looved these cards and they arrived so quickly!
"Shutterfly makes last minute projects easy .. I love these holiday cards and continue to make photo books each month with their app as well as edits on desktop site. I love Shutterfly!"
January 20, 2019
Super fast turnaround time
"I was swamped over the holidays and logged in to Shutterfly in early January to see I was not alone. New Year's card styles were great! I used a coupon and ordered them. Shutterfly had them done and delivered by the end of the week, 3 days before anticipated! Thank you!"
January 18, 2019
Perfect new years card!
"I LOVE all my shutterfly holiday cards - but sometimes need a less expensive one with same quality and this is perfect! LOVE shutterfly"
January 16, 2019
Just the Right Thing!
"Because the family could not be together before Christmas, we chose to send a New Years card this year. My husband and I have only been married for four years and we wanted to send a "blended family" greeting this year. The layout provided by Shutterfly was perfect for our needs."
Classic Christmas Photo Cards
Want your Christmas cards to have a timeless look and feel? You'll love Shutterfly's collection of classic Christmas photo cards. With these one-of-a-kind designs, you'll deliver the joy of the season to your loved ones in a stylish, sophisticated way. Shutterfly's collection of classic Christmas photo cards includes a variety of unique designs that are perfect for spreading holiday cheer this season. Fill your custom Christmas cards with images from the last year that are sure to bring a smile to your recipients' faces. After choosing your favorite design, you can easily customize the perfect card to suit your personality and style.
How to Make Classic Christmas Cards
Shutterfly's personalized Christmas cards can feature all of your most special memories and favorite photos from the last year. Choose your preferred holiday photo card design to send season's greetings to your family and friends. From religious Christmas cards to beautiful watercolor cards, Shutterfly has an impressive collection of holiday card styles and themes. Whether you want to make a Christmas card decorated with festive snowflakes or have your last name written out in shining personalized foil, you can create a unique Christmas photo card you love. Choose the number of photos you want to feature on your Merry Christmas greeting card and start personalizing it to suit your style and personality. Give your classic Christmas cards a touch of modern style with the following customization options that will ensure your holiday greetings stand out:
Photos: Determine how many images you want to feature on your classic Christmas photo cards. Showcase just one favorite picture or make a collage out of your best from the winter season.
Cardstock: Choose from three types of cardstock: Our premium-quality Standard Smooth Cardstock, Signature Smooth Cardstock or our Pearl Shimmer Cardstock, which adds a lustrous shine to your cards.
Foil Designs: Our stunning foil designs feature gorgeous hand-stamped foil and add elegance to your Christmas cards. Choose from gold, silver and rose gold foil options.
Unique Trim: Flat holiday card designs can be personalized with several trim options. Depending on your specific design template, you can select from contemporary rounded corners, traditional square corners, whimsical scallop edges and more.
Your traditional Christmas cards are sure to shine, no matter which design and customization options you choose. And your recipients will be delighted to display your unique, personalized cards in their homes all season long. If you're stumped with design ideas for your classic Christmas cards, our holiday card ideas will get your creative juices flowing!
Create Custom Christmas Card Envelopes
After putting the time into designing classic Christmas cards you absolutely adore, don't leave your envelopes plain and boring! Complete the whole package by adding coordinating personalized return address labels and custom stickers to your envelopes. This stylish packaging will help your Christmas cards stand out in the mail and ensure your loved ones open your special holiday message. You can also choose custom holiday envelopes when personalizing your classic Christmas cards. Discover new ways to impress your recipients with our range of festive envelope designs. If you missed your chance to send Christmas cards this year, send your love to friends and family with custom New Year's cards instead!
Related Products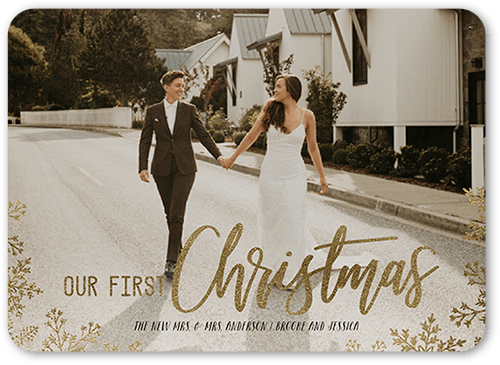 First Frost 5x7 Stationery Card by Éclair Paper Company. Send a Christmas card friends and family will love. Add your own greeting and everyone's names. There's room for more photos and wishes on the back, too.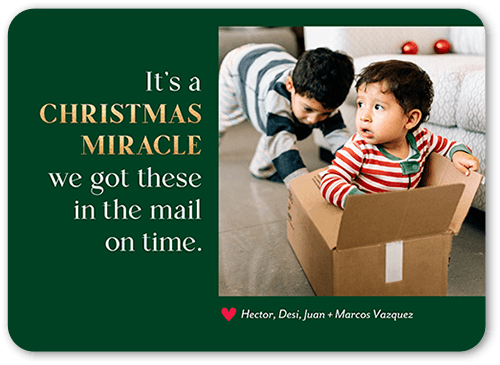 Christmas Miracle 5x7 Stationery Card by Jill Smith. Send a Christmas card friends and family will love. Add your own greeting and everyone's names. There's room for more photos and wishes on the back, too.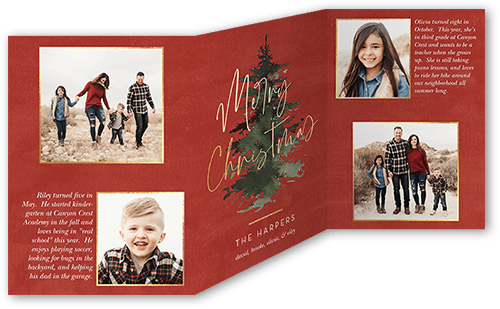 Classic Christmas Fir 5x7 Tri-Fold Stationery Card by Yours Truly. Send a Christmas card friends and family will love. Add your own greeting and everyone's names. There's room for more photos and wishes on the back, too.