Classic Note Cards
What customers have to say about our Folded Note Cards
January 26, 2019
These turned out so CUTE!!!
"The card stock is very heavy and makes it a nice writing experience. Quality, thick, great bright colors on the card. This is a great product and a wonderful purchase."
January 21, 2019
Great Quality
"Thank you notes are a nice idea and shutterfly makes it easy. The ability to personalize each side of the card is nice as well. Now its not just some cheesy card but a photo update on how life is going."
January 14, 2019
I love the cards.
"Shutterfly products are excellent! I love them very much."
"I had made and ordered the note cards once before and everyone liked them."
January 12, 2019
Amazing quality!
"Easy to make, edit & personalize these high quality cards! This was actually a reorder - changed a bit this time around after the 1st set were all sent! I Love Shutterfly!"
Creating a Timeless Handwritten Greeting
A handwritten note is a much-appreciated and often-overlooked form of communication in today's digital age. Shutterfly's classic folded note cards serve many purposes, making them a versatile addition to your stationery kit. They're crafted with high-quality premium cardstock and boast a bevy of designs. Customize them with your favorite photograph, and these note cards become one-of-a-kind pieces of stationery that your recipients will love.
Sending Well Wishes to Family and Friends
Note cards have countless uses, which makes them a must-have addition to your home stationery collection. They serve as ideal thank-you cards, allowing you to send a note of gratitude for family and friends who have delivered a gift, helped you through a tough time, or served you a delicious dinner. Use these cards to send greetings to family and friends during your travels. Add a photograph from your trip to personalize the card. These versatile personalized note cards are also perfect for your everyday greetings, allowing you to send a thoughtful hello to family and friends, no matter how near or far.
Designing Classic Note Cards
Classic folded note cards are completely customizable, allowing you to create a look you love. Select from an array of designs, many of which include space or one or more photos. You can let your favorite photo stand out on the front of the note card, or create a collage showcasing multiple photos. You can also select a monogrammed design that features your initial or family name on the front of the card. Once you choose a design, you can customize your card by uploading your photos, adding text, and selecting a layout to create a note card perfect for you.
Delivering Kind, Handwritten Words
Handwritten correspondence is a timeless tradition. Shutterfly helps you keep this tradition alive with a modern twist. Personalized note cards allow you to showcase your favorite photos while sending thoughtful greetings to family and friends. Explore thank you cards, snowflake Christmas cards, and other options available at Shutterfly as well.
Related Products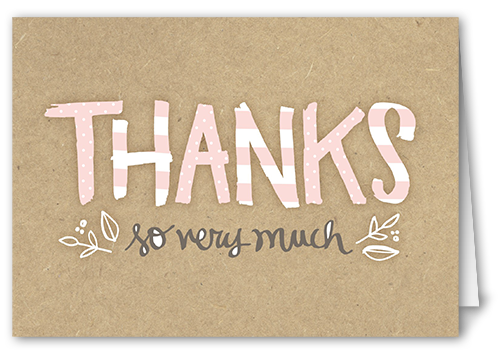 Pattern Shower Girl 3x5 Thank You Cards. Show just how much you appreciate them with this stylish thank you card. Add your favorite photos and a message of thanks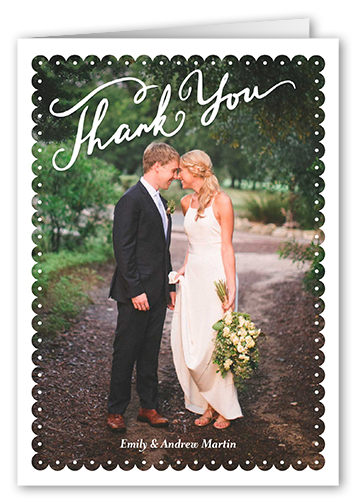 Sweet Scalloped Thanks 3x5 Custom Thank You Cards. Show just how much you appreciate them with this stylish thank you card. Add your favourite photos and a message