Classic Religious Christmas Cards
What customers have to say about our Religious Christmas Cards
January 23, 2019
good purchase
"Paper is excellent quality as is the envelope. Shipping can be high unless you are ordering a larger number of cards but I only bought one."
January 22, 2019
Chinese New Year
"Christmas came too soon. No cards went out. New Year's came and went! Still no cards were sent out. But thanx to Shutterfly, made it for a Chinese Greeting! Beautiful cards front and back with pictures of family sent! Halleluah!!!!!"
January 15, 2019
I have so much fun using my pictures on products.
"I have so much fun making unique gifts with my pictures. It makes me feel professional when I am very much an amateur."
January 14, 2019
Outstanding customer service
"The customer service agent who helped me with order 003086838129-9000112 was extremely helpful. I had problems making a Christmas card and she solved all of them. The Card was perfect with her changes. She was very kind and patient. I had an unavoidable interruption while we were working together and she assured me that she would wait on the phone until I could continue. She was committed to help me in every way she could. This was a unique customer service experience! Please thank her for me."
January 13, 2019
Quality cards
"Quality cards delivered in a timely manner!"
Send Classic Religious Christmas Cards
There's a reason for the season, and you're so blessed to be able to share it when you send classic religious Christmas cards to everyone you love. You've always loved the teachings of Christianity. Faith, hope, and Caritas, the benevolent virtue by which we love all of the creation for its own sake and the sake of love, are an important part of your life.
Your Christmas cards are another way for you to show your friends and family what you represent during the time when we celebrate Jesus' birth. Religious Christmas cards will always be in style, no matter how your family photo changes year after year. Keep sending them and enjoy showing off how your family grows each year, too.
Sending Religious Christmas Cards to Your List
Your family already knows you send beautiful, personalized Christmas cards -- and they can't wait to get this year! But other people in your community can share your seasonal joy, regardless of whether they share your faith. Just like you welcome cards from everyone who sends them with love, you can send yours with love, too.
From your tireless mailman who risks the winter weather day in and day out to the ladies at your nail salon, you can give religious Christmas cards to everyone on your list. (Some of these folks deserve personalized gifts, too!)
The message is about the goodness of your heart. Let that goodness reach others with customized Christmas cards that show your gratitude for God and what God has given you through grace.
Photos you select and upload can be arranged in different layouts to highlight the bounty of your family or to put a spotlight on a new family member or a few great memories you shared over the past year.
Your Christmas Cards Are for You, Too.
While you've always probably saved Christmas cards from a few of your treasured loved ones, you can start saving your own, too. When you customize cards, you can look back on them and see how they highlight your baby's burgeoning personality or playfully commemorate that one haircut your son insisted on getting that year. And if you and your partner look a little wiser each year, just remember, it was wise men who told of the coming of Christmas.
Related Products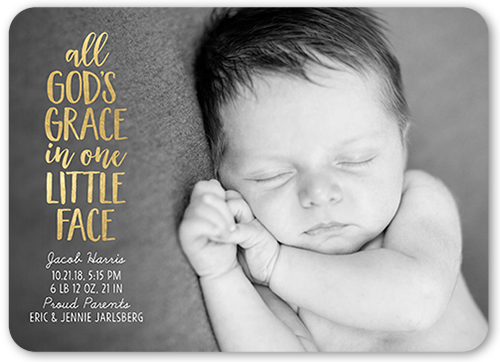 God's Grace 5x7 Birth Announcement Card. Announce your newest arrival with this stylish birth announcement. Add your baby's name with a photo and the news everyone's been waiting for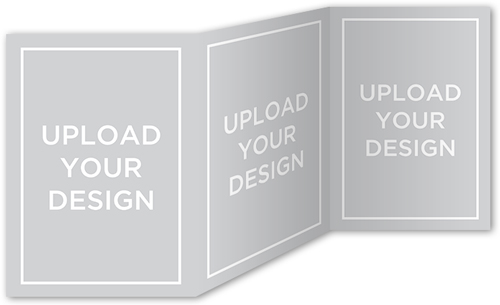 Upload Your Own Design 5x7 Tri-Fold Stationery Card by Yours Truly. Send a Christmas card friends and family will love. Add your own greeting and everyone's names. There's room for more photos and wishes on the back, too.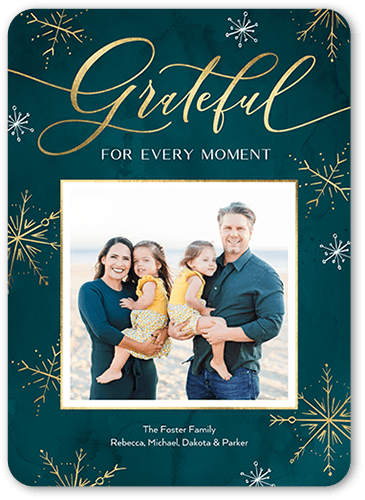 Grateful Snowflakes 5x7 Stationery Card by Stacy Claire Boyd. Send a Christmas card friends and family will love. Add your own greeting and everyone's names. There's room for more photos and wishes on the back, too.