Classic Wedding Thank You Cards
What customers have to say about our Thank You Cards
January 27, 2019
Grateful for my thank you cards
"I ordered these cards to give out with my closing gifts to my buyers and I am so glad that I did. The quality is amazing and the print was perfect. Can't wait to use them!"
"Love the size, love the card stock, love how our photo fit so nicely."
January 27, 2019
Love these cards.
"Shutterfly always does a great job."
"Once again, Iove my end result from Shutterfly. The people love their personalized cards too."
January 26, 2019
These turned out so CUTE!!!
"The card stock is very heavy and makes it a nice writing experience. Quality, thick, great bright colors on the card. This is a great product and a wonderful purchase."
A Traditional Approach to Thanks
Your timeless and traditional classic wedding deserves a thank you card that is as elegant and refined as your celebration. At Shutterfly, our classic wedding thank you cards can feature a photo of your special day or make a distinctive impact just with text.
One way to benefit from the luxurious simplicity of the classic theme is to choose the polished shine of foil debossing to add beauty to your thank you card design. Another classic wedding thank you card design is a monogrammed card.
Appreciate Your Wedding Party
A traditional and thoughtful way to say thanks to your bridesmaids and groomsmen for all of their help and support is to give them a gift that also commemorates your momentous occasion. An engraved gift of a flask for each groomsman and an engraved stemless wine glass for each bridesmaid is an enduring symbol of both the occasion and your gratitude.
Toast the Couple
If you're a wedding guest rather than the one tying the knot, when the newlyweds unwrap their wedding cake for their first anniversary, make sure they have a personalized keepsake to toast with. Give them their pair of customized champagne flutes so they can toast each other for years to come.
Remember the Celebration
One of the most traditional keepsakes of a wedding is a photo album of the occasion. With Shutterfly, you can place your photos into the book design layout of your choice and add personalized text. Once you have filled your photo book, you can make other books for loved ones to remember the important and joyous day. With the many choices for book size and length, you can design a book with the main highlights of the ceremony and reception, or tell a story of the whole day from beginning to end.
At Shutterfly, we value the ability to help friends and loved ones celebrate the good times in life. We enjoy making it easy for you to make unique and personalized stationery and gifts.
Related Products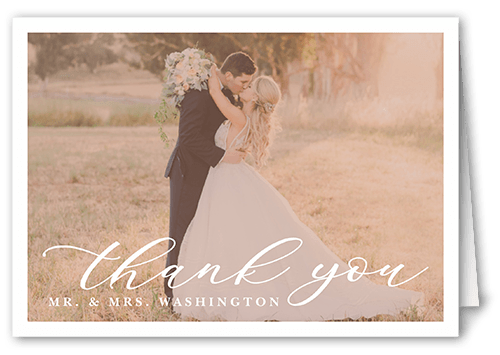 Brilliant Overlay 3x5 Folded Card by Yours Truly. Because they deserve it. Give them a personalized thank you card to express your gratitude.
Deco Type 3x5 Folded Card by Kelli Hall. Show just how much you appreciate them with this stylish thank you card. Add your favorite photos and a message of thanks.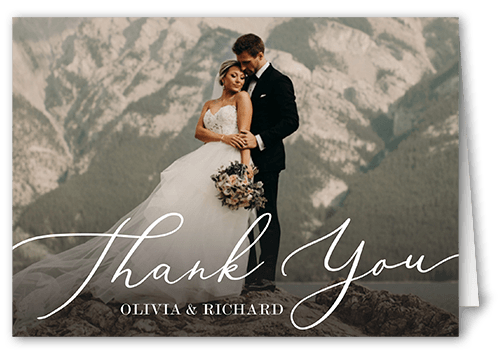 Sterling Script 3x5 Folded Card by Magnolia Press. Because they deserve it. Give them a personalized thank you card to express your gratitude.