Condolences Card
What customers have to say about our Sympathy Cards
January 20, 2019
Impressive!
"Fantastic collage. Great editing tools and fantastic final product. Sadly, the shipping costs were exhorbitant. Even priority mail is 2/3 less. Too bad. The quality of these cards and envelopes were extraordinary."
January 17, 2019
Meaningful template and easy to modify
"The template was solemn and appropriate."
December 27, 2018
Love creating custom cards
"I really appreciate the opportunity to create a custom pet sympathy card, gave it addresses stamped and mailed all in one fell swoop. I have sent this card twice this year already and recommend it to others."
November 23, 2018
Definitely a must
"I hope I don't have to buy this any time soon, but when I do, this is a must! Beautifully organized, perfect picture quality, and the cardstock material makes these cards well worth the purchase. Unfortunate circumstances, but this made everything just a little easier to deal with."
November 19, 2018
Great product
"They were easy to make and turned out great!"
Express Your Condolences in a Respectful and Thoughtful Way
Losing a loved one is never easy, and finding the words to express condolences to someone grieving can also be very challenging. Sending a personalized condolences card to friends and family members experiencing a loss is a tasteful way of sharing your thoughts. You can use these cards to share the solemn news with extended family, community members, and others; they are often used at memorial services, viewings, and other formal occasions commemorating someone's life. Shutterfly offers a variety of handsome sympathy and condolences card products that are easy to customize with photos, short messages, and other features that make them one-of-a-kind.
Treasured Mementos
Cards expressing sympathy and condolences come in many different styles and colors; we have created an array of options to give you the most freedom when creating these special items. Select from postcard-style cards, folded cards, and tri-fold varieties. Many people choose to incorporate customized sympathy cards in memorial services, funerals, and viewings. These solemn occasions bring together people who knew and loved the deceased; they will certainly appreciate having a personalized memento of this important moment.
High-Tech Printing Delivers Perfect Results
We understand how important it is that every order you place be absolutely perfect. We use leading photographic printing technology to achieve the highest levels of quality, clarity, and beauty in every product we deliver. Whether it is a condolences card, photo book, or housewarming gift, we strive to create beautiful items that your family, friends, and loved ones can treasure. We also offer a variety of items such as jewelry and home goods that make lovely keepsakes for yourself. No matter what the occasion, Shutterfly delivers the perfect cards and gifts.
Place your order today by using our online design studio to craft a condolence or memorial card with your favorite photographs. We offer many tools that help you create a memorable work of art.
Related Products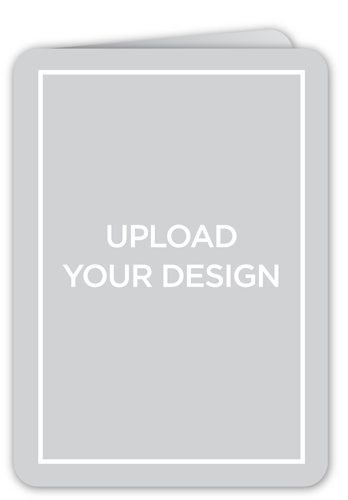 Upload Your Own Design 5x7 Folded Card by Yours Truly. St. Patrick's Day is here. Celebrate the season with a favorite photo and your own wishes in this stylish St. Patrick's Day card.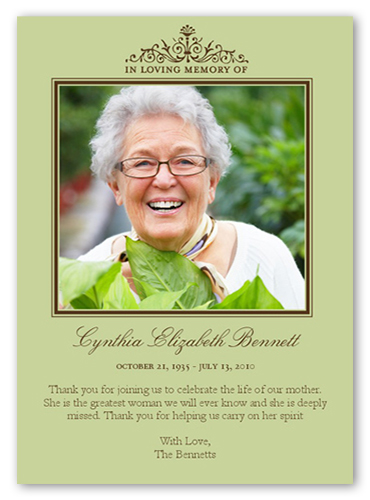 Elegant Memory Frame Personalized Sympathy Thank you Cards. This lovely sympathy card celebrates a life well lived. A framed photo appears below the words, "In loving memory of." There's room for a name, dates and your personalized message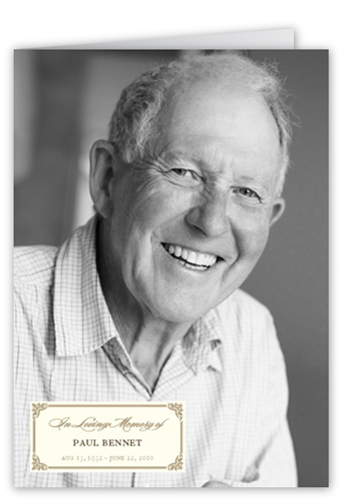 Shutterfly's "In Loving Memory" sympathy card provides a wonderful way for you to express your sympathy. This custom sympathy card's thoughtful design features a beautiful photo and a nameplate that displays the name and dates of a loved one's treasured ...