Contemporary Baby Shower Invitations
What customers have to say about our Baby Shower Invitations
January 26, 2019
I would buy this again definitely!
"This invitation is beautiful I just wish the liners that came with it stuck better"
January 25, 2019
Perfect invite
"These are so cute and came exactly as I expected. Love them!"
January 24, 2019
In love with the shower invites
"These invites are so cute. They came just as ordered. I love shutterfly. They never disappoint."
January 22, 2019
I would buy this product again.
"Bought this for my baby shower invitations and it exceed my expectations."
January 21, 2019
I really liked my purchase experience
"I needed to order baby shower invites. I was pleasantly surprised to find out I could have Shutterfly take care of the invitees addresses, return addresses, and stamps! What a time savor! And the invitations are adorable!!"
Contemporary Baby Shower Invitations
She's the trendiest mom-to-be you know. She loves modern styles and is anything but traditional. Why not throw her a baby shower that matches her personality? At Shutterfly, you can create a personalized contemporary baby shower invitation she'll love.
Contemporary Invitations for Every Style
With dozens of stylish designs, Shutterfly makes it easy to find the perfect baby shower invitation. Choose from a variety of colors, from soft pastels to bold hues. We offer gorgeous contemporary designs for both girls and boys, as well as gender neutral cards. Filter your results by theme to match your decor, or build your party around the invitation! For a chic look, consider our Oh Newborn design. With clean stripes in either blue or pink, the gold frame and accents add a touch of modern elegance. We even offer a contemporary twist on classic baby shower themes. Host a safari adventure with an adorable wildlife-themed invitation, or feature the essentials with our Precious Items design. You could even use a photo on many of our contemporary baby shower invitations. Use a sonogram image or a picture of the proud parents.
Customize Your Contemporary Cards
As always, you're free to personalize any of our contemporary baby shower invitations. Choose from four different sizes to suit your tastes. Use our Signature Cardstock, or upgrade to Pearl Shimmer paper to add a sophisticated shine. Make your card stand out as soon as your guests open the envelope with a scalloped edge or bracket trim. For the text, choose from an incredible selection of fonts, sizes, and colors to say whatever you'd like. Of course, if you need some help, check out our baby shower invitation wording tips. Find contemporary wording to match your modern shower, or stick with the basics.
Host a Shower to Remember
Shutterfly is here to help you plan your contemporary baby shower from start to finish. In addition to invitations, you'll find coordinating address labels, stickers to use on your party favors, and even custom gifts for your guest of honor. When the party is over, create a custom photo book to relive the memories for years to come.
Related Products
Bicycle Built for Three 5x7 Stationery Card by Clover. Shower her with love and a stylish baby shower invitation. Personalize it with the party details.
Cute Cradle Boys 5x7 Stationery Card by Hello, Kelle. Shower her with love and a stylish baby shower invitation. Personalize it with the party details.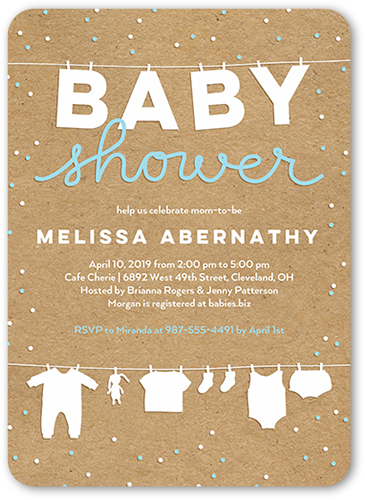 Cute Linens Boy 5x7 Baby Shower Invitation Cards. Shower her with love and a stylish baby shower invitation. Personalize it with the party details