What customers have to say about our Birth Announcements
January 25, 2019
A Hit With All the Family!
"We used this card as a birth announcement and thank you card for our baby shower attendees. It's on a nice heavy cardstock, and the print was super clear. With my first order there was a smear on the return address on the back of the envelope, but no big deal. With the first order I also didn't receive the blank envelopes I ordered. The second order everything was perfect. I would highly recommend!"
January 24, 2019
Very nice cards
"Super classy cards"
January 24, 2019
Great buy
"Looks and feels great. Came so quickly and is such great quality!"
January 22, 2019
So sweet
"Easy to create!sweet design"
January 22, 2019
Love this product!!
"I love the simplicity of this birth announcement, it was easy to make and arrived on time!"
Birth Announcements That Roll With Time
The design of birth announcements has evolved over time. Years ago, traditional printed announcements were really the only option for information beyond what was listed in the newspaper. Designs included a lot of clouds, storks and other illustrations.
It was not until recently that photos of the actual child became the most common choice for parents. At Shutterfly, we understand that changing trends should be reflected in our offerings, so we have more than 100 contemporary birth announcements that speak to today's popular design choices.
Signs of the Times
We love patterns and textures on baby announcements, and we know parents do, too. That's why we feature dozens of templates that perfectly match today's trends. Consider some of these options:
Chalkboard: The black-and-white combo is suited to both boy and girl announcements and provides the perfect backdrop for "handwritten" typefaces.
Gradient: Also known as "ombre," this is a gradual change from a color's lightest shade to the darkest, creating a sense of movement.
Typography: From swirling fonts to "handwritten" printing, intricate typography is a perfect addition to the photos on your contemporary birth announcements.
Rustic: From barn-wood background textures to linen-look backdrops, we've got the aesthetic you want for your baby's birth announcements.
Shape Situation
The standard 5x7 birth announcement, rectangular card is still an option, but many parents are choosing something a little more unique for the shape of their contemporary birth announcements. We offer one-sided cards that feature a variety of edge designs, from brackets to tickets to scallops. Of course, we also have adorable straight-edged templates as well. The irony here is that although these are modern birth announcements, some of the edge features are designed to look more like vintage printed items instead!
Durable Keepsakes
We know that many of the recipients on your announcements list will hold onto the card for years as a keepsake. That's why we print all of our contemporary birth announcements on heavy cardstock that will stand the test of time without fading. Every photo is printed at high resolution for sharpness, and the colors stay bright and true. You won't even need to order envelopes separately, as those are included with every announcements order.
Spread the Good News Now
Whether your baby was born last week or last month, you can quickly design the perfect announcement to share your good news. We've even got extensive shipping options that can have them on your front porch in no time. You can get your announcements out fast and save money with a Shutterfly coupon.
Related Products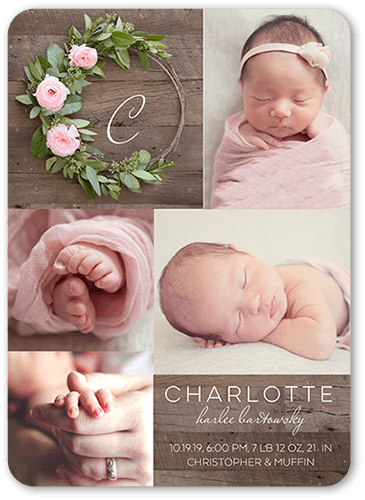 Adorned Monogram 5x7 Stationery Card by Petite Lemon. Announce your newest arrival with this stylish birth announcement. Add your baby's name, a favorite photo and the news everyone's been waiting for.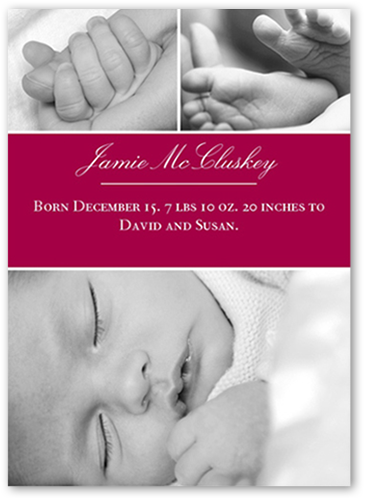 Big Blocks Magenta 5x7 Photo Card by Shutterfly. A bold magenta ribbon adds a pop of color to this classic photo card. Surround a greeting or event details with three gorgeous photos.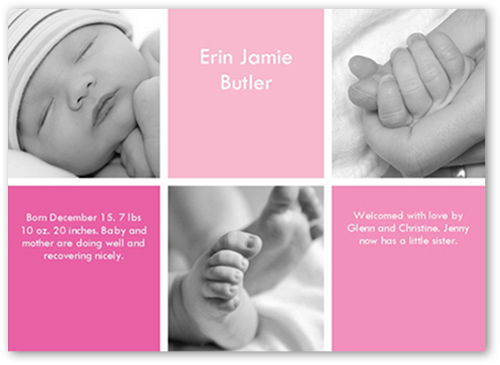 Checkers Rose 5x7 Photo Twin Birth Announcements by Shutterfly. A classic checkerboard design features three of your favorite photos for any occasion worth remembering. Important details are placed against a background of shades of pink.