Contemporary Note Cards
What customers have to say about our Folded Note Cards
January 26, 2019
These turned out so CUTE!!!
"The card stock is very heavy and makes it a nice writing experience. Quality, thick, great bright colors on the card. This is a great product and a wonderful purchase."
January 21, 2019
Great Quality
"Thank you notes are a nice idea and shutterfly makes it easy. The ability to personalize each side of the card is nice as well. Now its not just some cheesy card but a photo update on how life is going."
January 14, 2019
I love the cards.
"Shutterfly products are excellent! I love them very much."
"I had made and ordered the note cards once before and everyone liked them."
January 12, 2019
Amazing quality!
"Easy to make, edit & personalize these high quality cards! This was actually a reorder - changed a bit this time around after the 1st set were all sent! I Love Shutterfly!"
Make Someone's Day with Contemporary Note Cards
When you miss your friends, sending contemporary note cards is an amazing way to keep your friendship burning bright. Sure, you can text or even shoot off an email when life has you way too busy to settle into a long phone conversation, but note cards add a personal touch that let your friends know you care about the details in their life as much as you care about the details in yours. Customize your cards with photos that show off your good times together or create a set of mix-and-match note cards that lets you customize a few for family, friends, or whoever else may pop up.
The Modern Art of Note Cards
It can seem like sending a card is such a traditional thing to do. That's part of the beauty of it. Your style and grace are apparent when you rely on such a classic way to show affection. But there's an art to the modern note card, too, and you can nail it, no problem. You might send icons or emojis via text or hit like on social media, but a note card gives you room for a little more. Make it unique, but keep it short and sweet, with a big signature full of flourishes that you can't share online. Or embellish your envelope or the interior of your contemporary Christmas cards with elegant stickers. These little touches show you're on another level that digital communication can't touch. This is the meaning of true friendship.
Making Contemporary Note Cards That Are All Yours
When you select your note card style, look for something that reflects who you truly are. If you love pastel colors, go for a pink design that lets you slide in images and your name in a way that reminds people of your personality and spirit. If you're a cool, avant-garde type, design your note cards with a clean collage featuring wide borders and block letters. You can pick photos from one special day or a montage of moments throughout the years. The ultimate goal is to send something that is utterly about you while letting them know they're on your mind.
Related Products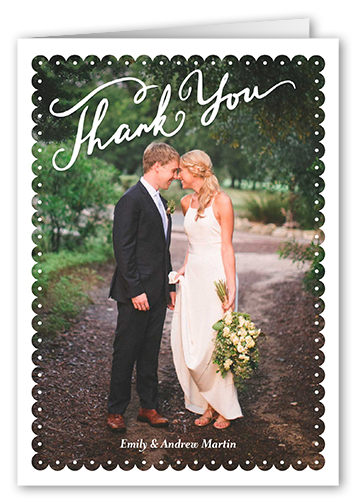 Sweet Scalloped Thanks 3x5 Custom Thank You Cards. Show just how much you appreciate them with this stylish thank you card. Add your favourite photos and a message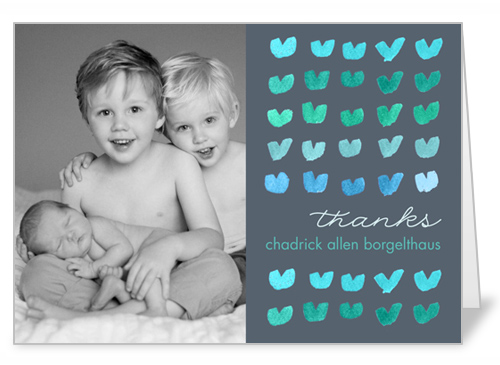 Watercolor Hearts Boy 3x5 Thank You Cards. Show just how much you appreciate them with this stylish thank you card. Add your favorite photos and a message of thanks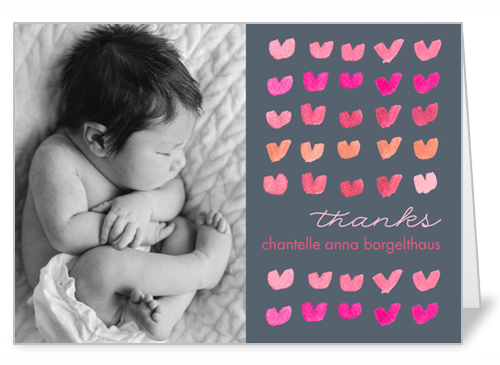 Watercolor Hearts Girl 3x5 Thank You Cards. Show just how much you appreciate them with this stylish thank you card. Add your favorite photos and a message of thanks