Coed Baby Shower Invitations
What customers have to say about our Baby Shower Invitations
January 26, 2019
I would buy this again definitely!
"This invitation is beautiful I just wish the liners that came with it stuck better"
January 25, 2019
Perfect invite
"These are so cute and came exactly as I expected. Love them!"
January 24, 2019
In love with the shower invites
"These invites are so cute. They came just as ordered. I love shutterfly. They never disappoint."
January 22, 2019
I would buy this product again.
"Bought this for my baby shower invitations and it exceed my expectations."
January 21, 2019
I really liked my purchase experience
"I needed to order baby shower invites. I was pleasantly surprised to find out I could have Shutterfly take care of the invitees addresses, return addresses, and stamps! What a time savor! And the invitations are adorable!!"
Couples Baby Shower Invitations
Anyone who thinks that baby showers are just for women can't be more wrong. Although many men tend to celebrate the arrival of their new baby in a different manner, there is nothing wrong with hosting a baby shower that includes the parent-to-be and their closest friends and family. In order to keep the men from feeling awkward and out of place, make sure you use photo collage baby shower invitations to invite them.
Bring the Occasion to Life
Although similar in nature, there are a few things you should keep in mind while putting together your event. First, you must remember that men will be present so you need to incorporate decorations that appeal to both sexes. You should also use couple's baby shower invitations. Any foods and baby shower games that you offer should be planned with the father-to-be and his friends preferences in mind.
The goal is to make sure that the event is not overly girly in nature or you'll have a hard time getting the men to stay after they arrive. Although the expecting mom and unborn child are the focus of the event, coed baby showers help to encourage male participation. Therefore, when it is time for the gifts to be opened, both parents should do it together or take turns.
Gifts, Decorations and More
With the right amount of planning and personalized decorations, any baby showers you plan for yourself and for friends and loved ones will rock. You can host them as barbecues, picnics, patio parties and more. Just let your creativity run free and you'll see how easy and fun coed baby showers can be.
You may also become inspired to plan more celebrations and events. No matter what you decide, just remember that you can find all of the personalized invitations, supplies and gifts you need with us. We carry everything from personalized calendars to photo books and everything in between.
Related Products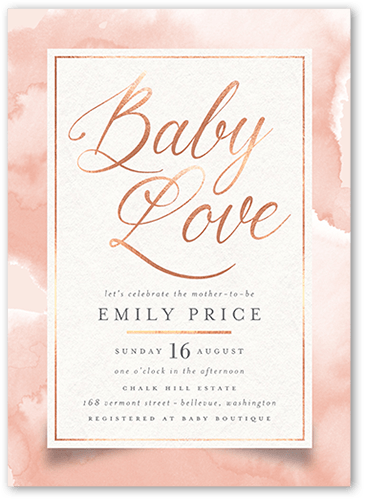 Baby Girl Watercolors 5x7 Stationery Card by Yours Truly. Shower her with love and a stylish baby shower invitation. Personalize it with the party details.
Cute Cradle Boys 5x7 Stationery Card by Hello, Kelle. Shower her with love and a stylish baby shower invitation. Personalize it with the party details.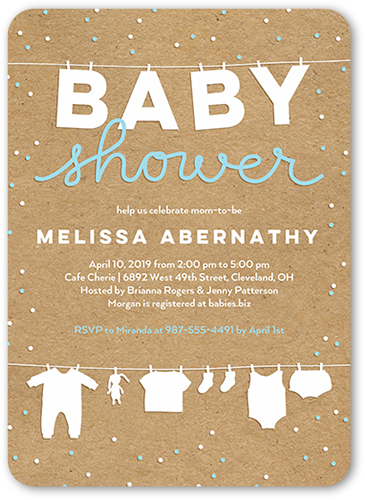 Cute Linens Boy 5x7 Baby Shower Invitation Cards. Shower her with love and a stylish baby shower invitation. Personalize it with the party details