What customers have to say about our Holiday Cards
January 27, 2019
I highly recommend this card!!
"Absolutely love this card they came out perfect!"
January 23, 2019
good purchase
"Paper is excellent quality as is the envelope. Shipping can be high unless you are ordering a larger number of cards but I only bought one."
January 23, 2019
I will absolutely use this product again.
"The first time I have used Shutterfly for our annual greeting card. Very pleased and will use again."
January 22, 2019
Chinese New Year
"Christmas came too soon. No cards went out. New Year's came and went! Still no cards were sent out. But thanx to Shutterfly, made it for a Chinese Greeting! Beautiful cards front and back with pictures of family sent! Halleluah!!!!!"
January 22, 2019
I looved these cards and they arrived so quickly!
"Shutterfly makes last minute projects easy .. I love these holiday cards and continue to make photo books each month with their app as well as edits on desktop site. I love Shutterfly!"
Discount Holiday Cards
Want to send season's greetings to loved ones without spending a fortune? You'll love Shutterfly's discount holiday cards, which feature stunning designs, plenty of personalization options, and affordable prices. Shutterfly's personalized holiday cards are customizable, enabling you to easily send cheerful holiday wishes that reflect your personality and style. Your family and friends will adore card designs that are modern, rustic, textured and more. With our discount holiday cards, you'll love saving money without compromising on the look and feel of your cards!
Design Unique Holiday Cards
Browse our beautiful collection of discount holiday cards. Once you've selected your favorite design, make it more personalized with the various customization options we offer, such as:
Photos: Upload family portraits, photos from your latest vacation or other favorite pictures to share some of your favorite memories with your loved ones.
Colors: Many of our designs offer several color options to let you personalize your cards with your favorite hues. Choose colors that coordinate best with your family photos for a professional, custom-tailored look.
Fonts: Find the perfect font for saying "Happy Holidays" or "Season's Greetings" in a style that matches your own.
Trim: Finish your cards with a variety of unique trim styles to add more flair and personality to your cards.
Adding designs that reflect your personality and style, as well as a custom message, will make your discount holiday cards truly unique to you. Shutterfly's holiday cards are a simple way to deliver festive greetings to your family members and friends. Whichever design and customization options you choose, your cards will make your recipients feel special. Even at great prices, you can choose options for business holiday cards, modern holiday cards, and photo Christmas cards. If you need extra help with your budget-friendly card design, check out these 15 holiday card ideas that will brighten the season to get more design ideas for your cards.
Create Custom Holiday Cards and Envelopes
After designing your custom photo holiday cards, bring life to your envelopes, too! Shutterfly offers coordinating address labels and photo stickers that may be small but full of elegant ways to add a festive touch to your envelopes. Plus, they'll make sure your holiday cards will grab the attention of your recipients when they arrive in the mail! You can buy everything you need for the holidays at Shutterfly - get Shutterfly Christmas cards, Hanukkah cards, New Year's cards, and everything in between.
Related Products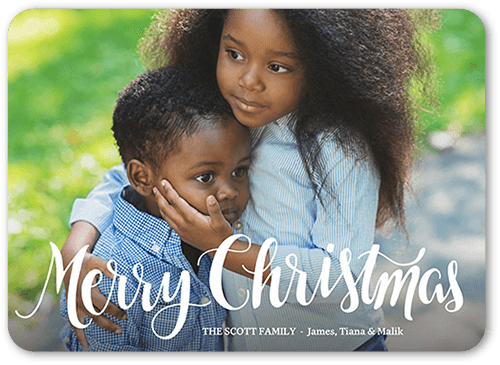 Simple Script Sentiment 5x7 Photo Card by Shutterfly. Send cheer to friends and family with this holiday card. Add your own greeting and everyone's names on the front.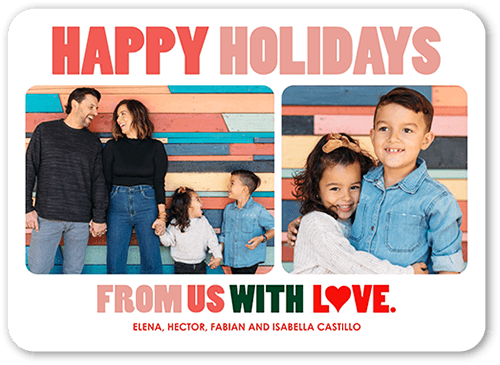 Bright Holiday Love 5x7 Stationery Card by Robyn Miller. Send a holiday card friends and family will love. Add your own greeting and everyone's names. There's room for more photos and wishes on the back, too.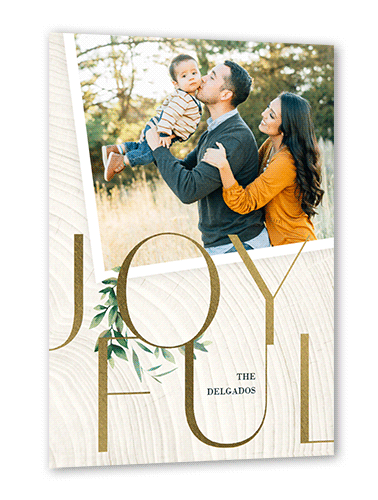 Joyful Photo 5x7 Stationery Card by Kelli Hall. Send a holiday card friends and family will love. Add your own greeting and everyone's names. There's room for more photos and wishes on the back, too.