What customers have to say about our Thank You Cards
January 27, 2019
Grateful for my thank you cards
"I ordered these cards to give out with my closing gifts to my buyers and I am so glad that I did. The quality is amazing and the print was perfect. Can't wait to use them!"
"Love the size, love the card stock, love how our photo fit so nicely."
January 27, 2019
Love these cards.
"Shutterfly always does a great job."
"Once again, Iove my end result from Shutterfly. The people love their personalized cards too."
January 26, 2019
These turned out so CUTE!!!
"The card stock is very heavy and makes it a nice writing experience. Quality, thick, great bright colors on the card. This is a great product and a wonderful purchase."
Disney Thank You Cards
Say "Thank You" with the magic of Disney. Personalized thank you cards from Shutterfly now offer many of Disney's most famous characters in fun and stylish designs. Coordinate Disney thank you cards to match your child's birthday party theme or choose one that puts your child's name and picture next to their favorite characters (or yours for serious Disney devotees!).
Say Thanks with Favorite Disney Characters
Customized Disney thank you cards are a great way to get your child involved in the habit of expressing thanks and sending thank you cards after parties and for personalized gifts. Fast and fun to make, you can add a name and upload a favorite picture. Choose from some of Disney's most popular characters to create:
Mickey Mouse Thank You Cards: Disney's most iconic cartoon character, Mickey Mouse has been cherished by children for generations. Now your child can send a special thank you to family and friends with Mickey by their side. With thank you cards featuring Mickey Mouse holding up a sign with your child's name on it or dressed up as Santa Claus, these cards fit any occasion.
Minnie Mouse Thank You Cards: Complete with her polka-dotted bow and big smile, Minnie Mouse thank you cards will delight everyone on your list. Ideal for a Minnie Mouse themed birthday party, baby shower or just because she's your favorite!
Winnie the Pooh Thank You Cards: "Think, think, think" of how excited your family and friends will be to open up a thank you card with Winnie the Pooh. Sweet, classic and simple, these cards feature Winnie the Pooh with his trusty friends, his favorite "hunny" pot, balloons and more. Great for children's birthday parties, baby showers or holidays, Winnie the Pooh thank you cards are undeniably adorable. Personalize with a favorite picture and add your special message of thanks.
Frozen Thank You Cards: Send a thank you card featuring Elsa and Anna. You and your child will be excited to send these thank you cards that place your child's picture next to their favorite wintry princesses and designs. Perfect for Christmas parties or Frozen-themed birthday parties.
With Shutterfly, you can send your special message of gratitude with Disney thank you cards. These cards come in 3x5 flat and folded formats made on high-quality, durable paper that's made to last. Make sending even easier with personalized Christian address labels and holiday stamps.
Related Products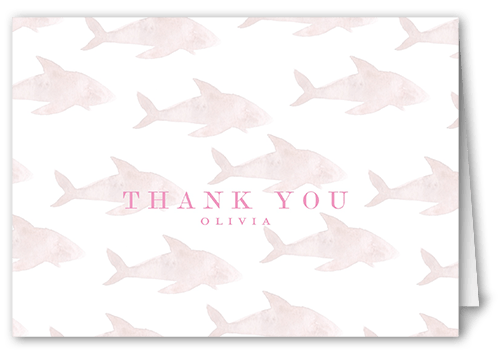 Baby Shark Girl 3x5 Folded Card by pottsdesign. Show just how much you appreciate them with this stylish thank you card. Add your favorite photos and a message of thanks.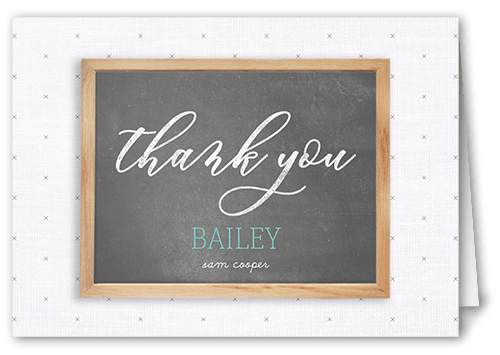 Chalkboard Beginning 3x5 Folded Card by Petite Lemon. Show just how much you appreciate them with this stylish thank you card. Add your favorite photos and a message of thanks.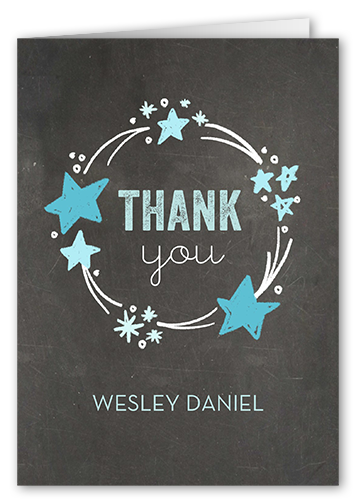 Crafty Collage 3x5 Folded Boy Thank You Cards. Show just how much you appreciate them with this stylish thank you card. Add your favorite photos and a message of thanks