Photo Easter Cards
What customers have to say about our Easter Cards
January 22, 2019
Personalized Card Bliss
"Great quality card made from personal photo and personalized captions. Sometimes a store bought card doesn't capture the sentiment you're trying to portray. This is a fantastic option to create your own!"
January 12, 2019
Shutterfly products always look great!
"If you love one of your photos, turn it into a card! Whether it's a Thank you card, a sympathy card, a birthday card or any other kind of card, it'll turn out great!"
January 10, 2019
It exceeded my expectations
"Great, professional results"
"quick and easy. Great pricing."
January 5, 2019
Beautiful quality cards
"I love these cards and have ordered many over the years. The paper is very nice and heavy for both the cards and envelopes."
Personalize Your Easter Greetings
When it comes to sending holiday greetings, Shutterfly is here to help. Holiday greetings aren't just for the Christmas season anymore, however. Send cheerful wishes year-round with Shutterfly's extensive collection of themed cards.
Easter photo cards can be personalized with a favorite family photo. These cards come in both flat and folded styles as well as two sizes: 4x8 and 5x7. From spring-inspired floral patterns to bunny and egg themes, these cards feature an array of vibrantly hued designs. So, start exploring these photo Easter cards to find the right one for your holiday.
Send a Happy Easter to Family and Friends
Send a cheerful greeting to family and friends across the city or across the country with these photo Easter cards. Share a favorite family photo on these Easter cards, which you can drop in the mail or include with Easter baskets and or sweet treats to celebrate the holiday. In addition to including your favorite photo, you can also add text, including your family name or a thoughtful note.
Design Your Photo Easter Cards
Shutterfly offers an array of photo Easter cards, making it simple for you to create one you love. Explore the many available designs, which include colorful polka dots, feminine floral cards, and cards dotted with Easter images, including eggs and bunnies. Once you have chosen your design, it's time to personalize your Easter card.
Select the paper type you prefer - you can choose from signature cardstock and pearl shimmer cardstock. Then, choose a trim: rounded, square, scallop, bracket, and ticket. Next, upload your photo to the card, and add text to complete this personalized greeting.
Celebrate the Holidays With a Personalized Touch
Celebrate Easter with family and friends by sending them a customized card created by Shutterfly. Share a favorite family photo and Easter wishes with these colorful and chic Easter cards - but don't stop sending holiday wishes at Easter. Shutterfly offers many photo cards that you can personalize for any holiday or occasion. Check out the collection of Valentine's Day cards and Halloween cards.
Related Products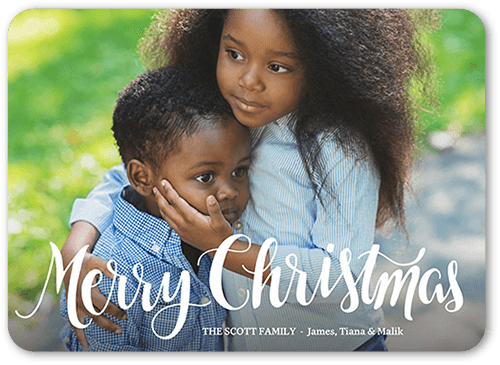 Simple Script Sentiment 5x7 Photo Card by Shutterfly. Send cheer to friends and family with this holiday card. Add your own greeting and everyone's names on the front.
Script Class Gallery 5x7 Photo Card by Shutterfly. Celebrate the new graduate with this unique graduation announcement. Personalize with the graduate's name and the event details.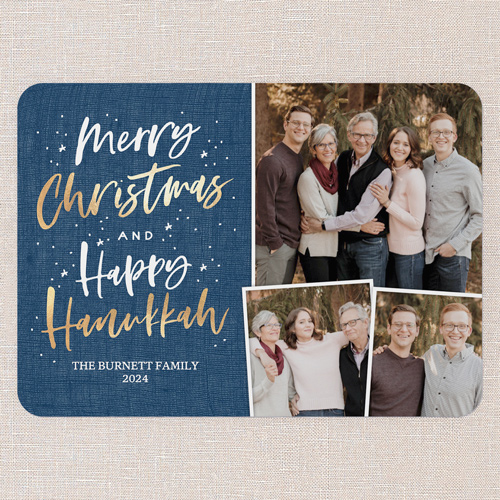 Glad Merry 5x7 Photo Card by Shutterfly. Send light and love to friends and family with this Hanukkah card. Add your own greeting and everyone's names.