Classic Easter Cards
What customers have to say about our Easter Cards
January 22, 2019
Personalized Card Bliss
"Great quality card made from personal photo and personalized captions. Sometimes a store bought card doesn't capture the sentiment you're trying to portray. This is a fantastic option to create your own!"
January 12, 2019
Shutterfly products always look great!
"If you love one of your photos, turn it into a card! Whether it's a Thank you card, a sympathy card, a birthday card or any other kind of card, it'll turn out great!"
January 10, 2019
It exceeded my expectations
"Great, professional results"
"quick and easy. Great pricing."
January 5, 2019
Beautiful quality cards
"I love these cards and have ordered many over the years. The paper is very nice and heavy for both the cards and envelopes."
Delight in Spring with Classic Easter Cards
Spring is such a beautiful time of year, and it's even more precious when you celebrate the change of seasons and a significant faith observance with classic Easter cards. Customize yours so that your whole family can enjoy the fun of sharing springtime cheer, whether you live miles apart or plan on getting together Easter morning in your hometown. By designing folded note cards to mail off to loved ones, you help others remember to cherish the season of renewal and growth with you.
Pastels Are Gorgeous for Easter Cards
Shutterfly's Easter card color schemes signify beauty. Palettes of pink or pretty pink and white combinations are delicate and fun. A bright yellow border rings in spring, too, as new shoots sprout from the ground and yellow flowers start to bloom. When you select these pastel shades for your cards, compliment them with equally bright images. Dress the kids in matching dresses or little suit jackets with touches of pink, yellow, spring green, lavender or baby blue. Accessorize with cute, colored headbands or bow ties. When you don your Easter finery, it makes Easter cards unique.
Create A Joyous Easter Card Message
When you send vintage cards, you can complement your custom cover with a lovely message that shares how you feel. Keep it simple with just a kind greeting sending love or delve into some of the seasonal tenets of your faith or the happiness you wish others for spring. Everyone receives holiday cards during the winter. Some even count on a Valentine's Day card, but, by the time spring rolls around, sometimes the focus has shifted away from personal correspondence. You can keep the love flowing between family and friends through another season by crafting a unique Easter note.
Complement Your Easter Cards with Other Accessories
Discover how much fun it is to send cards that feature other little embellishments. Order address labels and stickers to seal envelopes that complement your pastel color theme. Don't be afraid to draw little springtime cartoons on the backs of envelopes either. Easter cards are about joy and love for everyone.
Related Products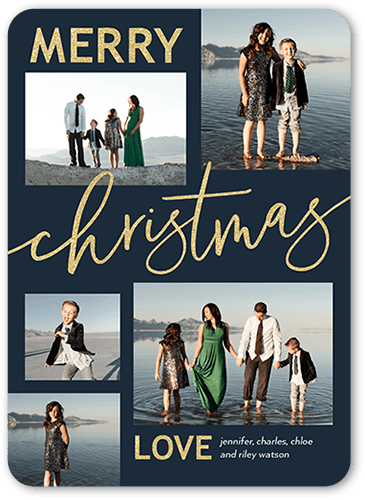 New Script 5x7 Photo Card by Shutterfly. Send cheer to friends and family with this holiday card. Add your own greeting and everyone's names on the front.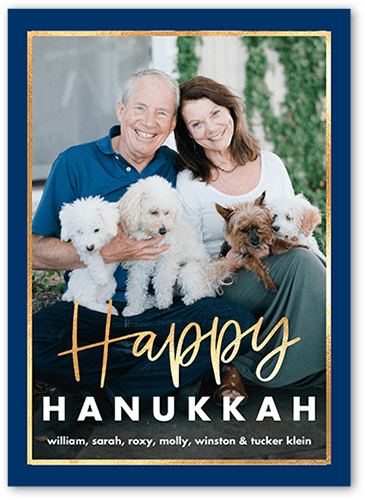 Framed Festivity 5x7 Photo Card by Shutterfly. Send light and love to friends and family with this Hanukkah card. Add your own greeting and everyone's names.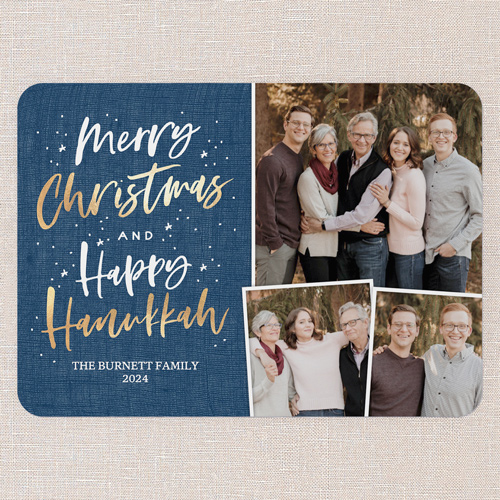 Glad Merry 5x7 Photo Card by Shutterfly. Send light and love to friends and family with this Hanukkah card. Add your own greeting and everyone's names.