Easter Cards
What customers have to say about our Easter Cards
January 22, 2019
Personalized Card Bliss
"Great quality card made from personal photo and personalized captions. Sometimes a store bought card doesn't capture the sentiment you're trying to portray. This is a fantastic option to create your own!"
January 12, 2019
Shutterfly products always look great!
"If you love one of your photos, turn it into a card! Whether it's a Thank you card, a sympathy card, a birthday card or any other kind of card, it'll turn out great!"
January 10, 2019
It exceeded my expectations
"Great, professional results"
"quick and easy. Great pricing."
January 5, 2019
Beautiful quality cards
"I love these cards and have ordered many over the years. The paper is very nice and heavy for both the cards and envelopes."
Personalized Easter Cards and Stationery
As spring ushers in, send a Happy Easter card to loved ones to celebrate the new season. Shutterfly's personalized Easter photo cards let you add family photos and special memories to help show your friends and family what you've been up to, especially if you haven't kept in touch since the winter holidays. Creating custom Easter cards is easy, and it's a great way to feel renewed for spring.
Update Friends and Family With Personalized Easter Cards
Celebrate the season and update your friends and family on your life with Easter photo cards this year. With Shutterfly's heartfelt and personalized Easter cards, you can add a festive touch to your loved ones' holiday. Choose from a variety of designs and send your love and thoughtful wishes in a personal way with high-quality Easter greeting cards – you will find a huge selection of designs and colors to customize with a meaningful sentiment. You can even upload your favorite family photos to add a heartfelt touch to your card. Some other Easter card ideas include showing off the family pets as well as the kids and doing a fun themed photoshoot in the backyard.
Design Custom Easter Photo Cards
To design your photo Easter cards, start by choosing a theme you love. Our Easter photo card options include flat, folded, and tri-fold styles so you can fit as many photos as you want along with sweet Easter card messages. You can choose a floral Easter card theme, textured patterns, or even upload your own design. From there, upload your Happy Easter pictures and customize the layout so it looks great. You'll have control over everything from the trim on your easter picture cards, the fonts, and of course the messages. Double-check that you love everything and send your Happy Easter photo cards to print! Shutterfly can address your envelopes for you and send them straight to your loved ones so you don't have to worry about it.
Celebrate Easter With Shutterfly
Along with your custom Easter cards, celebrate the holiday this year with other fun stationery and party decor. Show everyone on your list this year just how much you cherish them by inviting them to a wonderful Easter dinner at your home. If you are planning a party, Shutterfly's delightful, personalized Easter invitations will have your family and friends hopping for joy. So which invitations should you choose? With Shutterfly, it's an easy choice. Seal your invitations in style and give them a little extra flair by adding personalized stickers to your envelopes. Choose a simple monogram, family name or even a photo and seasonal greeting. These one-of-a-kind stickers are fast and easy to make – they can be done in just a few minutes and you'll have fun creating them. This is a sleek way to put your own unique stamp on your Easter celebration invitations. Before your guests arrive, make sure your home is ready with lovely framed prints from Shutterfly. Show off your favorite photos while reminiscing about your favorite memories. Our elegant prints also make a great gift that comes from the heart. Customize your home decor by choosing from our selection of patterns or by uploading your own design and family photos. At Shutterfly, we make it super easy to design those special, one-of-a-kind Easter gifts, cards, and invitations. Easter is such a classically fun holiday to spend with family, so be sure to celebrate in style!
Related Products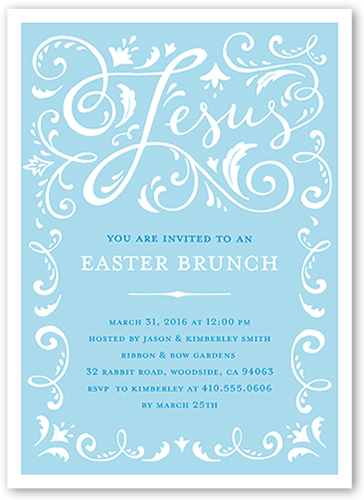 Ornate Swirls 5x7 Easter Invitations. This charming Easter invitation chirps its way into our hearts. Event details appear in elegant script lettering below the iconic Easter chick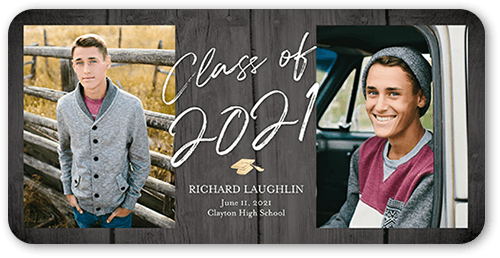 Boarded Script 5x7 Photo Card by Shutterfly. Celebrate the new graduate with this unique graduation announcement. Personalize with the graduate's name and the event details.
Script Class Gallery 5x7 Photo Card by Shutterfly. Celebrate the new graduate with this unique graduation announcement. Personalize with the graduate's name and the event details.