Easter Invitations
What customers have to say about our Easter Invitations
November 4, 2018
I would buy it again
"Great for all types of greetings,"
May 13, 2018
Great cards!
"I am giving these as a gift for a friend! High quality cards!"
April 28, 2018
Best CardsTo Buy
"I have tried making cards with several different companies. Shutterfly is, by far, the company that produces the best quality product. I have been using them for years. Even when offered free cards from other companies, I stick with Shutterfly because of the superior job they do."
"Great quality and super fast as always. I made a mistake with shipping, customer service went above and beyond to get them to me."
February 6, 2018
Definately will buy this product again.
"I love the outline of the card and it was fitting for the photo I used. Thanks again for a wonderful product."
Send Your Sunday Best with Personalized Easter Invitations
As one of the most popular spring holidays, Easter calls for a big celebration. Whether you're planning your annual Easter egg hunt, a lovely brunch filled with friends and family or are simply enjoying the sights and sounds of springtime, Shutterfly's personalized Easter invitations are perfect for any type of festivity. Customize your Easter party invitations with your photos and include all of the important party details. So when you're sending out Easter egg hunt invitations, Easter brunch invitations, or perhaps invites to a Christening on Easter Sunday, you can create the best greeting cards and invitations with Shutterfly.
Get Creative with Your Custom Easter Invitations
Before the party even begins, your guests will receive your Easter invitation, so why not make them as fun and artistic as possible? With Shutterfly, we make it easy for your creativity to blossom. Not only are you able to choose your own theme, but classic Easter hues such as white, gold, purple, and pastels are among the color choices like watercolor designs are available. Let your personality shine through your invitations by uploading your own family picture with the "use my photo" option, which allows you to preview your snapshot in Shutterfly's designs. If one photo isn't enough, upload more of your favorites; we want you to share the love you have for your family with your guests. If you prefer a more traditional take on Easter, choose one of our joyful invitation cards that feature the endearing and loveable Easter Bunny, cute chicks, bunny ears, a spiritual sentiment, or a beautiful floral design that's reminiscent of spring. Once you've chosen all the design elements, Shutterfly can send the Easter invitations and photo cards to you for mailing, or we'll simply stamp and mail them for you, making the entire process quick and easy.
Create Easter Party Invitations for a Memorable Celebration
Designing and personalizing your own Easter party invitations can set the stage for any memorable celebration. Our stationery cards offer text that describes the host(s), the event date and time, location, address and more. With flat or folded Easter cards, there's plenty of room for the essential information that's needed for that unforgettable party. Here comes Peter Cottontail, so make sure to get your Easter invitations out quickly. A memorable celebration doesn't have to rest solely on your shoulders, though. With Shutterfly's Easter invitations, you can write your own text. Add a note asking your guests to contribute to the festivity by bringing their favorite Easter dishes, spring-themed games, or even unique colored eggs for the egg hunt. For more party decorations, deck out your Easter party with bunting banners, yard signs, selfie frames, and more with Shutterfly.
Springtime Greeting Cards and Stationery Galore
If throwing a party isn't your thing and you're searching for more ways to celebrate Easter, hop on over to the Easter cards. Wish your favorite people a Happy Easter with cards designed to put a smile on their face. With plenty of choices, it's easy to choose a design that speaks to you. Thinking about what comes next? With Mother's Day right around the corner, show your love and make her feel special by sending a personalized Mother's Day card and tea towel to the most important woman in your life. You can also find personalized kids gifts for your little ones' Easter baskets.
Related Products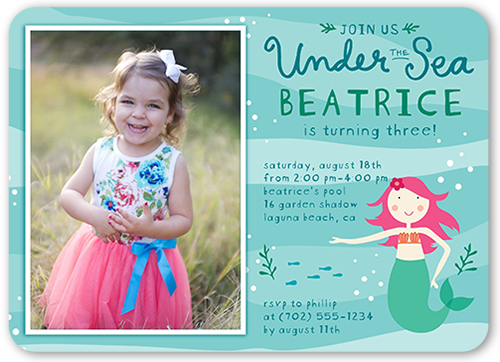 Marvelous Mermaid 5x7 Girls Party Invitations. Invite all the guests with this stylish birthday invitation. Just add your favorite photos and all the event details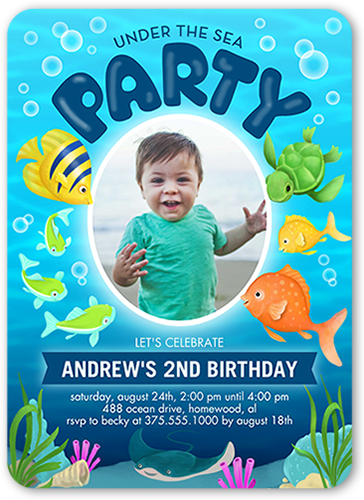 Oceanic Party 5x7 Stationery Boy Birthday Invitations. Invite all the guests with this stylish birthday invitation. Just add your favorite photos and all the event details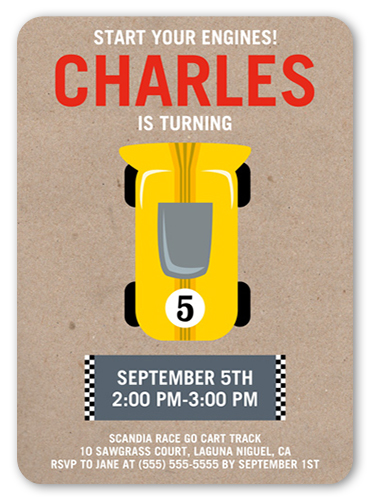 Race Car Party 5x7 Boy Birthday Invitations. Invite all the guests with this stylish birthday invitation. Just add your favorite photos and all the event details