Everyday Party Invitations
What customers have to say about our Everyday Party Invitations
January 21, 2019
LOVE LOVE LOVE these invitations!
"I have ordered invitations for a very long time from Shutterfly - for both big and small occasions and they are always perfect! and affordable.....Even for a small event they add a touch of special to the gathering....I use them for everything and would recommend them."
January 21, 2019
Great product!
"Website is very easy to use. Anyone can create beautiful items."
November 26, 2018
Always Quality
"I have done several Shutterfly projects. It takes some practice, but Shutterfly allows me to customize and I have many choices for design with the layouts, backgrounds and embellishments. It is easy to add my own photos, which makes each project special. The stock is always high quality. I would highly recommend Shutterfly!"
November 1, 2018
I LOVE SHUTTERFLY!!
"These cards were lovely!!"
"Surprise party for my husband!! I love them. Quality is perfect!"
Everyday Party Invitations
Planning the perfect housewarming party, bbq bash, summer party, or cocktail party should be easy. After all, everyday party invitations should be fun for all of your family and friends to receive. You don't have to necessarily go all out and spend a fortune trying to impress everyone and indulge in over the top party ideas. With the right custom everyday party invitations, or personalized RSVP party cards, no one has to know that you are doing all of your planning on the fly.
Personalize Your Everyday Party Invitations
Shutterfly offers individuals a fun and exciting way to create surprise party invitations or everyday party cards that will stun and amaze everyone. Stylish, convenient, affordable and extremely appealing, personalized invitations are the way to go when you are planning last minute celebrations to highlight any occasion. It doesn't really matter why, and even if you don't have a reason for throwing a party, why not have one simply to share the joy of life with the people that you care about the most? Let them know that you're planning a special get together and share some cool pictures and images related to your everyday party theme. Have fun and learn a new skill by unleashing your creative side to design custom party invitations for the event. It doesn't matter what type of soiree or party you plan, your every day party invites can match the style, theme or setting you are trying to create. Don't let your imagination hold you back. Shutterfly's diverse enhancement options make designing personalized invitations a cinch.
Make Your Everyday Party Invites Shine
After your everyday party, take your party photos to create highlights and snapshots of your party and send them in customized thank you cards on high quality cardstock or store them for anyone to see in Shutterfly's best photo books. Show everyone what they missed out on so they will attend your next big party of the century. While you are at it, don't forget to select other Shutterfly custom photo gifts, greeting cards and stationery, stickers, and gifts to add additional warmth, life and personality to your parties in a way that matches the style, occasion and theme of your everyday party.
Related Products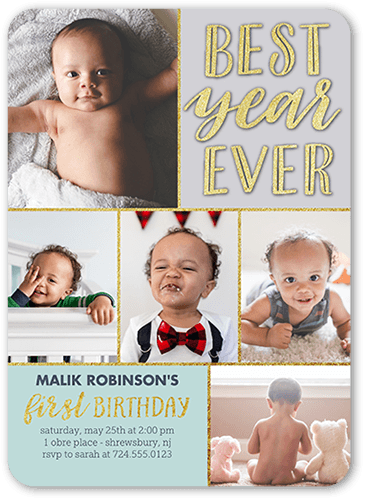 The Best Boy 5x7 Photo Card by Shutterfly. Another year older. Another year of fun. Invite all the guests with this stylish birthday invitation. Just add your favorite photos and all the event details.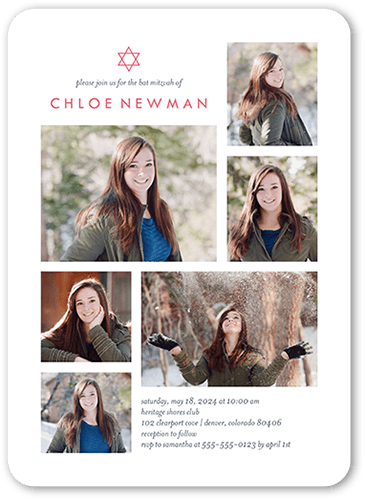 Mild Grid 5x7 Photo Card by Shutterfly. Mazel Tov! Celebrate your daughter's Bat Mitzvah with a personalized Bat Mitzvah invitation. Just add her photos and event details.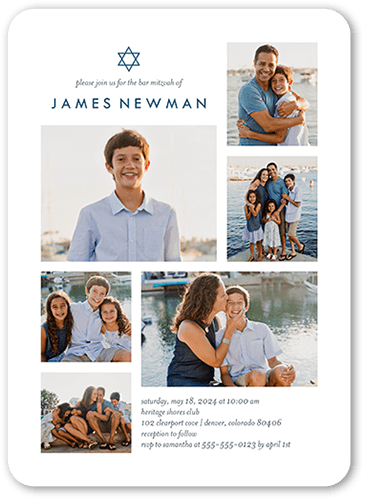 Simple Grid 5x7 Photo Card by Shutterfly. Mazel Tov! Celebrate your son's Bar Mitzvah with a personalized Bar Mitzvah invitation. Just add his photos and event details.