What customers have to say about our Thank You Cards
January 27, 2019
Grateful for my thank you cards
"I ordered these cards to give out with my closing gifts to my buyers and I am so glad that I did. The quality is amazing and the print was perfect. Can't wait to use them!"
"Love the size, love the card stock, love how our photo fit so nicely."
January 27, 2019
Love these cards.
"Shutterfly always does a great job."
"Once again, Iove my end result from Shutterfly. The people love their personalized cards too."
January 26, 2019
These turned out so CUTE!!!
"The card stock is very heavy and makes it a nice writing experience. Quality, thick, great bright colors on the card. This is a great product and a wonderful purchase."
Don't Forget the Family Thank You Cards
Your family is important, and you're not the only one who thinks so. There have probably been many people in your life who have helped you and your family get to where you are today. Take some time to consider those individuals and perhaps send them a thank you note. Family thank you cards are a great way to get everyone involved in a gratitude project. The following are some important times you may want to mail some out.
Following a Fundraiser
Whether your family is struggling with bad news or is experiencing something completely exciting, you may have needed some extra funds. When the neighbors chipped in to hold a fundraising event, it could have been just what you needed. Now that it's over and you have some time to think about what just happened, personalize some family thank you cards for the neighbors who helped out so much. This is a great way to help your children learn gratitude as well.
Following a Party
Throwing any sort of party is a big job for a family with young children. If you recently had a party at your home, there were probably some people who helped, either in a big way or a small way. Single those people out with a thank you card. Let them know you noticed what they did and how it improved the party you threw. Striped Ribbon Notes give you enough space to have each member of your family handwrite a message. The Modern Family Collage gives you enough space to include a lot of photos. Whatever works best for your family is perfect and will be appreciated by the recipient.
Your life is probably just as full as many other people's lives. There are individuals around every corner helping you get to where you're at, and your family is often the beneficiary of such help. Sending family thank you cards after big events in your life is a great way to teach your children gratitude and show it to those who are important to you.
Related Products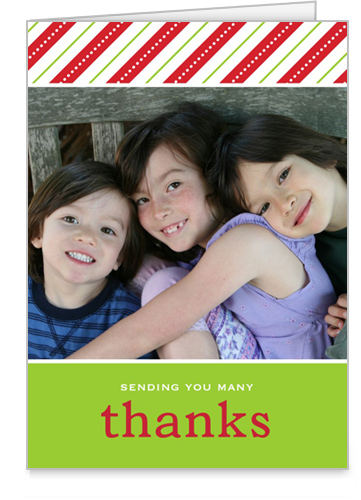 Merry Berry Stripes 3x5 Note Cards Online. Show your appreciation with a Christmas thank you card personalized with your photos and message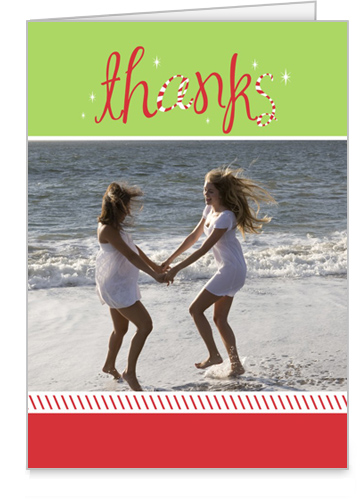 Peppermint Bliss Holiday 3x5 Photo Note Cards. Show your appreciation with a holiday Christmas thank you card personalized with your photos and message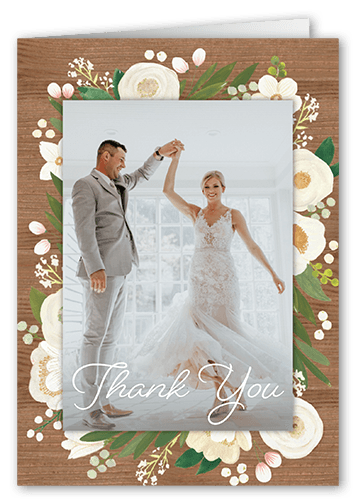 Elegant Bouquet 3x5 Folded Card by Petite Lemon. Because they deserve it. Give them a personalized thank you card to express your gratitude.