What customers have to say about our Father's Day Cards
"Once again, Iove my end result from Shutterfly. The people love their personalized cards too."
January 22, 2019
Personalized Card Bliss
"Great quality card made from personal photo and personalized captions. Sometimes a store bought card doesn't capture the sentiment you're trying to portray. This is a fantastic option to create your own!"
January 12, 2019
Shutterfly products always look great!
"If you love one of your photos, turn it into a card! Whether it's a Thank you card, a sympathy card, a birthday card or any other kind of card, it'll turn out great!"
January 10, 2019
It exceeded my expectations
"Great, professional results"
"quick and easy. Great pricing."
Show Dad How Much You Care with a Personalized Father's Day Card
This year, skip the generic store-bought card and give your dad a personalized Father's Day card that's more meaningful. Shutterfly's photo Father's Day cards are perfect for any father figure, whether you're looking to give something to your grandpa, uncle, mentor, or dad. Your personalized Father's Day cards can include everything from photos together along with special Father's Day wishes. Learn how to design and customize your cards to make a big impact this holiday. When you give your dad his Father's Day gifts this year, he'll smile just as big when opening the thoughtful card designed just for him.
Designing a Custom Father's Day Card
Whether he was in the front row of your first piano recital, in the bleachers at all of your sporting events or the one who walked you down the aisle, chances are you have plenty of photos of you and Dad. So upload your favorite memories from years past and turn them into the perfect Father's Day card. Once you pick your favorite photos, use the design assistant to customize your card. You can choose your favorite fonts, colors, messaging and cardstock to create a card as unique as Dad himself. Plus, there are stylish templates for the grandfathers, stepfathers and other male role models in your life. Say thank you dad with Father's Day greeting cards that he'll want to put on display. Have fun designing the perfect card and including photos from your childhood or more recent years. If you're married and looking to create a card for your husband, he'll love Father's Day photo cards that include photos of the kids. Shutterfly lets you choose flat Father's Day cards or folded Father's Day cards depending on how much space you need.
What to Write in Custom Father's Day Cards
Once you've placed your photos in your Father's Day card and spent some time customizing the design, you can make sure you add a special message. Use sweet Father's Day poems or Father's Day quotes if you aren't sure what to say. You can always print a brief message in the card and still leave some room to write a handwritten note. With Shutterfly, there's room to add a thoughtful Father's Day message in your card to make it truly one-of-a-kind. He'll appreciate the time and effort you put into creating a Father's Day card just for him.
Shop Fun Father's Day Gifts
Dad was always a good sport when each Father's Day meant receiving yet another tie for his barely-used collection. This year, give him something that shows how much he really means—not to mention, something he can actually use and love. Turn your favorite captured memories of the times you've shared into special gifts for dad. Paired with your personalized Father's Day card, he'll have an extra special holiday. Consider designing a custom photo mug he'll gladly use every morning for his coffee or tea. You can also make dad a custom iPhone case to keep his device safe while reminding him how much you care. Has your father been complaining about a lack of decorations in his office? Custom canvas wall art featuring a father-child memory adds the perfect sentimental touch to any office space. Your dad is a special man, so hit your Father's Day out of the park this year with custom cards and gifts from Shutterfly. Whether he is a lover of sports, cooking, music, or decor, Shutterfly has the perfect card and gift to customize for his special day.
Related Products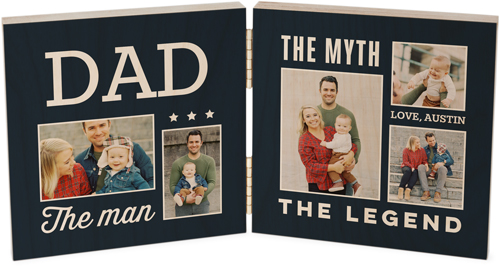 The Man The Myth The Legend Double Wooden Print by Shutterfly. This hinged frame will let you display two of your most cherished memories side by side. Perfect gift for a new couple or mom and dad.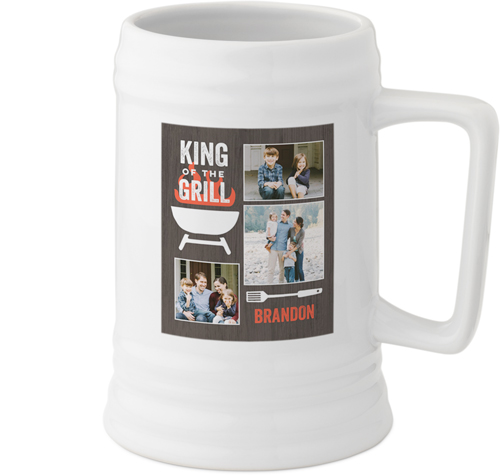 King of the Grill Ceramic Beer Stein by Shutterfly. Put a classic twist on your toasts with this traditional ceramic beer stein. Personalize with photos, messages and more to create a unique gift for your favorite beer enthusiast, or a ...
Leather Patch My Hero Ceramic Beer Stein by Shutterfly. Put a classic twist on your toasts with this traditional ceramic beer stein. Personalize with photos, messages and more to create a unique gift for your favorite beer enthusiast, or a ...