Baby's First Christmas Cards
What customers have to say about our Christmas Cards
January 27, 2019
I highly recommend this card!!
"Absolutely love this card they came out perfect!"
January 23, 2019
good purchase
"Paper is excellent quality as is the envelope. Shipping can be high unless you are ordering a larger number of cards but I only bought one."
January 23, 2019
I will absolutely use this product again.
"The first time I have used Shutterfly for our annual greeting card. Very pleased and will use again."
January 22, 2019
Chinese New Year
"Christmas came too soon. No cards went out. New Year's came and went! Still no cards were sent out. But thanx to Shutterfly, made it for a Chinese Greeting! Beautiful cards front and back with pictures of family sent! Halleluah!!!!!"
January 22, 2019
I looved these cards and they arrived so quickly!
"Shutterfly makes last minute projects easy .. I love these holiday cards and continue to make photo books each month with their app as well as edits on desktop site. I love Shutterfly!"
Baby's First Christmas Cards
Welcoming home a new baby is an important milestone in the life of any family. Whether this is your first child together or simply the most recent, everyone on your mailing list will want to know the happy news. Share the happy arrival of your newest family member by sending out baby's first Christmas cards. These delightful greetings are sure to brighten up everyone's holidays. Here at Shutterfly, we have made it easy to customize Christmas cards and other seasonal holiday cards with photos and messages of your very own. Your friends and relatives will love receiving this very special card from you; a custom Christmas card with a family portrait will become a memento that will be treasured for many holidays to come.
How to Celebrate Baby's First Christmas
There are lots of different ways to create your perfect family holiday portrait for your baby's first Christmas cards. To celebrate your new baby girl or boy on their 1st Christmas, there are plenty of festive ideas you can use for your holiday cards. Consider fun themed ideas and Christmas traditions such as:
Putting personalized ornaments on a Christmas tree together
Decorating a gingerbread house with the new baby and older siblings
Sitting together in front of a cozy fireplace
Watching the snowfall
Building a snowman in fresh snow
Getting into the holiday spirit by wrapping presents
Spending time with family is the perfect theme for holiday cards. Whether you gather everyone together around the tree or take a family photo in a perfect winter wonderland, you can be sure that your portraits are going to look fantastic. Once you've designed your holiday photo card with these fun and festive images, it will live on as a keepsake for years to come. If you didn't send a traditional birth announcement card when your little one was born, a custom baby's first Christmas card is the perfect way to celebrate and say happy holidays to family and friends.
How to Make Christmas Cards for Baby's First Holiday
Ordering custom Christmas cards is simple. To make your perfect holiday greeting proudly showcasing your family's latest addition, browse through Shutterfly's collection of baby's first Christmas cards and choose your favorite. Then, choose your card's trim, cardstock, and any special features like personalized foil lettering or glitter accents. Next, upload your favorite photos to your greeting card and add your family's names. Your loved ones will smile as soon as they receive your unique piece of snail mail. There is no better way to say Merry Christmas to those near and far than with a holiday photo card designed by you.
To make your baby's first Christmas card even more special, send it with a custom envelope adorned with holiday-themed images like snowflakes, Christmas lights, and more. If you want to send family and friends something leave under the Christmas tree along with your Christmas greeting cards, consider making personalized Christmas ornaments or custom Christmas gifts that will wow your recipients. If you missed the deadline to send Christmas greeting cards before the holiday arrives, make custom New Year's cards celebrating the upcoming year and new beginnings. Your distant friends and family will love hearing from your family this holiday season. For more ideas, we curated a list of fun Christmas photo ideas to browse through.
Related Products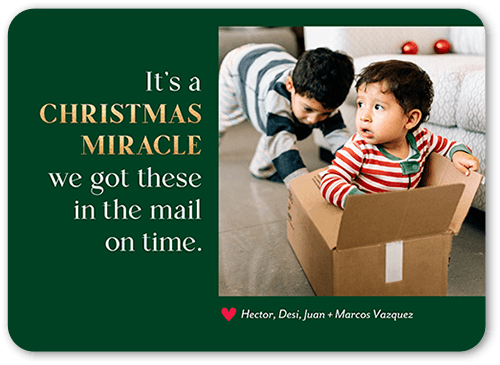 Christmas Miracle 5x7 Stationery Card by Jill Smith. Send a Christmas card friends and family will love. Add your own greeting and everyone's names. There's room for more photos and wishes on the back, too.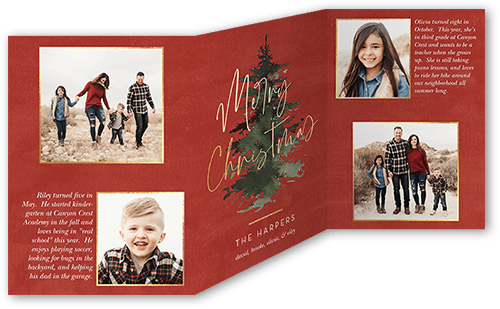 Classic Christmas Fir 5x7 Tri-Fold Stationery Card by Yours Truly. Send a Christmas card friends and family will love. Add your own greeting and everyone's names. There's room for more photos and wishes on the back, too.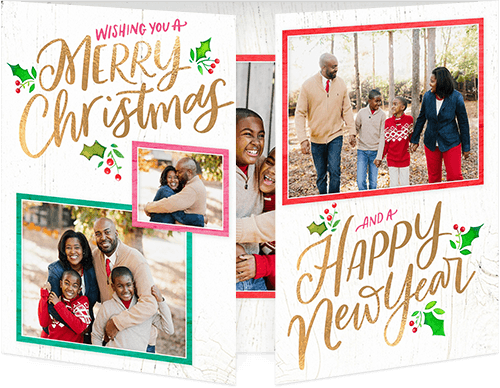 Colorful Christmas Gallery 5x7 Gate Fold Card by Yours Truly. Let your story unfold with this unique card that opens up from the middle to reveal your photos like a present. Enjoy more room for photos and text than a ...