What customers have to say about our Christmas Cards
January 27, 2019
I highly recommend this card!!
"Absolutely love this card they came out perfect!"
January 23, 2019
good purchase
"Paper is excellent quality as is the envelope. Shipping can be high unless you are ordering a larger number of cards but I only bought one."
January 23, 2019
I will absolutely use this product again.
"The first time I have used Shutterfly for our annual greeting card. Very pleased and will use again."
January 22, 2019
Chinese New Year
"Christmas came too soon. No cards went out. New Year's came and went! Still no cards were sent out. But thanx to Shutterfly, made it for a Chinese Greeting! Beautiful cards front and back with pictures of family sent! Halleluah!!!!!"
January 22, 2019
I looved these cards and they arrived so quickly!
"Shutterfly makes last minute projects easy .. I love these holiday cards and continue to make photo books each month with their app as well as edits on desktop site. I love Shutterfly!"
Baby's First Christmas Cards
Welcoming home a new baby is an important milestone in the life of any family. Whether this is your first child together or simply the most recent, everyone on your mailing list will want to know the happy news. Share the happy arrival of your newest family member by sending out baby's first Christmas cards. These delightful greetings are sure to brighten up everyone's holidays. Here at Shutterfly, we have made it easy to customize Christmas cards and other seasonal holiday cards with photos and messages of your very own. Your friends and relatives will love receiving this very special card from you; a card with a family portrait will become a memento that will be treasured for many holidays to come.
The Perfect Family Holiday
There are lots of different ways to create your perfect family holiday portrait. Consider fun themed ideas such as:

• Putting personalized ornaments on a Christmas tree together
• Decorating a gingerbread house with the new baby and older siblings
• Sitting together in front of a cozy fireplace
• Watching the snowfall
• Building a snowman in fresh snow
• Getting into the holiday spirit by wrapping presents
Spending time with family is the perfect theme for holiday cards. Whether you gather everyone together around the tree or take a portrait in a perfect winter wonderland, you can be sure that your portraits are going to look fantastic.
Preparing Your Cards
Ordering custom Christmas cards is simple. Once you have selected all the features you prefer using the easy online Shutterfly design studio, simply add the cards to your shopping cart. Begin preparing your mailing list so you can address the cards as soon as they arrive. Consider using a special holiday stamp for a little extra touch of holiday cheer. Tuck a short letter sharing the happy news about baby's first Christmas card, then drop the envelope into the mail. Your distant friends and family will love hearing from your family this holiday season. For more ideas, we curated a list of fun Christmas photo ideas to browse through.
Related Products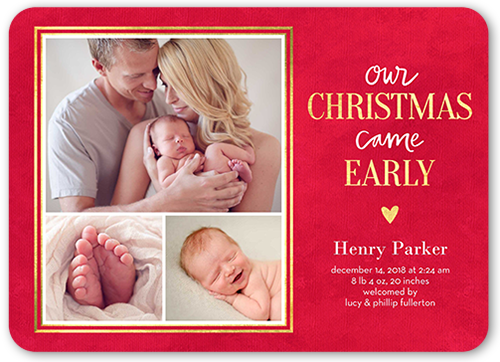 Early Christmas Teen Birthday Party. Announce your newest arrival with this stylish birth announcement. Add your baby name, a photo with the news everyone waiting for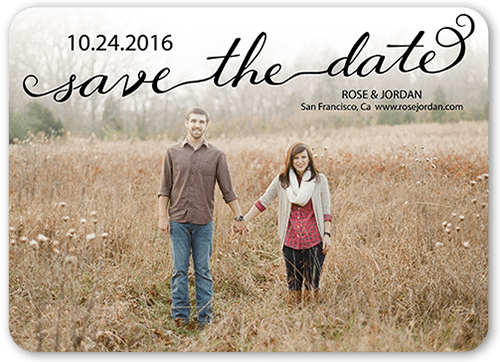 Perfect Bond 5x7 Stationery Card by Yours Truly. Make sure they mark their calendars with this stylish Save the Date card. Just add a photo and your nuptial details.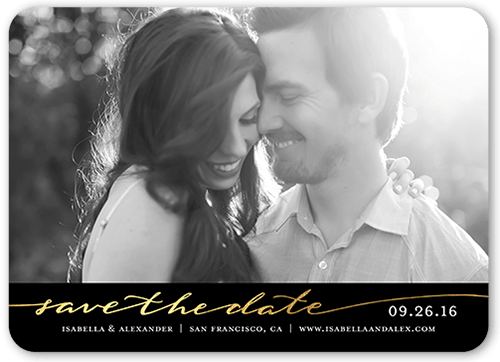 Shining Statement 5x7 Stationery Card by Yours Truly. Make sure they mark their calendars with this stylish Save the Date card. Just add a photo and your nuptial details.