What customers have to say about our Holiday Cards
January 27, 2019
I highly recommend this card!!
"Absolutely love this card they came out perfect!"
January 23, 2019
good purchase
"Paper is excellent quality as is the envelope. Shipping can be high unless you are ordering a larger number of cards but I only bought one."
January 23, 2019
I will absolutely use this product again.
"The first time I have used Shutterfly for our annual greeting card. Very pleased and will use again."
January 22, 2019
Chinese New Year
"Christmas came too soon. No cards went out. New Year's came and went! Still no cards were sent out. But thanx to Shutterfly, made it for a Chinese Greeting! Beautiful cards front and back with pictures of family sent! Halleluah!!!!!"
January 22, 2019
I looved these cards and they arrived so quickly!
"Shutterfly makes last minute projects easy .. I love these holiday cards and continue to make photo books each month with their app as well as edits on desktop site. I love Shutterfly!"
Baby's First Holiday Cards
A baby won't remember his or her first Christmas, but it's definitely a milestone for the parents. Babies are involved in the tradition for the first time and often take over the show with their adorable presence. Families and friends love shopping for a baby's first Christmas, and every aspect of the holiday often seems so much sweeter. This Christmas celebrate both the season and your new baby by sending out Christmas cards that honor this new member of your family.
Choosing Your Holiday Cards
Shutterfly has holiday cards geared toward celebrating a new arrival. These cards have traditional holiday elements, such as snowflakes, holly and seasons' greetings; however, these cards also have space for the baby's birth statistics, such as weight, height and the date of birth, and ample space for photos. Even if you don't normally send out Christmas cards, everyone will love seeing pictures of your new baby, and they'll likely display the cards in a prominent location. Aunts, uncles, cousins and grandparents love to "ooh" and "aah" over new members of the family, even from afar.
Another benefit of sending out holiday birth announcements is the possibility of additional gifts. Expenses quickly add up when taking care of a new baby, from diapers to extra laundry. Even if you think you might have everything you need, chances are there are items that haven't yet made your list. Getting support from family and friends can help you get through this difficult financial time. You'll love seeing what others have picked out just for your child.
Other Shutterfly Cards for Babies
Once you receive your special gift, don't forget to send out baby themed thank you cards. This small token of appreciation often means a lot to the gift giver. This year, as you hang ornaments from your tree, spend time with your family and gather by the fireplace, don't forget take some time to send a cozy card for your sweet bundle of joy. After all, a first Christmas only comes once in a lifetime!
Related Products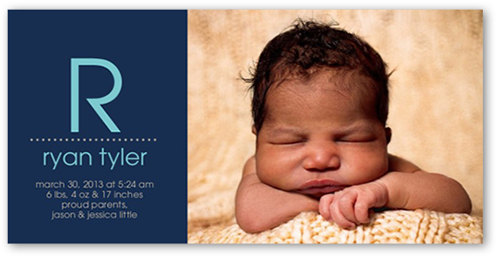 Modern Monogram Boy 4x8 Photo Birth Announcement Card. Announce your newest arrival with this stylish birth announcement. Add your baby's name with a photo and the news everyone's been waiting for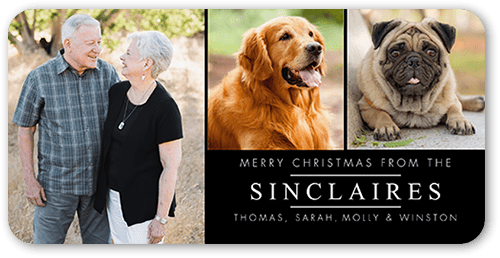 Basic Block 4x8 Photo Card by Shutterfly. Send cheer to friends and family with this Christmas card. Add your own greeting and everyone's names.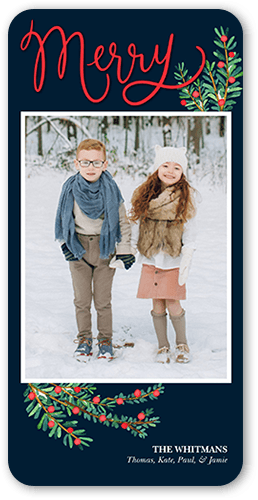 Berries and Merry 4x8 Photo Card by Shutterfly. Send cheer to friends and family with this Christmas card. Add your own greeting and everyone's names.