Floral Birth Announcements
What customers have to say about our Birth Announcements
January 25, 2019
A Hit With All the Family!
"We used this card as a birth announcement and thank you card for our baby shower attendees. It's on a nice heavy cardstock, and the print was super clear. With my first order there was a smear on the return address on the back of the envelope, but no big deal. With the first order I also didn't receive the blank envelopes I ordered. The second order everything was perfect. I would highly recommend!"
January 24, 2019
Very nice cards
"Super classy cards"
January 24, 2019
Great buy
"Looks and feels great. Came so quickly and is such great quality!"
January 22, 2019
So sweet
"Easy to create!sweet design"
January 22, 2019
Love this product!!
"I love the simplicity of this birth announcement, it was easy to make and arrived on time!"
Choose Your Own Theme for Your Birth Announcement
At Shutterfly, we know that every customer is unique and different. We know that you want to remember and share the most important days of your life, and adding a new bundle of joy to your family is one of those occasions. Whether you want a classic or contemporary take on your floral birth announcement, we have the options you need to guarantee it's perfect.
Our floral birth announcements come in two different formats: flat or trifold. We offer predesigned products from some of the best designers for boys and girls, and you can also keep the announcement gender neutral. Customize every section of your birth announcement when you choose Shutterfly.
Quality You Can Trust
Here at Shutterfly, we have thousands of satisfied customers that come back to us for everything from bridal shower invitations to thank you cards to personalized calendars. That's because they know they can count on Shutterfly to only offer the best in quality with every product. We offer a 100 percent customer satisfaction guarantee because we know you will love our products.
When you've chosen a floral birth announcement as your theme, the choices don't stop there. You can preview your own design in all our cards before ordering, and we give you plenty of options when you are creating. Choose from the following paper types:
Signature cardstock
Photo paper
Pearl Shimmer cardstock
We also offer different trim options, because no detail should be overlooked on an announcement this important:
Scallop
Ticket
Bracket
Rounded
Square
Choose your own design color, and you can even select your own price range when creating floral birth announcements. Our goal is to keep the creating and ordering process as simple as possible so you don't waste time you don't want to spend.
Tips and Inspiration From the Best
If you're having a hard time coming up with tips and inspiration for your birth announcements, visit our ideas page for everything from boy's and girl's baby shower themes to home décor tips. The Shutterfly blog also provides helpful information in a simple format to spur your creative side to begin to create a floral birth announcement that is worthy of your new baby.
We never delete your photos, and store every image at full resolution as an extra backup, because we know how precious every second of your child's life is. When you choose Shutterfly, you can rest assured that you will be happy with the service, quality and products you receive.
Browse our site today for products, tips and inspiration about everything from stationery to home décor. Visit our design studio to get styling tips and ideas, and know you will only get the best from Shutterfly.
Related Products
Happy Baby 5x7 Girl Birth Announcements by Stacy Claire Boyd. It's a happy baby girl. Show off photos of your newest arrival surrounded by her name and initial in whimsical fonts designed in chic hues of mint, rose and cocoa ...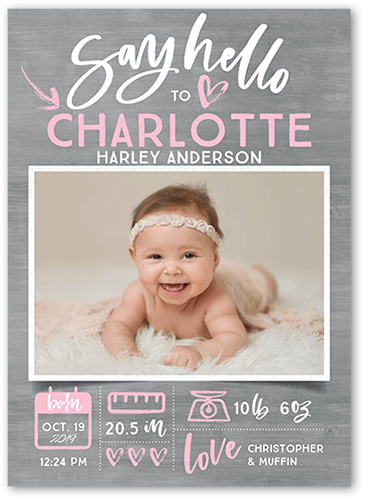 Detailed Greetings Girl 5x7 Stationery Card by Petite Lemon. Announce your newest arrival with this stylish birth announcement. Add your baby's name, a favorite photo and the news everyone's been waiting for.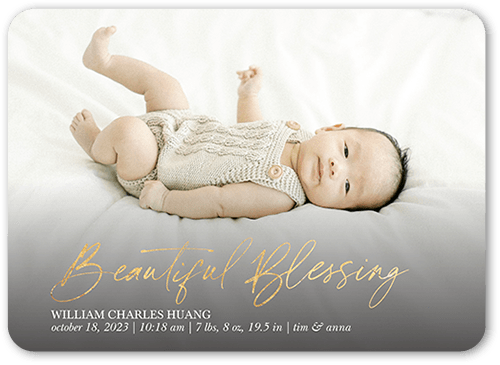 Handwritten Blessing 5x7 Stationery Card by Petite Lemon. Announce your newest arrival with this stylish birth announcement. Add your baby's name, a favorite photo and the news everyone's been waiting for.