Foil Baby Shower Invitations
What customers have to say about our Baby Shower Invitations
January 26, 2019
I would buy this again definitely!
"This invitation is beautiful I just wish the liners that came with it stuck better"
January 25, 2019
Perfect invite
"These are so cute and came exactly as I expected. Love them!"
January 24, 2019
In love with the shower invites
"These invites are so cute. They came just as ordered. I love shutterfly. They never disappoint."
January 22, 2019
I would buy this product again.
"Bought this for my baby shower invitations and it exceed my expectations."
January 21, 2019
I really liked my purchase experience
"I needed to order baby shower invites. I was pleasantly surprised to find out I could have Shutterfly take care of the invitees addresses, return addresses, and stamps! What a time savor! And the invitations are adorable!!"
Foil Baby Shower Invitations
Baby showers are fun occasions allowing a mother-to-be to be recognized for the big step she is taking in life. Sometimes the shower is planned by the soon-to-be mother herself. Other times, a friend or family member might throw her one. When is the appropriate time to send out those blue, pink or gender-neutral baby shower invitations? That depends on the mother's personal preferences and what is convenient for the giver of the celebration. Here are a few ideas on the best times to have a baby shower.
Before the Baby Is Born
This is by far the most traditional time to have a baby shower. If the soon-to-be parents know the gender of the baby, then it is usually easy to throw a party and help them to start collecting all of the essential gear they need. If the new parents do not know the gender of the baby, then a gender-neutral party is perfectly acceptable and even encouraged. Just choose colors in yellows and greens and have at it.
After the Baby Is Born
Some new parents might prefer to wait until the baby is born before having a shower. This might be done if the parents want to know the gender of the baby first but don't plan on finding out until the baby is born. Another reason to wait until after the baby is born is due to weather. Some parents might not want a shower thrown in the middle of winter, for example, or at the height of RSV season. In these cases, the thrower of the party might wait until the weather is more favorable. In the meantime, they can decide on a baby shower theme.
Baby Sprinkle for Second Child and More
Another time to send out photo baby shower cards and, later, thank you cards is for a baby sprinkle. This is a baby shower for a second child, the third child and so forth. Parents might want a baby sprinkle if it has been a while since they had a baby in the home or if they have a baby of a different gender from the first. It's really up to the mother-to-be to decide if and when she needs a baby shower.
Related Products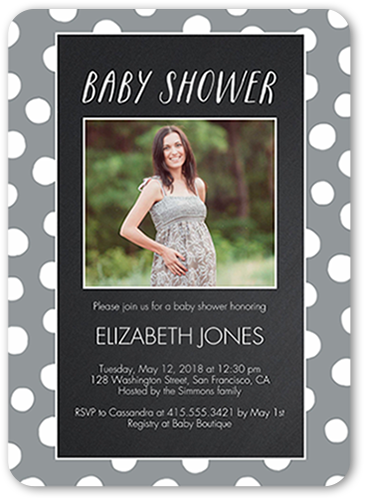 Chalkboard Dots 5x7 Baby Shower Invitation Cards. Shower her with love and a stylish baby shower invitation. Personalize it with the party details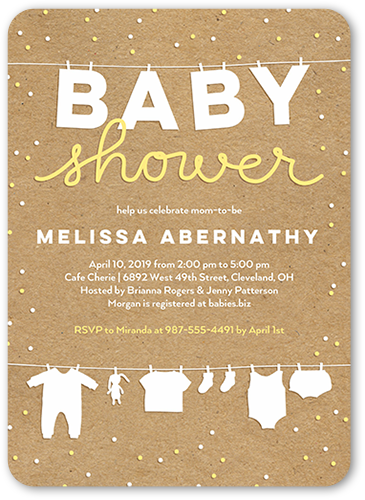 Cute Linens 5x7 Baby Shower Invitation Cards. Shower her with love and a stylish baby shower invitation. Personalize it with the party details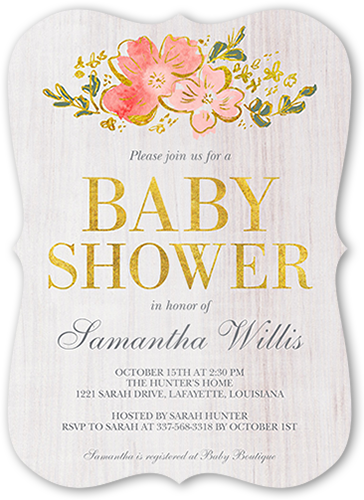 Decorative Woodgrain 5x7 Baby Shower Invitation Cards. Shower her with love and a stylish baby shower invitation. Personalize it with the party details