Foil Stamped Thank You Cards
What customers have to say about our Thank You Cards
January 27, 2019
Grateful for my thank you cards
"I ordered these cards to give out with my closing gifts to my buyers and I am so glad that I did. The quality is amazing and the print was perfect. Can't wait to use them!"
"Love the size, love the card stock, love how our photo fit so nicely."
January 27, 2019
Love these cards.
"Shutterfly always does a great job."
"Once again, Iove my end result from Shutterfly. The people love their personalized cards too."
January 26, 2019
These turned out so CUTE!!!
"The card stock is very heavy and makes it a nice writing experience. Quality, thick, great bright colors on the card. This is a great product and a wonderful purchase."
Foil Stamped Thank You Cards
When you are personalizing thank you cards following any type of occasion, there will be a lot of options on your plate. Whether it's following your wedding, after a graduation ceremony or just for general thank you notes, there are some fun things you can do to make them your own. Foil stamped thank you cards might just offer that personality you're looking for. The following are a few reasons you might want to consider foil stamping.
It's Unique
You're unique and your thank you cards should be unique too. Chances are the people you're sending them to will already know enough of your personality to know that the foil stamp is the perfect touch. Whether this is because you're a fancy individual or just like a little bling in your life, it's a great way to show off how unique you are.
It's High Quality
Any time you add something unique and extra to an item that is typically plain and boring, it becomes higher quality. Foil stamping your thank you cards will do just that. You might have a few ideas of where you're sending them, or they might just be to have on hand for when you need them. Either way, you'll always send something that is of more value than the typical card.
It's Beautiful
So many things in life aren't beautiful anymore. They are becoming run down and mundane. Your thank you cards don't have to be the same. Gold foil thank you cards offer the recipient something beautiful to look at and read. Those who receive the cards will feel that you really took some time in creating something beautiful, just for them.
As you can see, there are a few fun reasons to choose foil stamping for your next set of red thank you cards. No matter the reason for sending someone your gratitude, it becomes more special because foil is unique, high quality and beautiful.
Related Products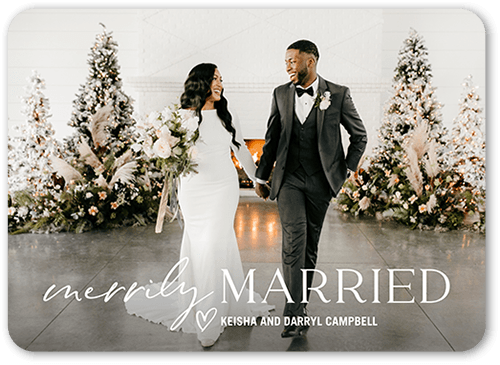 Merrily Wedded 5x7 Personalized Foil Card by Jill Smith. Send a holiday card friends and family will love. Add your own greeting and everyone's names. There's room for more photos and wishes on the back, too.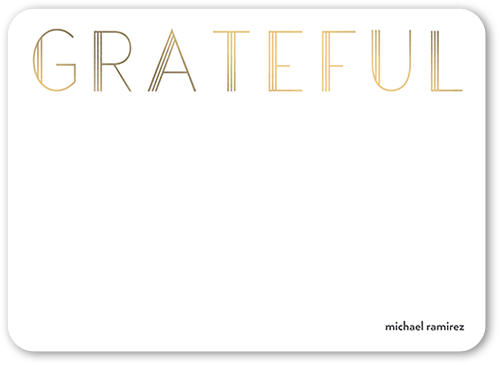 Retro Thanks 5x7 Stationery Card by Float Paperie. Because they deserve it. Give them a personalized thank you card to express your gratitude.
Grateful Ampersand 5x7 Wedding Thank You Card. Show just how much you appreciate them with this stylish thank you card. Add your favorite photos and a message of thanks