Folded Baby Shower Invitations
What customers have to say about our Baby Shower Invitations
January 26, 2019
I would buy this again definitely!
"This invitation is beautiful I just wish the liners that came with it stuck better"
January 25, 2019
Perfect invite
"These are so cute and came exactly as I expected. Love them!"
January 24, 2019
In love with the shower invites
"These invites are so cute. They came just as ordered. I love shutterfly. They never disappoint."
January 22, 2019
I would buy this product again.
"Bought this for my baby shower invitations and it exceed my expectations."
January 21, 2019
I really liked my purchase experience
"I needed to order baby shower invites. I was pleasantly surprised to find out I could have Shutterfly take care of the invitees addresses, return addresses, and stamps! What a time savor! And the invitations are adorable!!"
Personalize Your Folded Baby Shower Invitations
Sometimes a picture is all you need. If you're hosting a baby shower, you want to wow your guests from the start. With folded baby shower invitations from Shutterfly, you can make a significant impact with a single image. As soon as they open the envelope, wow them with a gorgeous photo, they'll be proud to display near their calendar.
At Shutterfly, you can create a custom invitation in moments. Our folded baby shower invitations offer multiple personalization options. Choose from either landscape or portrait orientation. At 5x7 inches, our folded invitations give you the option to use multiple images or a stunning single photo. You can even add up to nine pictures on the front without sacrificing style. We print all of our folded baby shower invitations on high-quality Signature Cardstock with a matte finish. Of course, you could upgrade to Pearl Shimmer Cardstock for extra sheen if you'd like. Choose from two different trim options. Keep it classic with square edges, or soften the look with rounded corners.
Unique Invitations From Front to Back
Our personalization options don't stop at the front of the card. With ample room on the inside on the top and bottom, you can add as much or as little information as you want. Use additional pictures or just text. If you need some help with what to say, check out our baby shower invitation wording tips. Don't be afraid to get creative if you want to add a personal touch. Use a quote or rhyme, or just stick to the basics! You can even add information to the back of the card if you can't fit it all inside. Use this space for directions, parking instructions, or unique requests.
Create Coordinated Custom Gifts
A folded baby shower invitation can also double as a gift in itself. With Shutterfly's exceptional print quality, our photo cards look great in a personalized frame once the party is over. For a coordinated look, consider using the same image for party favors or a gift for the guest of honor. Create an adorable journal for the mom-to-be to document her days and remember her baby shower for years to come.
Related Products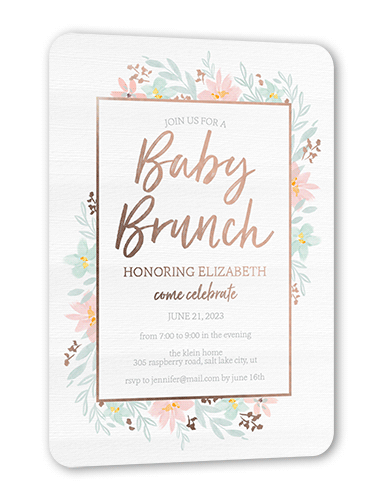 Baby Brunch 5x7 Card by Petite Lemon. Another year older. Another year of fun. Invite all the guests with this stylish Baby Shower Invitation. Just add your favorite photos and all the event details.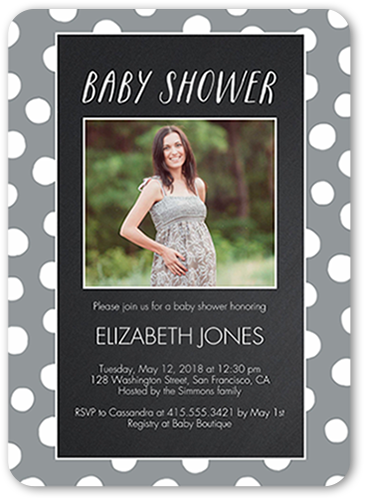 Chalkboard Dots 5x7 Baby Shower Invitation Cards. Shower her with love and a stylish baby shower invitation. Personalize it with the party details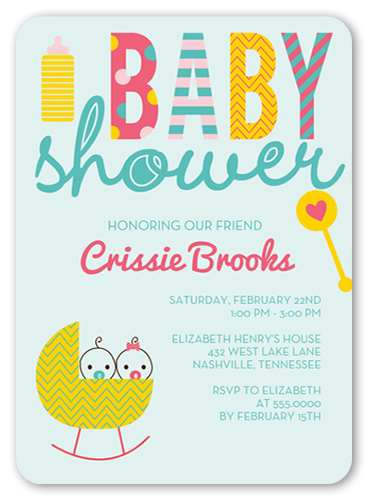 Cute Cradle Twins 5x7 Neutral Baby Shower Invitations by Hello, Kelle. Shower her with love and a stylish baby shower invitation. Personalize it with the party details.