Gender Reveal Baby Shower Invitations
What customers have to say about our Baby Shower Invitations
January 26, 2019
I would buy this again definitely!
"This invitation is beautiful I just wish the liners that came with it stuck better"
January 25, 2019
Perfect invite
"These are so cute and came exactly as I expected. Love them!"
January 24, 2019
In love with the shower invites
"These invites are so cute. They came just as ordered. I love shutterfly. They never disappoint."
January 22, 2019
I would buy this product again.
"Bought this for my baby shower invitations and it exceed my expectations."
January 21, 2019
I really liked my purchase experience
"I needed to order baby shower invites. I was pleasantly surprised to find out I could have Shutterfly take care of the invitees addresses, return addresses, and stamps! What a time savor! And the invitations are adorable!!"
Gender Reveal Baby Shower Invitations
Stop leading everyone on and stock up on some gender reveal baby shower invitations. Let friends and family in on your most significant and most exciting secret: is your baby a boy or girl? Now it's time to start planning a baby shower for yourself or the new parents to be, which means it's time to send baby shower invitations in advance of the arrival of your little star. Gender reveal party invitations are the perfect kind of baby shower invites to use to increase the excitement surrounding the arrival of the latest newborn to the family and encourage guests to rsvp. Make your baby gender reveal party one to remember - just customize your gender reveal party invitation.
Designing Your New Baby Shower Invites
It doesn't matter if the new baby is going to be a first child or a third one; celebrate each pregnancy in style. Keep baby shower party guests guessing just a little while longer by giving them gender reveal clues about your preferences for baby gifts with pink or blue color schemes. It doesn't matter if you already know whether your new baby is a he or she; gender reveal parties are fun and exciting. Baby shower party invites are customizable with a variety of options including chalkboard layouts, watercolor images, confetti effects, custom stickers and more. These design ideas can carry over to the birth announcements. Baby shower invitations and the gender reveal help to get everyone on board with having another boy or girl in the family. It assists any would-be siblings to become more accepting of their new role in the family. Make your baby shower or baby sprinkle unique by thinking outside the box. Think of ways to get the guests involved from the very first moment they arrive. Have each guest predict the baby's gender. Have them choose boy or girl themed baby shower gifts that show their guesses for the new baby's sex. New parents shouldn't feel pressured to let the cat out of the bag right away. Instead, come up with fun games that everyone can play until the new mom-to-be is ready to let everyone in on the surprise.
One Stop New Baby Shower Shop
You have so many options to choose from when you are looking for ideas to plan your gender reveal baby shower party and baby shower games. Once you find the perfect printable design for your event, you can personalize invitation templates with all the party details that your guests will need to know. Include a diy potluck option with custom cupcakes or a baby shower gift registry. Our baby shower invitation designs are just perfect for getting guests excited about guessing the baby's gender and getting them to rsvp! Shop our collection of personalized baby books, home decor, baby shower gifts and party stationery. Shutterfly makes it easy for you to celebrate every special occasion in your life, which starts with the baby shower theme and celebrating the new life you are expecting.
Related Products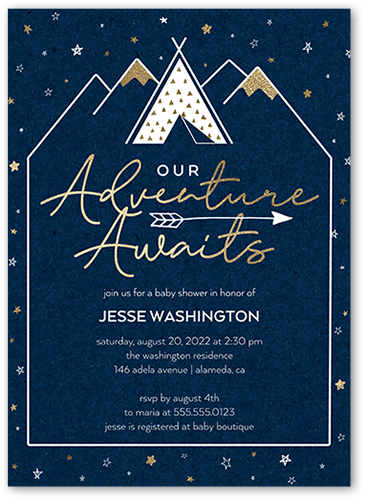 Awaiting Adventure 5x7 Stationery Card by Éclair Paper Company. Shower her with love and a stylish baby shower invitation. Personalize it with the party details.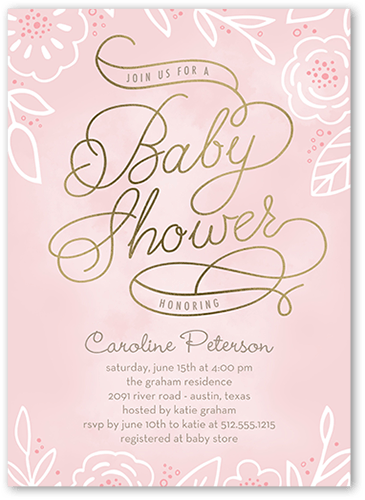 Delicate Florescence 5x7 Stationery Card by Berry Berry Sweet. Shower her with love and a stylish baby shower invitation. Personalize it with the party details.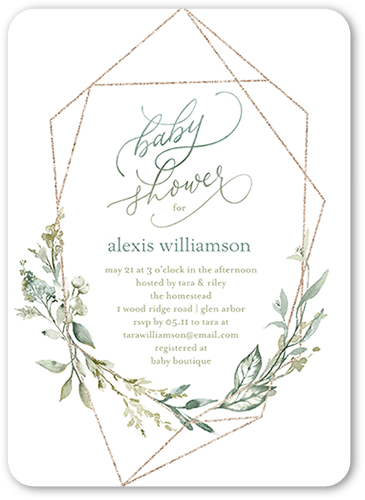 Geometric Floral Frame 5x7 Stationery Card by Lady Jae. Shower her with love and a stylish baby shower invitation. Personalize it with the party details.