Baby Shower Invitations for Girls
What customers have to say about our Baby Shower Invitations
January 26, 2019
I would buy this again definitely!
"This invitation is beautiful I just wish the liners that came with it stuck better"
January 25, 2019
Perfect invite
"These are so cute and came exactly as I expected. Love them!"
January 24, 2019
In love with the shower invites
"These invites are so cute. They came just as ordered. I love shutterfly. They never disappoint."
January 22, 2019
I would buy this product again.
"Bought this for my baby shower invitations and it exceed my expectations."
January 21, 2019
I really liked my purchase experience
"I needed to order baby shower invites. I was pleasantly surprised to find out I could have Shutterfly take care of the invitees addresses, return addresses, and stamps! What a time savor! And the invitations are adorable!!"
Baby Shower Invitations for Girls
Get everyone excited to celebrate your baby girl with personalized baby shower invitations! Shutterfly's photo baby shower invitations let you add your favorite pictures of the newborn and customize everything from the colors, designs, fonts, and layout. When your loved ones receive your baby shower invites, they'll look forward to shopping for gifts and showing up for a fun casual or themed baby shower. Your baby invitations can match your party decor or offer a more simple feel for any type of party.
CREATING CUSTOM BABY SHOWER INVITATIONS
When creating your baby cards, choose from a variety of styles and designs. We have themes for whimsical baby showers, modern baby showers, and much more. Even if you don't have a shower theme, you can easily customize a classic baby shower invitation. With your personalized baby shower invitations, you'll also be able to choose one-photo layouts or text-only invitations. From there, upload all the photos you want to use and see which ones look best where on the card. You'll be able to add all your party details, including the location, date, and time. Depending on the layout, you might also have room for a fun message or quote about your baby girl.
IDEAS FOR BABY SHOWER INVITATIONS FOR GIRLS
A classic baby shower invitation for girls might have a pink card style and include messaging about the princess on the way. For a more gender-neutral option, choose neutral invitations that will look great for your baby girl shower invitations. With customizable baby shower invitations, you can truly make the card unique to your and your family to make sure it stands out. Choose fun illustrations or animal-themed cards for your baby shower invitation. If your party theme is floral, Shutterlfy has plenty of invitation cards with floral backgrounds and borders.
GIFTS FOR A GIRL BABY SHOWER
Shutterfly also has some great ideas for baby shower themes for girls and gifts. Consider getting the mother a flattering picture of her pregnancy, especially if she has had professional photos taken. She can use this journal to jot down thoughts and feelings about her expected motherhood. She can also record specific details of her pregnancy that might come in handy during a future one. For the baby, create a personalized baby blanket that's sure to become a favorite and fun keepsake. Though the newborn baby girl might not need it at the time, you can also offer a custom nightlight. As the little girl grows, she'll appreciate having something to keep nightmares away. Her parents will also appreciate having a unique light to use if they have to check on her at night. With the right tools, any baby shower is sure to be a big hit.
Related Products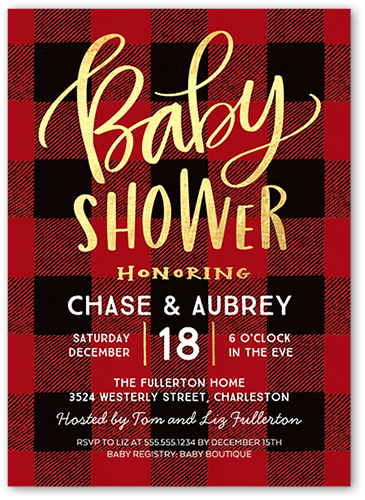 Buffalo Baby 5x7 Stationery Card by Stacy Claire Boyd. Shower her with love and a stylish baby shower invitation. Personalize it with the party details.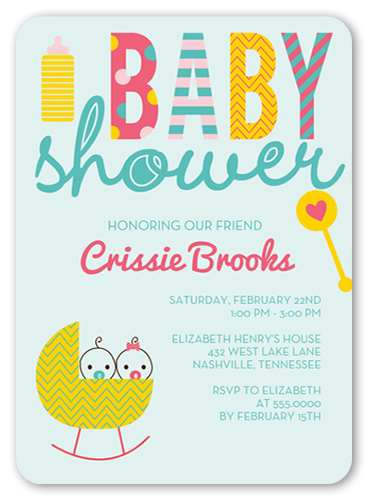 Cute Cradle Twins 5x7 Neutral Baby Shower Invitations by Hello, Kelle. Shower her with love and a stylish baby shower invitation. Personalize it with the party details.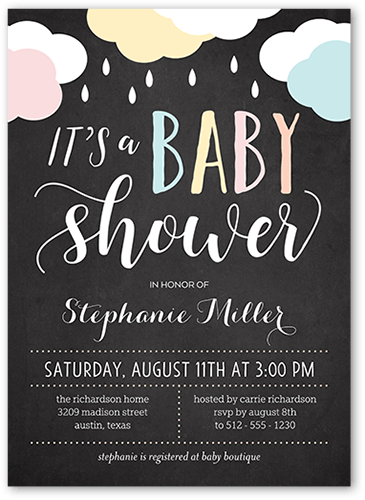 Jubilant Clouds 5x7 Stationery Card by Berry Berry Sweet. Shower her with love and a stylish baby shower invitation. Personalize it with the party details.