What customers have to say about our Baby Shower Invitations
January 26, 2019
I would buy this again definitely!
"This invitation is beautiful I just wish the liners that came with it stuck better"
January 25, 2019
Perfect invite
"These are so cute and came exactly as I expected. Love them!"
January 24, 2019
In love with the shower invites
"These invites are so cute. They came just as ordered. I love shutterfly. They never disappoint."
January 22, 2019
I would buy this product again.
"Bought this for my baby shower invitations and it exceed my expectations."
January 21, 2019
I really liked my purchase experience
"I needed to order baby shower invites. I was pleasantly surprised to find out I could have Shutterfly take care of the invitees addresses, return addresses, and stamps! What a time savor! And the invitations are adorable!!"
Baby Shower Invitations for Girls
A baby shower is a perfect opportunity to bring friends and family together to celebrate a pregnancy. Whether you make your baby shower open to both men and women or make it a women-only gathering, baby showers for girls are exceptionally fun. They are often filled with entertaining games, pink décor and of course tons of gifts for the parents-to-be.
Considerations for the Shower
If you're hosting a baby shower for a friend or family member, you may be wondering when to hold the event. Planning the party for around the 32 weeks is standard. This helps protect against any complications that might arise during pregnancy, and it also helps ensure that the mother is still physically comfortable enough to enjoy the event. Another consideration is where to hold the event. It's best not to hold it in the mother's home unless you also volunteer to clean beforehand. After all, you'll want the mother to be able to enjoy the event without having to stress about the cleanliness of her home. Holding it someone else's home is often a good choice, or you can rent out space somewhere. Ultimately, having a comfortable location where friends and family can enjoy each other's company is often the most important consideration.
Shutterfly has a wide variety of baby shower invitations for girls. Some of the options include pink-themed cards, cards for a couple's shower and gender-neutral cards. You can also choose a card for a gender reveal party, in which the baby's sex is revealed at the event.
Baby Shower Gift Options
Shutterfly also has some great ideas for baby shower themes for girls and gifts. Consider getting the mother a custom journal with a flattering picture of her pregnancy, especially if she has had professional photos taken. She can use this journal to jot down thoughts and feelings about her expected motherhood. She can also record specific details of her pregnancy that might come in handy during a future one. With the right tools, any baby shower is sure to be a big hit.
Related Products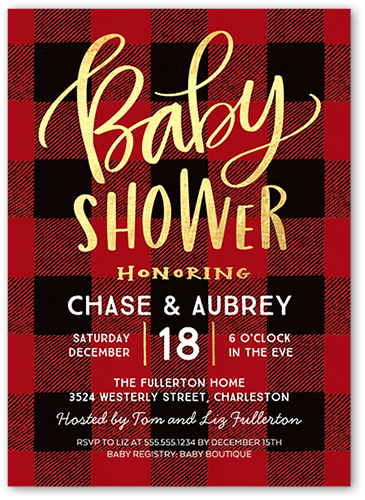 Buffalo Baby 5x7 Stationery Card by Stacy Claire Boyd. Shower her with love and a stylish baby shower invitation. Personalize it with the party details.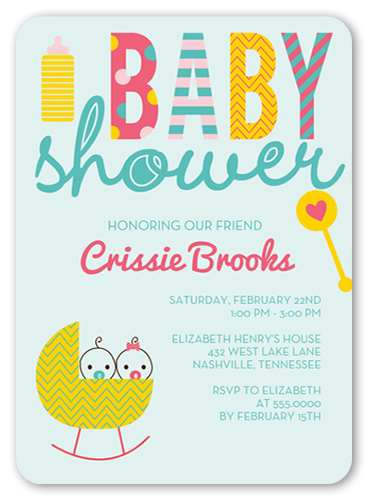 Cute Cradle Twins 5x7 Neutral Baby Shower Invitations by Hello, Kelle. Shower her with love and a stylish baby shower invitation. Personalize it with the party details.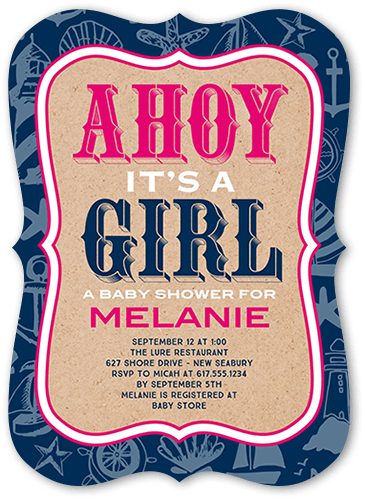 Nautical Soiree Girl 5x7 Stationery Card by Poppy Studio. Shower her with love and a stylish baby shower invitation. Personalize it with the party details.