Baby Girl Birth Announcements
What customers have to say about our Birth Announcements
January 25, 2019
A Hit With All the Family!
"We used this card as a birth announcement and thank you card for our baby shower attendees. It's on a nice heavy cardstock, and the print was super clear. With my first order there was a smear on the return address on the back of the envelope, but no big deal. With the first order I also didn't receive the blank envelopes I ordered. The second order everything was perfect. I would highly recommend!"
January 24, 2019
Very nice cards
"Super classy cards"
January 24, 2019
Great buy
"Looks and feels great. Came so quickly and is such great quality!"
January 22, 2019
So sweet
"Easy to create!sweet design"
January 22, 2019
Love this product!!
"I love the simplicity of this birth announcement, it was easy to make and arrived on time!"
Baby Girl Birth Announcements
Your precious angel has finally arrived, and you are eager to share the news with all your family and friends. Should you immediately call everyone or should you wait and send out adorable personalized baby girl birth announcements in the mail? There is no single right way to announce your child's birth, but creating birth announcements with Shutterfly is an excellent way to start. Showcase your most cherished photos of your new baby and allow your family and friends to light up with joy when they open their mail to see your newest bundle of joy.
Create Adorable Baby Girl Birth Announcements Right At Your Fingertips
When you announce the birth of your child to the world, you want it to be special. Having a child is a huge milestone. Therefore, you should create birth announcements that capture the beautiful moment. Start by choosing your favorite template from our catalog. Then upload four or more adorable photos of your baby boy or girl. Personalize your announcements with one-of-a-kind-fonts displaying your child's name, and select styles like classic, modern, or contemporary depending on your taste. Be sure to also include the date when he or she arrived, as well, to mark the day to remember.
Accentuate Your Baby Girl Birth Announcements With Stationery
Not only are birth announcements fun and simple to create, but they also double as adorable mementos that can be easily scrapbooked to provide endless memories. Double the cuteness factor with personalized baby address labels, self-inking rubber stamps, and stickers to complement your announcements. Include a photo of your child or choose one of our adorable animal print designs. Friends and family will instantaneously know your child arrived when they see cute details that scream "baby." Send your birth announcements with our envelope addressing service for quick and convenient mailing.
Design Future Birthday Invitations For Your Little One
Although your little one was just born, it's always wise to think about creating future birthday invitations. Children grow up in a blink of an eye, so, before you know it, your son or daughter will be turning a year old. Browse our selection of first birthday invitations to help you plan celebrating a beautiful year of life. Just like your birth announcements, you can personalize birthday invitations, this time, with party details, and one or more photos to showcase how much your child has grown. Be sure to pick a fun party theme, and include any other details you'd like to tell about how far your child has come within a year.
Related Products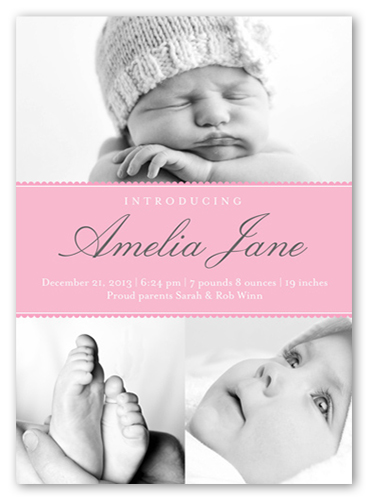 Modern Introduction Girl Birth Announcement 5x7 Stationery Card by Blonde Designs. Introduce your newest arrival in this chic, modern birth announcement. Her name takes center stage between favorite photos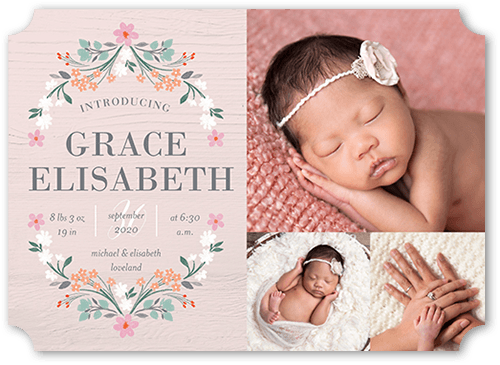 Blossoming Introduction 5x7 Stationery Card by Petite Lemon. Announce your newest arrival with this stylish birth announcement. Add your baby's name, a favorite photo and the news everyone's been waiting for.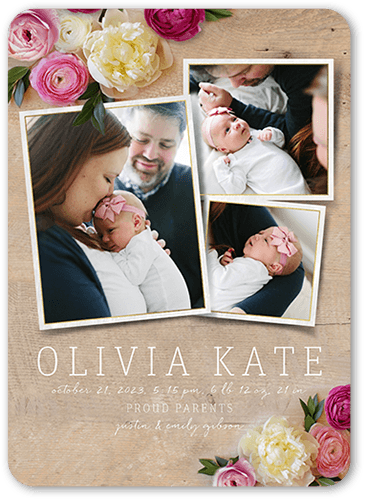 Floral Memories 5x7 Stationery Card by Petite Lemon. Announce your newest arrival with this stylish birth announcement. Add your baby's name, a favorite photo and the news everyone's been waiting for.