What customers have to say about our Christmas Cards
January 27, 2019
I highly recommend this card!!
"Absolutely love this card they came out perfect!"
January 23, 2019
good purchase
"Paper is excellent quality as is the envelope. Shipping can be high unless you are ordering a larger number of cards but I only bought one."
January 23, 2019
I will absolutely use this product again.
"The first time I have used Shutterfly for our annual greeting card. Very pleased and will use again."
January 22, 2019
Chinese New Year
"Christmas came too soon. No cards went out. New Year's came and went! Still no cards were sent out. But thanx to Shutterfly, made it for a Chinese Greeting! Beautiful cards front and back with pictures of family sent! Halleluah!!!!!"
January 22, 2019
I looved these cards and they arrived so quickly!
"Shutterfly makes last minute projects easy .. I love these holiday cards and continue to make photo books each month with their app as well as edits on desktop site. I love Shutterfly!"
Glitter Christmas Cards
Glam up the holiday season with glitter Christmas cards that sparkle and shine. Whether you're looking for an elegant, traditional Christmas card or want to spice things up a bit with a bold contemporary design and format from today's popular greeting card designers, we've got you covered. With our unique glitter Christmas cards, you're sure to impress your family, friends and coworkers. Your custom glitter Christmas photo cards will stand out among the stack and wow your recipients as soon as they open this special piece of snail mail.
Holiday Cards That Sparkle and Shine
Printed on high-quality signature cardstock, our glitter Christmas cards can be created in any type of style, including classic, contemporary, and whimsical. When you send a glitter Christmas card this winter holiday, your stationery will literally shine. You can express any type of holiday sentiment through our cards, whether you want to wish a special someone a merry Christmas, send your friends New Year's cards or just wish a happy holiday season to all of those you care about. We also feature a number of different theme designs to help send a unique holiday message. With glitter Christmas cards, your holiday greeting will have sparkling lettering that makes a festive statement. You can also make your Merry Christmas message stand out with beautiful foil cards and by showcasing your beautiful family photos.
How to Make Glitter Christmas Cards
Of course, what makes our glitter Christmas cards truly unique are our customization options. Unlike the same blanket message you get with a standard, store-bought product, our glitter holiday cards allow you to show your recipients how much you care about them by including a photo along with your own customized saying. Yet while your family and friends may think that you spent hours putting your cards together, the truth is that our customization process is fast and easy. You simply need to:
Choose the number of photos you want to feature and upload your photos from any source.
Choose your glitter Christmas card design and style options.
Complete your order by having the photo Christmas cards sent to recipients my email or sending them directly to you.
If you're mailing your glittery holiday photo cards yourself, consider the added touch of a personalized address label. We at Shutterfly also offer several different shipping options to help get your cards to you when you need them. If you are at a loss for words regarding the message or photo to include in your custom Christmas card, don't worry; we can help you out there, as well. We offer tips on how to choose your Christmas card photo, along with suggestions on what holiday greeting to send to your recipients. No matter the number of custom Christmas cards that you need or the style that you wish to make them in, we at Shutterfly are here to meet your needs. Let us help make this holiday season one to be remembered.
Related Products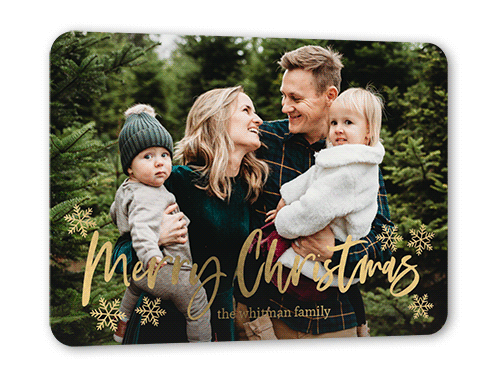 Ornate Snowfall 5x7 Personalized Foil Card by Yours Truly. Send a holiday card friends and family will love. Add your own greeting and everyone's names. There's room for more photos and wishes on the back, too.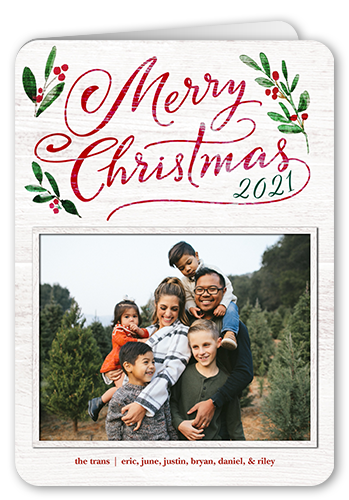 Signed Sentiment 5x7 Stationery Card by Yours Truly. Send a holiday card friends and family will love. Add your own greeting and everyone's names. There's room for more photos and wishes on the back, too.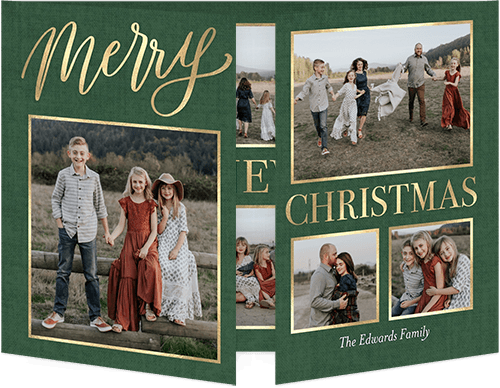 Very Pleasant 5x7 Gate Fold Card by Yours Truly. Let your story unfold with this unique card that opens up from the middle to reveal your photos like a present. Enjoy more room for photos and text than a standard ...