What customers have to say about our Holiday Cards
January 27, 2019
I highly recommend this card!!
"Absolutely love this card they came out perfect!"
January 23, 2019
good purchase
"Paper is excellent quality as is the envelope. Shipping can be high unless you are ordering a larger number of cards but I only bought one."
January 23, 2019
I will absolutely use this product again.
"The first time I have used Shutterfly for our annual greeting card. Very pleased and will use again."
January 22, 2019
Chinese New Year
"Christmas came too soon. No cards went out. New Year's came and went! Still no cards were sent out. But thanx to Shutterfly, made it for a Chinese Greeting! Beautiful cards front and back with pictures of family sent! Halleluah!!!!!"
January 22, 2019
I looved these cards and they arrived so quickly!
"Shutterfly makes last minute projects easy .. I love these holiday cards and continue to make photo books each month with their app as well as edits on desktop site. I love Shutterfly!"
Make the Holidays an Even Happier Season
As the holiday season approaches, we here at Shutterfly eagerly anticipate the many opportunities we have to help you create the cards and keepsakes that you'll need at this time of the year. While the process of creating ideal customized mementos isn't incredibly complicated, only we offer all of the resources needed to ensure they're done in time to get them out for the holidays. With our help, your unique glitter holiday cards will find their way to your family and friends' mantles this year.
Glitter Holiday Cards Guaranteed to Impress
Available in classic, contemporary and even whimsical designs, our glitter holiday cards can include any photo and message that you'd like. Simply upload your photos to our website, create your message and choose your card's style. Our preview feature allows you to see what the finished card will actually look like before you complete your order. All of our products are also secured by our 100% Happiness Guarantee. If, for any reason, you're not satisfied with your finished product or an aspect of our service, contact us so that we can remedy the issue.
Your glitter holiday cards may be meant to serve a number of different purposes, whether that be to announce your annual holiday party, share in the celebration of a certain event or simply express your joy for the season's festivities. Thus, our products can be tailored to express a general sentiment of happy holidays or a specific one referring to a particular celebration or date. That message can be further customized using any of our different available themes, such as:
• Iconic
• Rustic
• Religious
• And many more!
Whatever style or theme you choose, all our glitter holiday cards are printed on high-quality signature cardstock, ensuring that they'll remain durable regardless of how much they're handled. Plus, we also offer advice and tips on how to create cards that are virtually guaranteed to impress.
Customized Gifts Perfect for the Occasion
If your glitter holiday cards are being used as invitations for a party or get-together, you should know that our customization services go beyond cards and announcements. We also offer a wide array of customizable gifts that serve as the perfect holiday party favor or present. These include:
• Photo Quilts
• Stockings
• Custom ornaments
• Personalized mugs
• Plates
• Custom candles
This year, instead of an impersonal gift certificate or the same bland piece of décor, why not put a little extra thought into your gifts and give something personalized?
The holidays are about making memories. Exchanging cards and gifts contributes to that process. At Shutterfly, we're in the business of memory-making. Let us help make this holiday season one that you and your loved ones won't soon forget.
Related Products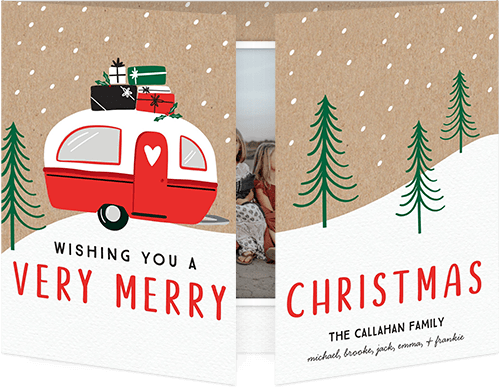 Cute Holiday Camper 5x7 Gate Fold Card by Yours Truly. Let your story unfold with this unique card that opens up from the middle to reveal your photos like a present. Enjoy more room for photos and text than a ...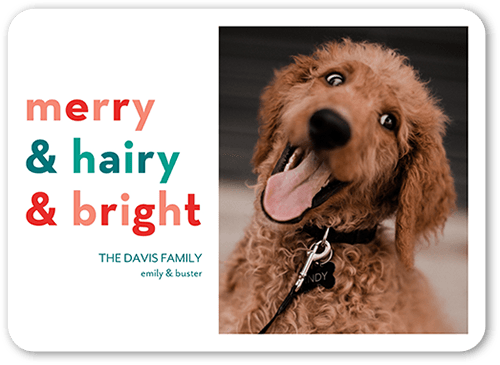 Merry and Hairy 5x7 Stationery Card by Yours Truly. Send a Christmas card friends and family will love. Add your own greeting and everyone's names. There's room for more photos and wishes on the back, too.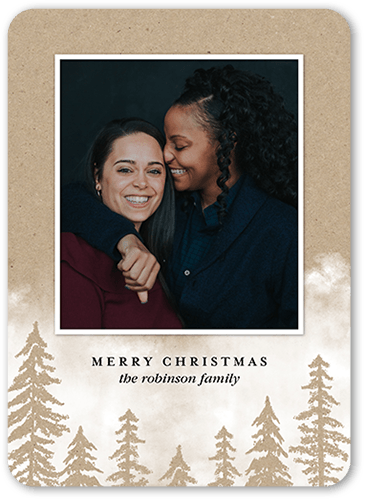 Misty Trees 5x7 Stationery Card by Yours Truly. Send a Christmas card friends and family will love. Add your own greeting and everyone's names. There's room for more photos and wishes on the back, too.